We continue our look at how AC Milan can spend an €80m transfer kitty this summer.
We've already assessed the central defenders that incoming coach Ralf Rangnick could target as he reshapes a side that has went from league winners to also-rans in the space of a decade.
Here we will look at the central midfield options, as Rangnick looks to build a strong spine.
Central Midfielders
There are a number of factors to consider; obviously distribution will be key for any midfielder, so progressive passing and forward passing will be looked at. Sitting in front of the defence, any arrival will have to be competent in defensive duels along with Possession Adjusted Interceptions (Padj Int.). With much of the available funds likely to be depleted by a central defender arrival, the midfield target will likely need to be available on more of a budget.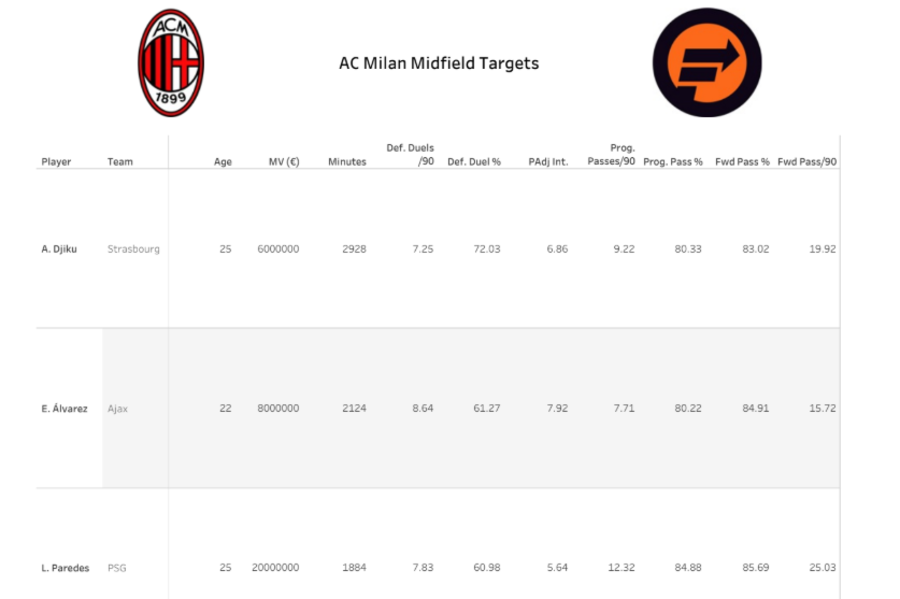 Alexander Djiku: Alexander Djiku only joined Strasbourg last summer, but in his short time he has already established himself as a regular, with 2928 minutes played.
The Frenchman has shown a strong ability to move the ball forward, with an 83% accuracy for forward passes and an 80.3% accuracy for progressive passes. In addition to being capable of filling the defensive midfielder role, Djiku can play as a central defender or a right back, making him a versatile option. At 25 years old, he is entering his prime and should cost less than €10m.
Edson Alvarez: Following Djiku in the shortlist is Ajax's Edson Alvarez. The 22-year-old Mexican arrived in July 2019 for €15m from Club America and offers the versatility of being a defensive midfielder or central defender. Alvarez is just one of the countless players to see rapid growth in his time at Ajax and could be ready for his next move.
Should he decide to leave, Milan could land a player who is incredibly strong defensively, with 7.1 ball recoveries P90 and 8.6 defensive duels P90 with a success rate of 61.3%. Ajax would be looking to make a profit on their recent arrival, meaning Milan will likely have to spend around €20m to secure his services. Alvarez has proven his worth, but is midfield his best position?
Leandro Paredes: Should Milan want a star man to anchor the midfield in the Rangnick-era, attention should be directed to Paris for Leandro Paredes. The 25-year-old joined Paris Saint-Germain from Zenit St. Petersburg in January 2019 for a €40m fee and is a regular for PSG, but thanks to the market crash from the pandemic and Thomas Tuchel having options in the midfield, the Argentinian could be available in a range of €25-30m.
Paredes boasts the best passing abilities of the shortlisted three, with an accuracy of 85.7% for forward passes (25.03/90) and 84.9% for progressive passes (12.3 P90).
Paredes will certainly be the most expensive of the three options in terms of transfer fee and wage packet, but he also could be the best fit. Will a potential Paredes transfer take too much out of the budget to address other issues?