AC Milan are one of the most historically successful sides in not just Italy, but football in general.
However, the side has not won the Serie A since the 2010-11 season.
With Ralf Rangnick set to take over, he will have his work cut out for him to make AC Milan an elite side again.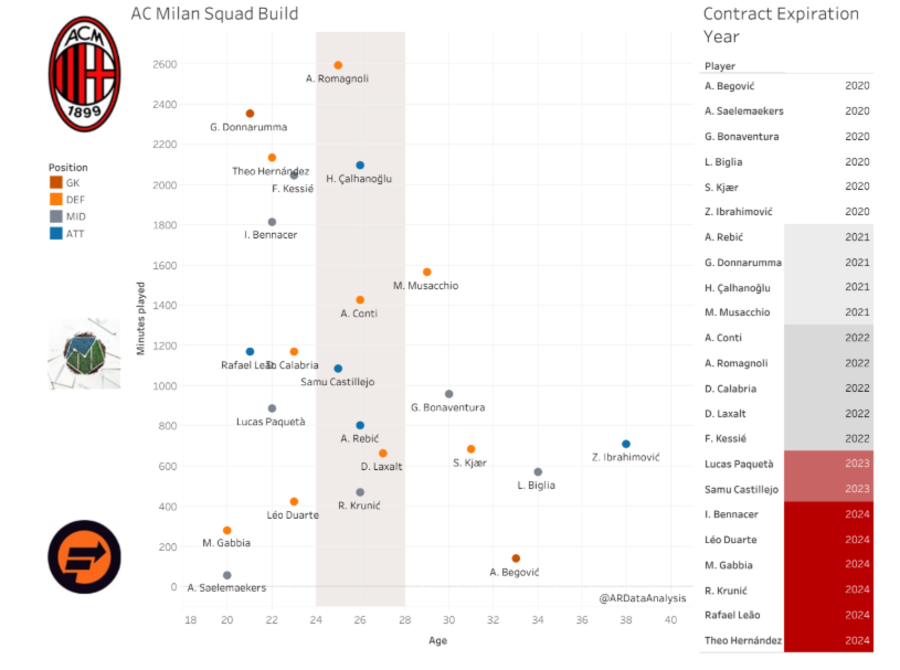 Looking at his current squad, we can start to get a grasp of what players he will be working with and when their contracts expire. Rangnick will reportedly be working with an €80m budget and wants to bring in the likes of Salzburg's Dominik Szboszlai, RB Leipzig's Dayot Upamecano, who is also a target for Arsenal, and Real Madrid duo Luka Jovic and Martin Odegaard. While all four players are unlikely to be available for under €80m without departures, there are positions that can be prioritised.
Rangnick is sure to want to bring the Red Bull Football, that has inspirations from Milan's Arrigo Sacchi in terms of pressing qualities, to Italy, meaning a 4-2-2-2 formation is likely on his mind.
Rangnick's highest priority will be a central defender to partner with team captain Alessio Romagnoli. Ismael Bennacer is likely to thrive in the system, but a partner alongside him would be ideal. In addition to a central defender and defensive midfielder, Milan could be on the market for a striker.
Rumours suggest that Ante Rebic will stay, with a swap sending his loan-counterpart Andre Silva on a permanent deal to Eintracht Frankfurt.
Rafael Leao could be a long-term partner with Rebic, but with an ageing Zlatan as an option who may not be returning and Leao suggested to be involved in a swap-deal with Sassuolo's Gianluca Scamacca, spending some leftover funds on a striker may not be a bad idea.
Rangnick is known for requiring a very high demand in his training sessions, so there will need to be a degree of athleticism with whoever is brought in. Along with that, the potential arrivals need to be young with a potential sell-on value.
Central Defenders
Milan have a few options here. For a defender to be able to work in a Rangnick system, he has to be able to press effectively and distribute effective vertical passes to create a fast-paced attack. Looking at statistics of senior-level central defenders with a value of at least €5m, three players stand out the most.
1. Thilo Kehrer: The former Schalke player joined Paris Saint-Germain in August 2018 for €37m and has made 34 Ligue 1 appearances since his arrival. In 2018-19, he saw 27 league matches, but a foot injury limited him to just seven league outings in 19/20. With the likes of Marquinhos, Abdou Diallo, and Presnel Kimpembe all available for PSG, it is possible that Kehrer could be available.
Despite playing just 1286 minutes in total this season, Kehrer boasts a defensive duel win % of 75% (6.7 defensive duels P90) along with an incredible forward passing % of 90% (22.3 forward passes P90). The German international is still just 23 and could rejuvenate his career by joining Rangnick in Italy.
Caglar Soyuncu:The Leicester City defender has quickly seen his stock rise this season and with good reason. After arriving for around €20m from Freiburg in 2018, the Turkish International has seen his value rise to become a relative sensation in the Premier League.
Soyuncu has played 3821 minutes this season with a defensive duel win % of 71% through 6.4 defensive duels P90. He also averages 84.7% forward pass completion through 21.8 forward passes P90.
Soyuncu also has an aerial win rate of 66.5%, he is entering his prime and playing in the Premier League. Whether Milan could afford him given the other needs to address, is sceptical, but his profile fits the bill.
Dayot Upamecano: The 21-year-old Frenchman is well adjusted to playing the Red Bull way and has emerged as an elite central defender at Leipzig. With a market value of €45m he would not come cheap, but there is no better choice that will need less time to tactically adapt to the system.
Upamecano wins 77.9% of his defensive duels (7.6 P90) and averages 26.9 forward passes P90 with a success rate of 81.3%. It isn't often that the papers report a target that fits perfectly and Milan supporters should be excited in this sense of direction.
Milan are also in need of a central midfielder and are assessing their forward options - follow the links to read more.