The 1997-98 English Premier League title was won by Arsenal, Arsene Wenger's superb squad chasing down a beleaguered Manchester United side in the closing stages of the season to win in style. The Gunners finished on 78 points, one clear of Manchester United, but they lost their two final matches of the season when the title was already theirs. Liverpool were a distant third, followed by Chelsea and Leeds United.
CHANGES
Arsenal were keen to build on a positive first season under new manager Arsene Wenger, and they supported him in the transfer market with the arrivals of Marc Overmars from Ajax and Emmanuel Petit from Monaco.
Manchester United were faced with an immeasurable headache - how to replace Eric Cantona, who had chosen to go into retirement at the age of 31. It was a move that was unexpected, even to Sir Alex Ferguson. Teddy Sheringham had to bear the burden of replacing an icon and though a similar type of player he would, in his first season at least, find himself ill-fitting in a young United team that had learned so much from the Frenchman.
Tottenham took a punt that David Ginola and Les Ferdinand could invigorate them in the way that they had done in Kevin Keegan's swashbuckling Newcastle team, while Liverpool added Champions League winner Karl-Heinz Riedle to their squad, and there were rumours of a young goalscorer by the name of Michael Owen who was almost ready for first-team football.
Bolton Wanderers scored 100 goals on the way to a comprehensive First Division Championship and they would take their place in the top flight, along with Barnsley, who surprised many to finish in second, and Crystal Palace, who won in the playoff courtesy of a brilliant David Hopkin goal to defeat Sheffield United.
SEASON SUMMARY
United started the season well, and the manner of their victories of Barnsley and Sheffield Wednesday (7-0 and 6-1) suggested that they would once again be hugely difficult to pass.
But the first indication that Arsenal were up for the challenge came in early November, when David Platt's towering header thrilled Highbury in a 3-2 triumph, though Arsene Wenger's side would follow up this result with disappointing losses to Sheffield Wednesday (which contained Paolo Di Canio's infamous shove on referee Paul Alcock) and Liverpool (a stunning Steve McManaman volley).
But after Christmas Arsenal found a second gear. They embarked on a superb unbeaten run while United were poor in defeats to Southampton, Leicester City and Wednesday. Even still, United held such a huge lead at the top that one UK bookmaker paid out on them clinching the title following a 1-0 at Chelsea in late February.
When the sides met at Old Trafford in mid-March, United were nine points clear but Arsenal retained three games in hand. Arsenal knew that a win would give them the ascendency, and in a match where United squandered numerous openings, Marc Overmars' superb run and finish became the season-defining moment.
The Gunners still had to see through their games in hand, and they did so in emphatic style. They won 10 games in a row in the run-in and when United could only manage back-to-back draws versus Liverpool and Newcastle, it meant that Arsenal could clinch the title at home to Everton.
In England every game is such a battle and it makes the Championship so hard to win. My staff have worked so hard for me and like the players they have been exceptional and magnificent.Arsene Wenger
They did so brilliantly, winning 4-0, the result capped off by captain Tony Adam's blistering volley and United had to settle for second place for only the second time in the Premier League.
Elsewhere Newcastle, who had come so close to victory in 1996, had to suffer the loss of £15m man Alan Shearer to a serious cruciate ligament injury before the campaign had even started and they could only manage a 13th place finish, though did reach the FA Cup final.
Liverpool's main source of excitement in the campaign was the emergence of Michael Owen, who would develop from young debutant to England international by the time the World Cup arrived the following summer.
In the relegation zone, Crystal Palace, despite having a player of the quality of Attilio Lombardo and after some excellent early away wins, found the season to be too long and finished bottom.
Likewise Barnsley, who won at Anfield and knocked Manchester United out of the FA Cup, also suffered a number of heavy defeats and couldn't get enough wins to stay up. Finally, Gareth Farrelly's long-range strike preserved Everton's Premier League status at the expense of Bolton Wanderers, who agonisingly went down on goal difference.
AWARDS
PLAYER OF THE SEASON
DENNIS BERGKAMP
After an inauspicious start to his Arsenal career, the Dutchman eventually showed his class to guide his team to the title.
MANAGER OF THE SEASON
ARSENE WENGER
The Frenchman constructed a superb side who held their nerve on the run-in to keep Manchester United at bay.
YOUNG PLAYER OF THE SEASON
MICHAEL OWEN
The Liverpool forward became a regular in his first full season in the team to finish as joint-leading scorer in the division.
TOP GOALSCORER
DION DUBLIN, CHRIS SUTTON, MICHAEL OWEN - 18 GOALS
The strike trio scored 18 goals each for Coventry, Blackburn and Liverpool respectively to share the golden boot award.
TEAM OF THE SEASON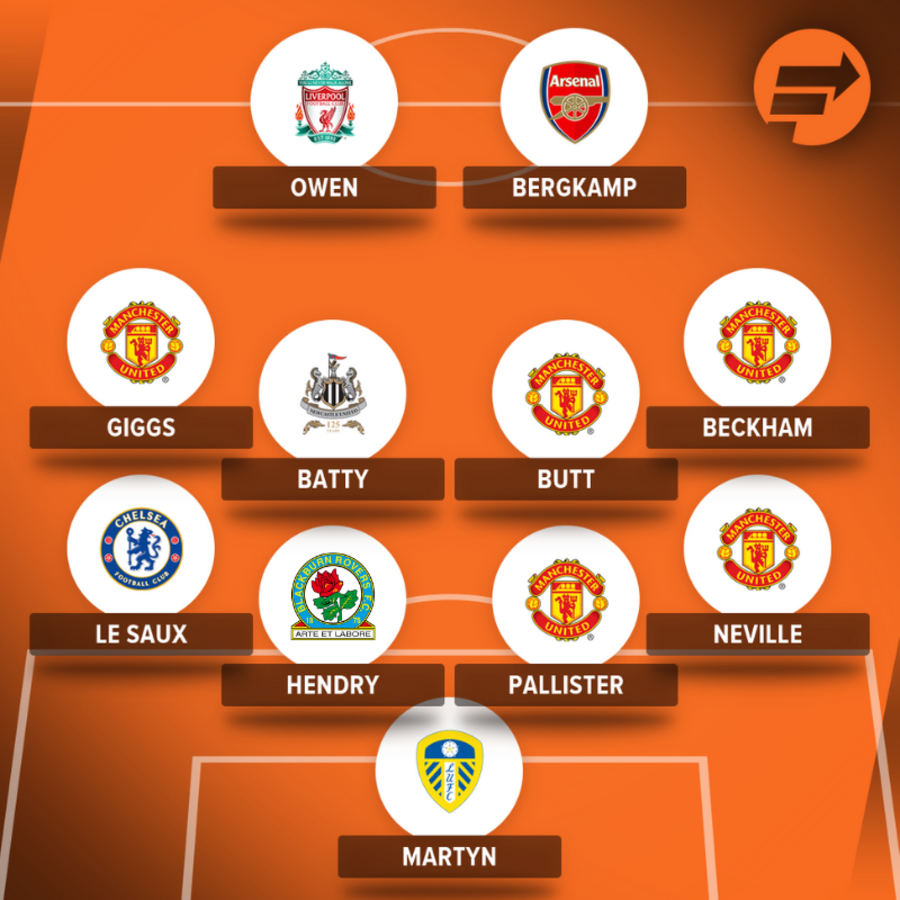 GOAL OF THE SEASON
DENNIS BERGKAMP scored an astonishing, hat-trick completing goal in the dying moments in one of the Premier League's most memorable moments.
MOST EXPENSIVE TRANSFER
Marc Overmars
Ajax to Arsenal
£7m
KEY MOMENT OF THE SEASON
Marc Overmars sprinting away from Gary Neville to slot beyond Peter Schmeichel and set Arsenal on an inexorable run towards the title.