Chelsea announcing Frank Lampard as manager during a transfer ban was a move that lacked confidence from many, but as we find ourselves at a stoppage in football, Chelsea are fourth with a chance of catching a stumbling Leicester City for third, while also undergoing a youthful revolution.
READ MORE:
Analysing Chelsea: Should Frank Lampard be looking for a new goalkeeper?
In the first part of Analysing Chelsea, we looked at who Chelsea could replace Kepa Arrizabalaga in goal and in in this instalment, we will be looking at the one aspect of Chelsea's defending that could use an upgrade, the left backs.
CURRENT LEFT-BACKS
During his tenure at Derby County, Frank Lampard relied primarily on a 4-3-3 formation (29% of league minutes played) with a 4-2-3-1 being the second choice formation (25% of league minutes played).
At Chelsea, Lampard has stuck to the same two general shapes with even less flexibility (4-3-3 seeing 32% of league minutes played while 4-2-3-1 sees 29% of league minutes played). In these two shapes, Lampard asks for a very modern role from his left backs. With defending becoming less of a priority for full-backs in today's game, Emerson and Marcos Alonso are often asked in the build-up of attacks to overlap the left winger and to provide accurate crosses. In times where they are not crossing, they look to play a drop pass to the left winger, who has since tucked into a more central role.
In our search for an upgrade, we will place heavy priority on Progressive Runs P90 and Successful Cross %.
In terms of progressive runs, we know that Emerson averages 2.14 P90 and Marcos Alonso averages 2.02 P90. Looking at crossing %, Emerson averages 0.28 and Alonso averages 0.22.
After finding potential replacements that will meet the attacking standard of a Lampard left back, we will look at Defensive Duels Won % (Emerson: 0.632, Alonso: 0.725) and Aerial duels Won % (Emerson: 0.593, Alonso: 0.5), which must be high to maintain Chelsea's statistically elite defending.
To assure that potential recruits can meet Chelsea's standards, a database of the top five leagues has been created and we will look at 99 potential replacements.
ATTACKING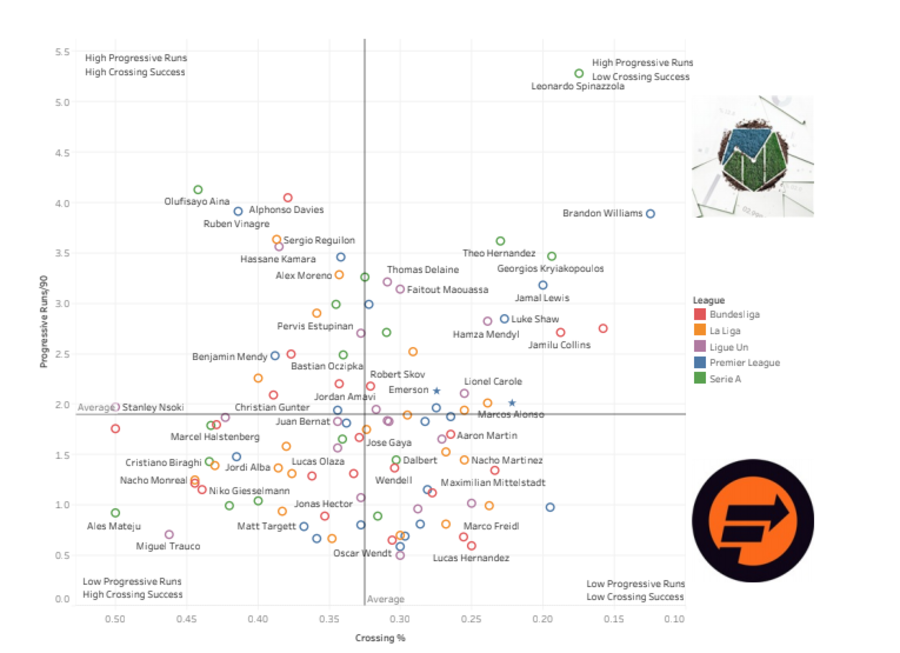 In the graph above, we compare progressive runs P90 vs. crossing % and include an average line to create quadrants in order to categorize the potential replacements.
In QI (top right), we see players who have above average amounts of progressive runs but a lower crossing %. This is the category that Emerson and Alonso both find themselves in, along with the likes of AC Milan's Theo Hernandez and Manchester United wonderkid Brandon Williams.
Liverpool's Andrew Robertson finds himself on the QI side of the QI-QII border when comparing these metrics. Moving to QII (top left), we see the top candidates for our search. These players are above average in both progressive runs and crossing percentages.
With 18 players initially being in this quadrant, we can refine it even more by removing the three players who have a lower crossing % than Emerson. This removes Oleksandr Zinchenko (Manchester City), Christian Gunter (Freiburg), and Stanley Nsoki (Nice). That allows us to bring our shortlist to these 15 players:
With these 15 players, we can now move on and see how their defensive outputs compare to Emerson and Marcos Alonso.
DEFENDING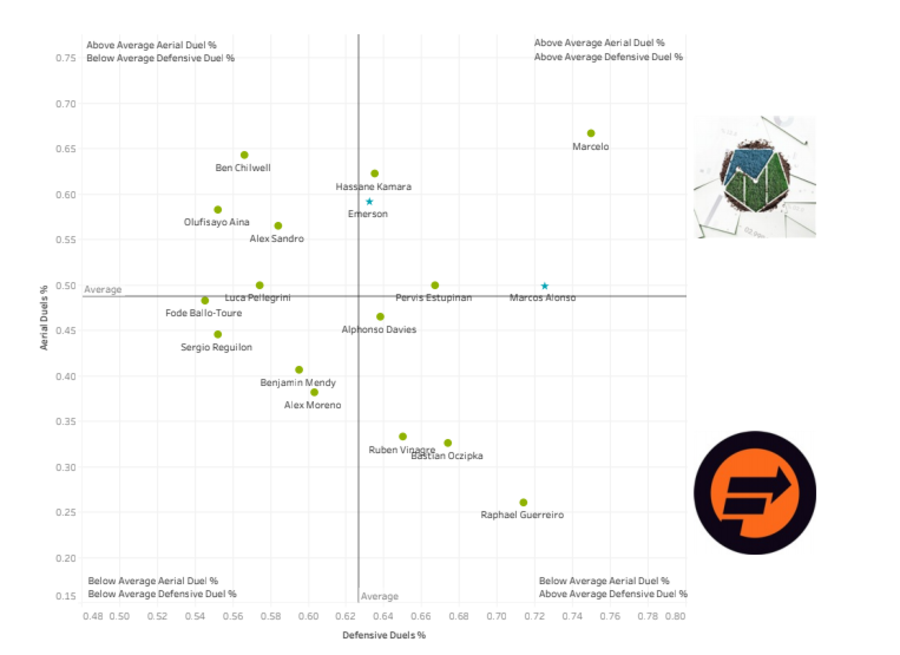 In the graph above, we have removed the 84 players who did not meet our initial cut and have only kept our shortlisted 15 plus Emerson and Alonso.
Right away we see only three of our shortlisted players are in the category of elite defending, and only one of those three players is above Emerson and Marcos Alonso in each category - Real Madrid's Marcelo. The other two players in the quadrant are Osasuna's Pervis Estupinan and Reims' Hassane Kamara. With these three players standing out as the best candidates for Chelsea to target in order to improve an already-elite defending unit, we can now move onto our next step.
NOTES
Now that we have looked at the data and identified potential upgrades to Marcos Alonso and Emerson, we need to apply some logic. Marcelo is clearly the top choice in terms of being a data fit. Thanks to the emergence of Ferland Mendy and the potential return of Achraf Hakimi from his loan at Borussia Dortmund, Real Madrid are likely much more willing to part ways with Marcelo than they would have been just two seasons ago.
There are downsides, however. Marcelo is 31 years old and will be 32 before he could be seen in a Chelsea shirt, meaning his performance is naturally on the decline. In addition to his age, he has also seen an increase in injuries.
In the 2019-20 season alone, he has missed 14 matches. Compare that to 2018-19 where he missed 10 matches, 2017-18 with six matches, and 2016-17 with only five matches missed due to injury. This steady rise in fitness issues may be even more prevalent given the reputation of the Premier League's physicality. With the pros and cons being looked at, Marcelo is valued at £18m, which is well within Chelsea's budget.
Another option is Pervis Estupinan, who has an FC Rating of 79, is valued at £6.75m and is on loan at Osasuna from Watford. Despite joining Watford for an undisclosed fee from Udinese in 2017, Estupinan has yet to break into the Watford first team, being sent on loan to Almeria, Mallorca, and Osasuna. At just 23, Estupinan has plenty of upside and is performing very well. While he is a very affordable option, it may be worth negotiating a transfer that includes a loan back to Watford, if they were to give him valuable Premier League experience over Adam Masina to justify a bit of trust before joining a top Premier League side.
Our third and final option from this list is Hassane Kamara of Reims, who has an FC Rating of 84. The 26-year-old is the only option of the three to be in his prime and is valued at £5.4m, making him the lowest market-value option as well. Kamara was our fifth-most progressive player in our initial 15-man shortlist, which is key to Lampard's system.
In addition to that, Kamara offers a dominance in the air that is only rivalled by Marcelo in our current shortlist of three, plus Emerson and Alonso. The Frenchman has avoided injury problems throughout the majority of his career and the signs point to him being a hidden gem perfect for Lampard's tactical demands at Chelsea. But could he make the jump from France to England?
While these three options stand out in the metrics we looked at, there is still more work to do. More metrics can be looked at to refine the search and video scouting must be done before any progress on a transfer is made.
If you enjoyed this article, you can find many like it along with visuals and much more by following @ARDataAnalysis on Twitter.