Ollie Watkins opens the scoring at Villa Park – an Adrian error, Liverpool should bounce back. Watkins scores again, a belter into the top corner. Could they? Salah pulls one back and everything is normal again. They'll come back. An hour later, Aston Villa had beaten the champions 7-2.
It was the first time a reigning Premier League champion had conceded seven goals in a match, the first time Liverpool had done it since 1963, the same year as their last defeat by a bigger margin than this.
While it always felt like Liverpool could carve a route back into the contest, the balance of play showed that was never possible as Aston Villa proved more decisive and determined to earn the three points.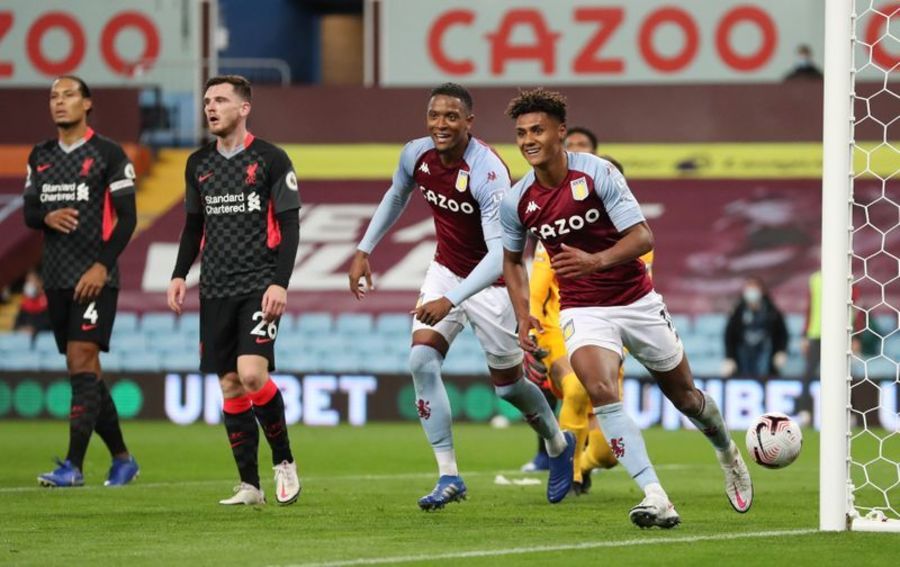 Roy Keane caused an adverse reaction from Jurgen Klopp when he used the word "sloppy" to describe a moment where Alexandre Lacazette should have drawn Arsenal level against Liverpool the weekend prior.
Klopp's bewilderment at that comment, he explained, was to the fact that for all of the times Arsenal got in behind Liverpool's defence, the offside flag more often than not was raised and the delay in the flag was the only reason it felt like his side were under the pump.
It was interesting that Klopp immediately justified his team's defending by pointing to how often they play the opposition offside, as this essentially is a turnover and a free opportunity to build up a new attack.
As of last season, this extra-high line has certainly been a clear preference from Klopp and his staff, with even Norwich City exposing the back four on multiple occasions during their opening day clash last year.
The Reds were successful in catching opposition attacks offside last season at an average of 3.74 times per match, which was a 0.5 increase on the previous campaign.
To put that number in perspective, Manchester City caught opposition teams offside 2.18 times per match, and Burnley were flagged 2.34 times per match, more than any other team in the league.
And this season it appears the line has become even higher, yet two stats are incredibly important when comparing this season – albeit four games in – to the 2018/19 campaign.
Liverpool conceded just 22 goals in that season on the back of one of the greatest individual defensive seasons from Virgil van Dijk and the additions of Alisson and Fabinho to the spine of the team.
In just four Premier League games, Liverpool have already conceded half of that total and are averaging almost identical numbers to that season in opposition offsides.
Somewhat bizarrely given the 18-point gap with which they won the league and a second-highest ever points total of 99, Liverpool conceded 11 more goals last season than they did the season before and scored four less.
Granted, 12 of those 33 total concessions did come post-lockdown, but by comparison Manchester City conceded just four times in Project Restart while playing 10 games in that period, with Liverpool only playing nine.
After that Arsenal win, another intriguing anecdote from Klopp was the fact that he seemed quite accepting of the fact that Liverpool will concede chances and balls behind the defence.
"You cannot avoid that (balls in behind), you need a goalie in these situations," he told Sky Sports from the Anfield turf, in particular referencing that spurned one-on-one from Lacazette.
Judging from those comments, Klopp clearly has faith in his goalkeeper, for one, as well as his forwards and creative players to consistently score more than the defenders may let in.
The German has taken a particular focus to set pieces as a mechanism for chance creation, perhaps sighting their low xG value but the high importance they have in the modern game.
Last season, Liverpool scored 15 goals from corners and other set piece situations while conceding five, compared to 21 goals and eight concessions in 2018/19. Both were a vast improvement on Klopp's first two seasons at the club, with 19 goals and 17 conceded across those campaigns.
Without at all suggesting Liverpool were lucky to win the league last season, their high-risk game means that they almost hope for things to go their way and they thrive when taking advantage of low percentage, high risk moments.
Southampton suffered a defeat in a similar fashion at home to Tottenham Hotspur earlier in the season, with Harry Kane and Son Heung-Min slicing through their high defensive line with ease.
Ralph Hasenhuttl after that defeat criticised the pressure on the ball and said a high line was not possible when the forward defending was so lacklustre. This was the same for Liverpool on the weekend.
Roberto Firmino attempted three less duels and had less recoveries than his league average last season, Fabinho didn't win a single tackle for the whole 90 minutes.
The high line alone wasn't the issue, but paired with an overall sluggish performance, it exacerbated Liverpool's sloppiness and played into Aston Villa's grateful hands.
Liverpool were unable to put their set pieces into effect, were beaten in their press and had just about everything else go against them, indicative of what can happen when the risks don't pay off.