Imagine this: we are searching for a new central defender for our side that is currently midt-able in Italy's Serie A.
We have a budget available for a transfer fee of roughly €8m. Luckily, we play in a city that is attractive, so players will have little to no issue moving to the city. We play in a system that uses three central defenders and the manager is looking for a player who can meet the demands of the following outputs:
READ MORE:
⚽ What happens when The Next Big Thing doesn't work out?
⚽ Coronavirus: Which leagues are suspended, and which are still going?
⚽ Andrea Agnelli's Super League ambition has potential to tear football apart
Duel Percentage: 0.691
Aerial Duel Percentage: 0.567
Interceptions/Match: 4.93
Pass Completion Average: 39.29
Long Pass Completion Average: 5.03
Received Passing Average: 25.43
We can evaluate potential transfer targets by creating a scoring system, which will be as follows:
Finishing First in Category: +5
Finishing Second in Category: +4
Finishing Third in Category: +3
Finishing Above Our Outputs: +2 Bonus Points
Finishing Above Database Average: +1 Bonus Point
Using this scoring system, we can quickly grade players and identify top candidates for the next steps of the scouting process. In this database, we will look at players from Russia, Ukraine, Poland, Czech Republic, and Hungary. In order to qualify, players must be younger than 30 (as of 25 February, 2020) and have a minimum of 900 league minutes played at the central defender position.
DEFENSIVE ABILITIES
After scouting the top divisions in our five selected nations, we created a list of 85 players. Of the 85 players, the average duel percentage is 0.663. Our current central defenders average 0.691 in duels, so this is an important category for us.
While it is one of our strengths, any new transfers need to be an upgrade on this. Of the 85 players in our search, 27 of them (32% of the database) proved to be an upgrade on our average. Of these 27, only five emerged with a duel percentage above 75%. Coming in fifth was our first of three Czech Fortuna Liga players in the top five, Patrizio Stronati of Banik Ostrava. The 25-year-old valued at €1.3m wins 0.756 of his duels. Sitting above Stronati is Marek Kodr of Pribram in theCzech Fortuna Liga.
The tall 23-year-old is the lowest value of the top five, being valued at just €250k and winning 0.761 of his duels. Sitting above the cheapest of the top five is the most expensive in Filip Uremovic of Rubin Kazan.
The €3.2m 23-year-old wins 0.766 of his duels, which happens to be the same percentage as our player holding the No. 2 spot. Dynamo Kyiv's 27-year-old Artem Shabonov is only above Uremovic in our search thanks to his lower value of €2m.
Topping off the group as the best duel winner in our search is Slavia Praha's David Lischka. The 22-year-old winner of 2018's Czech Talent of the Year award wins 0.792 of his duels and he is only valued at €1.2m, making him an affordable talent that is an elite option for winning duels.
When it comes to aerial duel ability, our team is significantly below average with a success rate of just 0.567. This output can be improved on by 52 of the players in our search, with seven players offering an improvement of more than 0.14 in aerial duel success. Of the top five performers, we see two players emerge as top options despite being valued at less than €1m.
Beginning the top five with fifth, Artem Shabonov of Kyiv returns with a success rate of 0.726. Finishing above Shabonov in fourth is Vadym Paramonov of Kolos Kovalivka in the Ukrainian Premier League.
The 28-year-old is on the higher side of our age filter, but the €500k value could make him an option. In third, we see someone even cheaper and older in Martin Kouril. The 29-year-old valued at €450k currently plays for Varnsdorf in the Czech Fortuna Liga and, like Paramonov, would likely be the type to fill in-depth.
Moving away from the depth options in the top five, we see our most expensive option in second with Rostov's Dmitriy Chistyakov. Chistyakov is 26 and valued at €2.8m with an aerial ability of 0.755. Barely beating Chistyakov and finishing first in the recruitment search is €1.2m Orenberg man Uros Radakovic. The 25-year-old represents a great option for the club with his aerial duel success rate of 0.76 and could be the elite aerial winner that our club needs.
When searching through the database, we quickly see that our side is below average in interceptions per match, sitting at just 4.93 interceptions/match compared to the database average of 5.95. This can likely be explained by our tactical philosophy that leads to us being more conservative in committing to intercept the ball. With that being said, the top five in the interception category will be quickly listed.
1. Aleksey Tataev |Mlada Boleslav | 21 | €1.2m | 10.63
2. Ondrej Karafiat | Sloven Liberec | 25 | €700k, 8.6
3. Akos Kinyik | Debreceni VSC | 26 | €350k | 8.31
4. Petr Buchta | Zlin | 27 | €350k | 8.27
5. Aleksandr Putsko | Ufa | 27 | €1m | 7.9
BALL-PLAYING ABILITIES
While defending is obviously the most important part of being a central defender, the game has evolved in recent years - there is more emphasis on defenders who can not only win the ball but also properly begin a transition into an attack.
It is safe to assume that everyone at the professional level is capable of passing the ball with reasonable success, but the question is more of load management. Therefore, we can look at our average passing numbers and see our average central defender makes 39.29 passes per match, 5.03 of those passes are long, and they receive 25.43 passes per match. Now, let's look at how the players in the database perform.
While the upper-majority of players in the database average 40-55 completed passes, two players manage a pass workload of over 70 passes per match; firstly Mykola Matviyenko with 71.67 passes. The 23-year-old is valued at €5m and plays for Shakhtar Donetsk. Sitting right behind Matviyenko is Miha Blazic. The Slovenian valued at €1.5m, is playing in Hungary with Ferencvaros and averages 71.18 passes per match.
Both Matviyenko and Blazic are also top two in passes received per match with 56.41 and 53.27.
In terms of playing a long ball, four players in our database play more than 10 long balls per match. While our side averages half of that, these four players will be the most comfortable with the load transition and are all in prime playing age (25-27 years old) and three play in the Czech. Fortuna Liga. Finishing fourth and valued at €350k is Petr Buchta of Zlin, who averages 10.12 long balls per match.
In third, we see Lukas Pokorny, who is on the books at Bohemians 1905 with 10.32 long balls. At 10.33 is Ondrej Karafiat of Sloven Liberec, who misses out on the top seat to the only player in the top four playing outside of the Czech Republic, Hordur Magnusson. The 27-year-old Icelandic international playing for CSKA Moscow is valued at €5m and averages 10.93 long passes per match.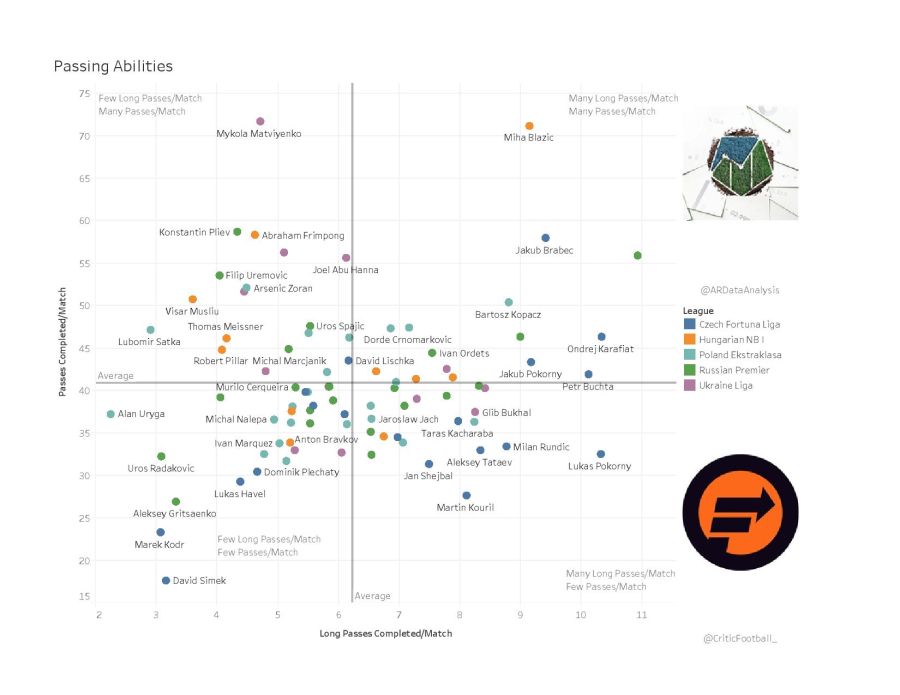 Our final aspect of ball-playing ability comes in looking at the workload players have in terms of receiving passes.
1. Mykola Matvieyanko | Shakhtar Donetsk | 23 | €5m | 56.41
2. Miha Blazic | Ferencvaros | 26 | €1.5m | 53.27
3. Serhii Kryvtsov | Shakhtar Donetsk | 28 | €5m | 45.85
4. Abraham Frimpong | Ferencvaros | 26 | €700k | 42.96
5. Jakub Brabec | Zorya | 27 | €3m | 40.7
FINAL THOUGHTS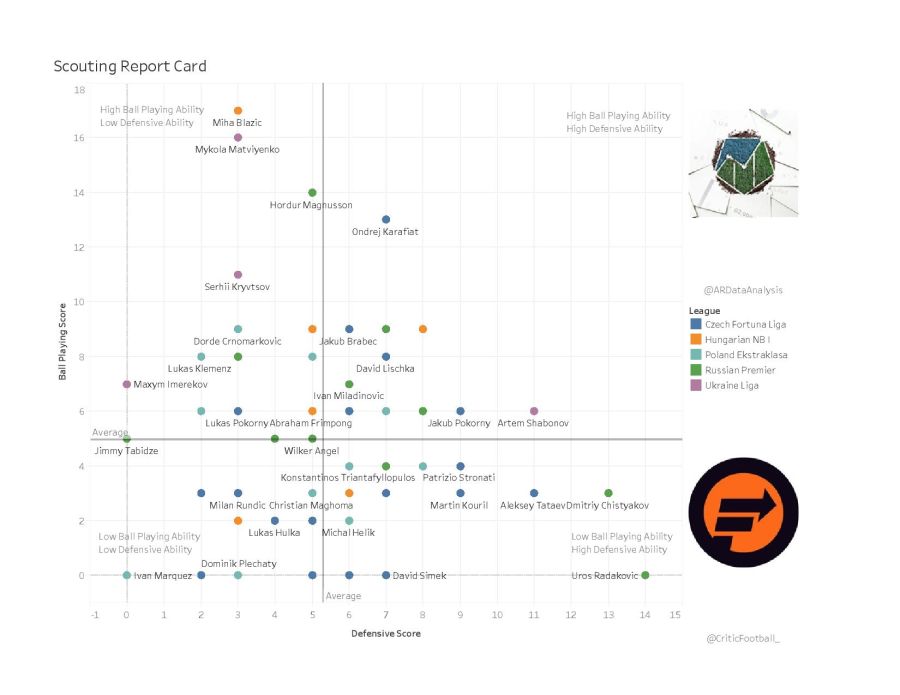 There are a few recruitment directions to take now that we have the results in front of us. If we want to prioritise the defending abilities in talent, Uros Radakovic of Orenberg is our top choice. Thanks to his 0.727 duel percentage, 0.76 aerial duel percentage, and 7.3 interceptions per match, he scores 14 points in the defending categories and is only valued at 1.2m. Getting just one point less is Dmitriy Chistyakov (Rostov, valued at 2.8m) with a duel percentage of 0.694, an aerial duel percentage of 0.755, and 6.37 interceptions per match.
If we want to bring in the best available defender in terms of handling a high workload on the ball, Miha Blazic of Ferencvaros receives 17 points in our ranking. Closely following is another frequently discussed name in this article in Mykola Matviyenko of Shakhtar Donetsk with 16 points.
Finally, if we want to consider someone who produces above-average outputs in both categories, we can look at the three players who scored an 8 on defensive abilities and a 9 on ball-playing abilities, putting them 5th, 6th, and 7th on the overall score out of our 85-man database. Finishing 5th thanks to his market value of only 200,000 is David Bobal of Zalaegerszegi TE in Hungary. The 24-year-old produces:
Duel Percentage: 0.696
Aerial Duel Percentage: 0.684
Interceptions/Match: 4.93
Passes/Match: 41.52
Long Passes/Match: 7.88
Received Passes/Match: 27.72
In 6th is Mateusz Wieteska of Legia Warsaw, valued at €1.65m at age 23:
Duel Percentage: 0.704
Aerial Duel Percentage: 0.663
Interceptions/Match: 5.7
Passes/Match: 47.27
Long Passes/Match: 6.86
Received Passes/Match: 30.17
Finally, in 7th is Roman Evgenyev of Dynamo Moscow. At just 21 years old, he is valued at €2.5m:
Duel Percentage: 0.703
Aerial Duel Percentage: 0.627
Interceptions/Match: 5
Passes/Match: 46.3
Long Passes/Match: 9
Received Passes/Match: 29.9
While these players may not top the scoring in our database, they are the most dynamic and are all very friendly to our limited budget. From here, we can select the players we are most impressed within our database depending on what we are looking for and begin our video scouting of the player.
For more articles and data visualisation like this, you can follow Aidan on Twitter @ARDataAnalysis.