Originally published, January 2020
Everyone knows that the most important aspect of a goalkeeper's job is to stop shots. If you cannot stop a shot, chances are you will not last very long between the sticks.
However, the modern game has changed. Now, we see less goalkeepers emerging on the scene as traditional stoppers and more who are comfortable with the ball on their feet.
Now that goalkeepers are required to do more, it is only fair that we evaluate them on their abilities to do more than just stopping shots. Alisson recently registered an assist for Liverpool against Manchester United, but we have also seen him receive praise for his calmness on the ball.
While our hearts are racing as an attacker closes in, Alisson appears at ease and gets the job done. While composure is not something that we can quantify, there are a few metrics we can quantify. We can look at some metrics that are free and available to the public on Football Reference and how to interpret/use them.
Post-Shot xG & save percentage
While most of us are familiar with Expected Goals, There is a model for goalkeepers called 'Post-Shot xG', or 'PSxG'.
PSxG considers the xG because the shot is on target, whereas standard xG models are designed for attackers and looks at any shot taken.
Post-Shot xG (PSxG): A calculation taken after a shot towards goal has been found to have hit the target, while taking into account the quality of the shot, and more useful in assessment of goalkeepers than merely saves made. FootballCritic Definitions
PSxG excludes penalty shootouts, but does include penalty shots. This expands into PSxG +/- and PSxG +/- /90. The plus/minus aspect could be referred to as the PSxG difference, and it looks at the margin between PSxG and Goals Conceded, allowing us to see how a goalkeeper is truly doing in terms of shot-stopping.
READ MORE:
Which Premier League sides should sign a new goalkeeper?
With a positive number, the goalkeeper has stopped more shots than expected. Obviously a negative number means that the goalkeeper is underperforming and should be stopping more than they are.
Save % has always been something that is widely used in other sports, such as ice hockey, but is rarely discussed in football. This is because it does not account for the difficulty of shots faced, a goalkeeper's percentage sees the same result from either a world class goal or a terrible blunder.
However, there is more value to this than people realise as there appears to be a relatively clear correlation between save percentage and PSxG +/- /90.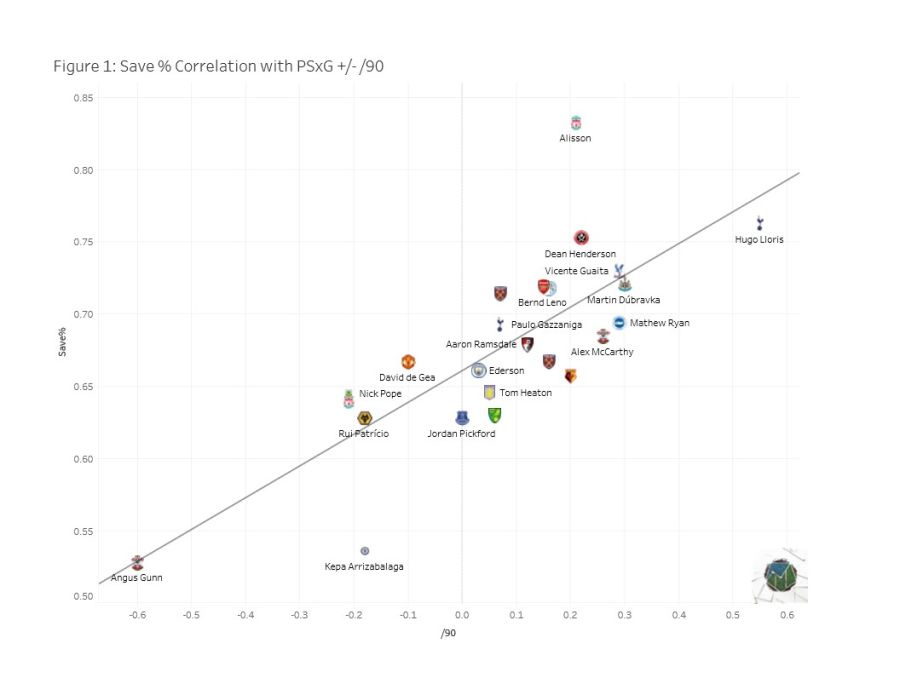 2019/20 Data from January 2020 for illustrative purposes
Looking at Premier League goalkeepers with a minimum of 500 minutes played this season, we can see the likes of Alisson and Hugo Lloris topping the chart in figure 1 (above). We also see Lukasz Fabianski above the trend line but often-criticised and recently-departed Roberto still performing well, putting in a higher save % and higher PSxG difference than Ederson. Kepa and Angus Gunn prove to be outliers for the wrong reasons, while Dean Henderson is outperforming David De Gea at Manchester United.
The top five Premier League goalkeepers in Save Percentage are Alisson (0.83), Hugo Lloris (0.76), Dean Henderson (0.75), Guaita (0.73), and Martin Dubravka (0.72). Rounding off the top five in PSxG Difference is Lloris (+0.55), Dubravka (+0.3), Vicente Guaita and Mathew Ryan (+0.29), and Alex McCarthy (+0.26). With these two metrics, you can evaluate a goalkeeper's shot-stopping abilities with relative accuracy.
Modern Sweeper-Keepers
Does your club play with a relatively high defensive line, leaving you vulnerable to one-on-one breaks against your goalkeeper? Chances are you should consider a Sweeper-Keeper in goal.
While the 1950s and 1960s saw perhaps the original Sweeper-Keepers in Hungary's Gyula Grosics and the legendary Lev Yashin of the Soviet Union, we think of Germany's Manuel Neuer as the one who made the style a household term.
With Neuer in decline and Marc-Andre ter Stegen soon to take the reigns, it is only right that we look at the Bundesliga for this next comparison. Football Reference uses a metric described as #OPA, this is number of defensive actions outside of the penalty area from goalkeepers.
This metric gives an overall number of just how many times your goalkeeper has had to come charging out on that bouncing ball in behind and clear it with a nervy header moments before the opposition striker arrives. This then progresses to #OPA/90, which is what will be used in the comparison. The other metric in Figure 2 is Average Distance from Goal, measured in yards. Again, goalkeepers included in this figure must have a minimum of 500 league minutes played to be considered.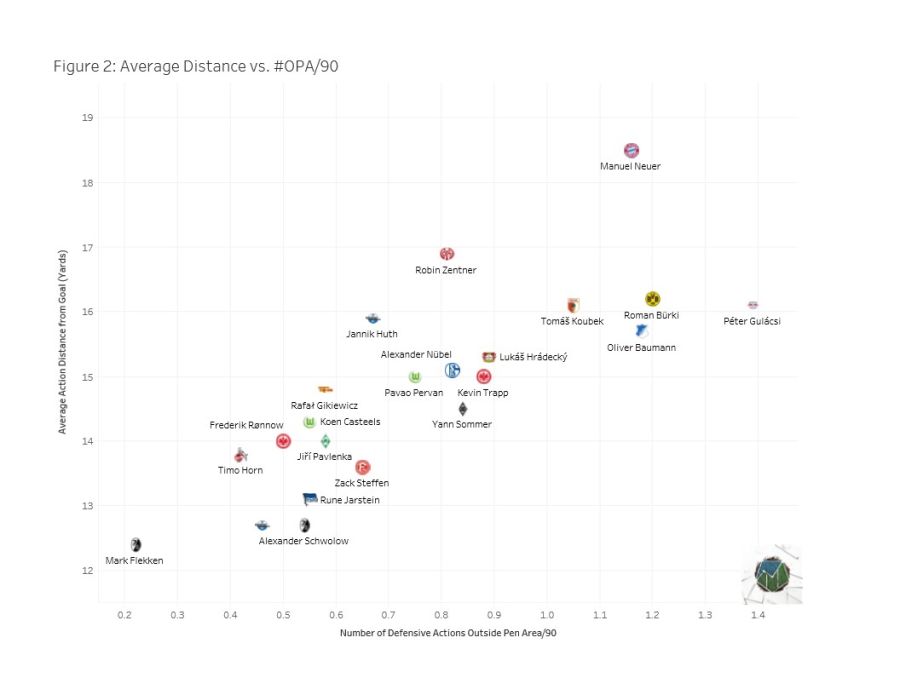 2019/20 Data from January 2020 for illustrative purposes
Without much surprise, we see in figure 2 (above) that Neuer is king in terms of distance from goal with his defensive actions, at 18.5 yards.
Neuer is followed by Robin Zenter (16.9), Roman Burki (16.2), Tomas Koubek and Peter Gulacsi, who are both at 16.1 yards. However, Neuer is not being tasked with the heaviest workload. Coming out most is Peter Gulacsi, averaging 1.39 #OPA/90. Burki (1.2), Oliver Baumann (1.18) and Neuer (1.16) all follow.
At the other end, Freiburg's passive play and strong defence appears, with goalkeepers Mark Flekken and Alexander Schwolow appearing in the bottom five for both distance from goal and number of actions P90. Schwolow appears fifth out of the bottom five in number of actions P90 with 0.54 and ties for second in shortest distance from goal at just 12.7 yards.
Goalkeeper Distribution
Along with the rapid rise of sweeper-keepers, more and more teams are trying to emulate the Cruyff philosophy of "first attacker is a goalkeeper, first defender is a striker" and have goalkeepers that are comfortable making a higher quantity of passes in each match.
Claudio Bravo joined Pep Guardiola at Manchester City in 2016, not necessarily as an upgrade on Joe Hart's shot-stopping abilities but as a short-term option to improve the ball-playing abilities of goalkeepers. This move is a perfect example of a manager with a strong value on possession, seeking a goalkeeper to meet the requirements. The two categories to be examined in this section will be total pass attempts and the average pass length, again in yards. When it comes to exciting, attacking football, La Liga is usually at the top of the discussion, so for figure 3, we will use La Liga's goalkeepers.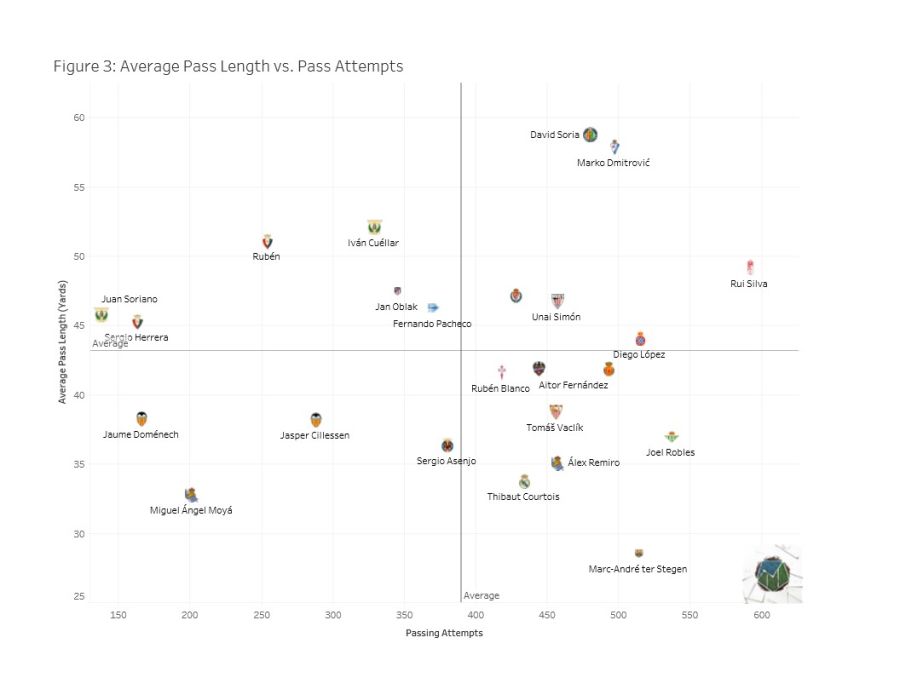 2019/20 Data from January 2020 for illustrative purposes
Starting with distance, we have two interpretations to take from this. A team that often struggles for possession will likely see goalkeepers making longer passes (Route One football) and a team that dominates possession, such as Barcelona, would likely expect a goalkeeper to have shorter passing distances.
When we look at figure 3 (above), we see the furthest five average passers are David Soria (58.8), Marko Dmitrovic (57.9), Ivan Cuellar (52.1), Ruben (51.1), and Rui Silva (49.2). On the other end of things, Marc-Andre ter Stegen averages the shortest pass distance at 28.6 yards. Following is Thibaut Courtois (33.8), Alex Remiro (35.1), Sergio Asenjo (36.4), and Joel Robles (37.0).
With the correlation of possession and goalkeeper pass distance, it is also safe to say that the higher quantity of passes your goalkeeper is attempting, there is a reasonable chance it relates to how much possession your team has.
However, this would be a dangerous assumption to make with Rui Silva attempting 592 passes, the most in the league, despite playing for Getafe, who average 43.5% possession per match. Following Silva is Joel (537), Diego Lopez (515), Ter Stegen (514), and Dmitrovic (497). Given the relative randomness of these five goalkeepers in their league position and squad average possession, we remember we can never assume.
When searching for a replacement goalkeeper on the transfer market, it is important to remember the amount of touches a goalkeeper has in your side will likely remain unchanged no matter who is minding the net. It is a question of can the goalkeeper handle the workload?
While these six metric categories are certainly not the only metrics that should be used in goalkeeper evaluation, these all can be used as starting points.
For all your goalkeeper analysis, follow Aidan on Twitter
READ MORE
⚽ FC's Best-Ranked Goalkeepers