The 2002-03 English Premier League title was won by Manchester United who, after surrendering their crown to Arsenal the previous season, relied on the brilliance of Ruud van Nistelrooy and Paul Scholes as an attacking tandem to put the Gunners back in their place. Arsenal were strong enough to push United into the closing weeks of the season, but Sir Alex Ferguson's side held on to finish on 83 points.
CHANGES
There was one transfer that dwarfed all others in the 2002 transfer window - Manchester United's capture of Rio Ferdinand from Leeds for a fee of £30m, the record, at the time, for a defender.
It was United's only piece of serious business but it was a statement of intent from Sir Alex Ferguson to sort out the defence that had proven so porous the season prior.
Ferdinand's departure from Leeds was one of many in what proved to be a mass exodus on financial grounds. The club had spent beyond their means for too long, and prize assets were stripped and sold in order to make sure the club could continue. Joining Ferdinand at the exit door was Jonathan Woodgate, who moved to Newcastle, while record signing Robbie Fowler went to Manchester City.
Other stalwarts of the side that had been so thrilling to watch over the past few seasons exited, too; Lee Bowyer was offloaded to West Ham, Olivier Dacourt to Roma and Robbie Keane sent to Tottenham. It would prove to be the beginning of the end for Leeds as a top flight force.
Elsewhere Liverpool gambled on World Cup performances translating to the Premier League, snapping up Senegalese duo El Hadji Diouf and Salif Diao for a combined £14m, while newly-promoted Manchester City, not content with just Fowler, spent a huge £13m on Nicolas Anelka from Paris Saint-Germain as they sought to gain a foothold in the top division. Newcastle also made a significant purchase, spending £11m on the highly-regarded Portuguese winger Hugo Viana.
Joining City from the division below were West Bromich Albion and Birmingham City, who turned heads mid-season by bringing in World Cup winner Christophe Dugarry.
SEASON SUMMARY
While Arsenal started the 2002-03 season with consistency, extending their good form from the previous year into the new campaign, United's performances were patchy at best. An entertaining 2-2 draw away at Chelsea was followed by underachievement in losses to Bolton at home and then away to Leeds, both via a 1-0 scoreline. After the first three months of the campaign it was the surprising Liverpool that were out in front, unbeaten and a full eight points clear of United even at that early stage.
But Ferguson's decision to push Paul Scholes further forward to, in effect, partner Ruud van Nistelrooy in attack begun to bear fruit and the victories followed. Brilliant wins over Newcastle, Liverpool and Arsenal put United back on track and, though they were disappointing in losses to Blackburn and Middlesbrough, the pieces were beginning to fall into place. After the Boro game United didn't lose again in the entire season.
Liverpool, meanwhile, collapsed disastrously after promising so much. They failed to win a match in 11 attempts spanning November through to January, baffling coach Gerard Houllier, who tried various line-up changes to little effect.
Arsenal's bid to hunt down Manchester United was not hindered by a lack of goals; their 85 in 38 games was the best in the league and Thierry Henry was in imperious form. Their problem was being able to avoid the dreaded draws. Three in the space of four matches in April, including in a fantastic 2-2 with United at Highbury, left them three points behind United with a game in hand as the season reached its climax.
I was surprised people had their doubts - I knew we would have our main players back for the main part of the season. I never doubt United. I know (the players') capabilities. When you are with a group for a long time you know them.Sir Alex Ferguson
Arsenal then surrendered a two-goal lead away at Bolton, handing United the initiative after they were able to defeat Blackburn and Tottenham. Then relegation-threatened Leeds arrived at Highbury and Arsenal had to win or else United would be crowned champions. Leeds, eternal local rivals of United, recorded a stunning 3-2 victory, with Mark Viduka's 88th-minute winner sparking scenes of jubilation in pubs and homes across Manchester.
The myth of the top four was solidified at Stamford Bridge on the final day of the campaign in a take-all match between Chelsea and Liverpool, the victor clinching the fourth and final Champions League spot. Liverpool only required a draw but the Blues came from behind to win 2-1 and, legend has it, catch the eye of prospective owner Roman Abramovich. Comfortable in third position were Newcastle, who were difficult to beat and good to watch under the old master, Sir Bobby Robson.
At the bottom, Sunderland won just four times in yet another season to forget, and they were relegated alongside West Bromich Albion and West Ham United, who went down despite collecting 42 points.
AWARDS
PLAYER OF THE SEASON
RUUD VAN NISTELROOY
The Dutchman's penalty box predatory instincts proved to be the difference-maker in so many close encounters.
MANAGER OF THE SEASON
SIR ALEX FERGUSON
An eighth title for the Scot, who masterminded a superb second half of the campaign in order to keep Arsenal at bay.
YOUNG PLAYER OF THE SEASON
JERMAINE JENAS
The box-to-box midfielder was a key component of Newcastle's excellent third-placed finish in the table.
TOP GOALSCORER
RUUD VAN NISTELROOY - 25 GOALS
Van Nistelrooy struck 25 times, one more than Thierry Henry, to secure the Premier League title for his team.
TEAM OF THE SEASON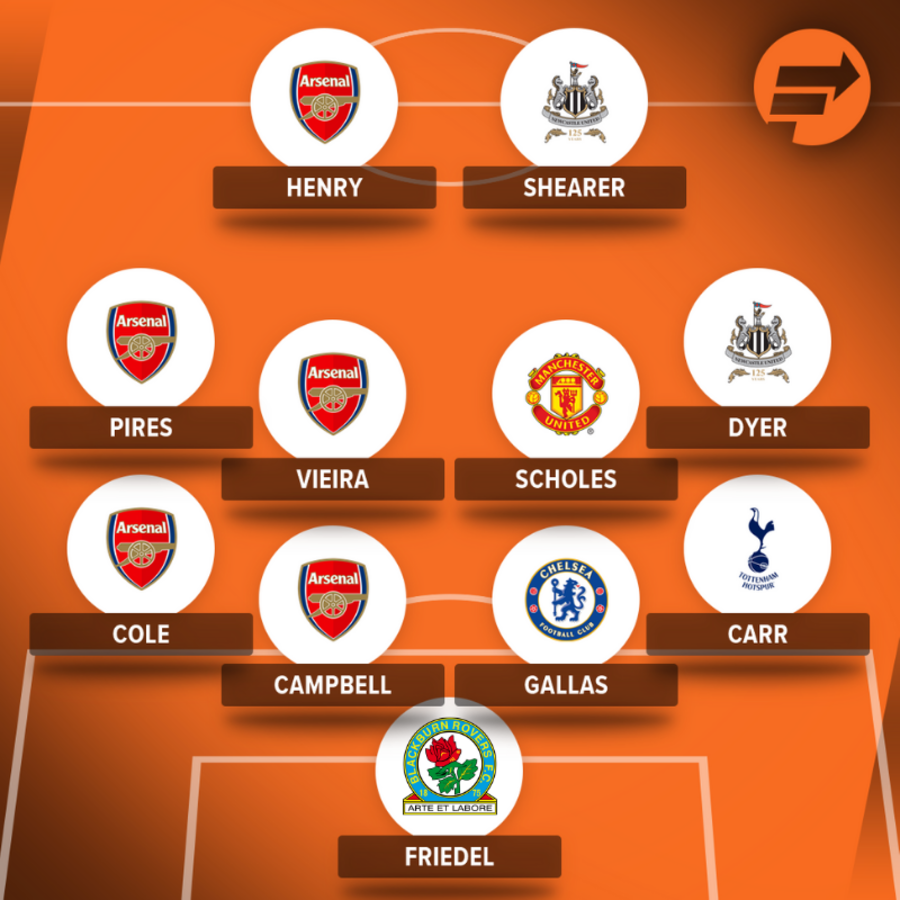 GOAL OF THE SEASON
THIERRY HENRY ran almost the entire length of the pitch to score one of the great individual goals against Tottenham at Highbury.
MOST EXPENSIVE TRANSFER
Rio Ferdinand
Leeds to MANCHESTER UNITED
£30m
KEY MOMENT OF THE SEASON
Arsenal were still seriously in the hunt when they went to Bolton and, with a 2-0 lead on the board and the points virtually sealed, they capitulated to draw 2-2 and hand United the impetus, from which they took full advantage.