The 1993-94 English Premier League title was won by Manchester United, who improved upon their title win of the previous year, losing just four times in 42 matches. United finished on 92 points, eight clear of their nearest challengers Blackburn Rovers, and a full 15 ahead of third-placed Newcastle United, though both those sides showed enough to suggest that could represent a more sustained challenge to Sir Alex Ferguson's side in future.
CHANGES
After such a strong performance the season prior Sir Alex Ferguson sought to strengthen his midfield further and looked no further than Republic of Ireland international Roy Keane, who was signed for a fee of £3.75m, the biggest spent by any English club to that date.
Elsewhere Blackburn Rovers made Tim Flowers the most expensive English keeper ever, by giving Southampton £2.5m for his services, as Kenny Dalglish continued to build a team that could challenge for honours.
But it was a low-key summer for both Arsenal and Liverpool, with both sides failing to suitably strengthen their squads, leading to a real fear from their fans that they could be left behind the challengers.
Newcastle United were promoted to the Premiership as champions, closely followed by West Ham United. Through the playoffs came a Swindon Town side orchestrated by player-manager Glenn Hoddle. In a dramatic final Swindon went 3-0 up against Leicester City before being pulled back to 3-3, only to clinch their route to the top flight thanks to a late penalty.
SEASON SUMMARY
Blackburn Rovers emerged as a real force this season but, in truth, Manchester United were the best in the division by some distance. Ferguson's side went top after just four matches and remained there for the entire season.
An early aberration, losing to Chelsea, aside United wouldn't lose again until March - ironically, again to the Blues and Gavin Peacock. Eric Cantona's first full season saw him integrate with his team-mates to devastating effect, and goals could be sourced from every area of the team. Mark Hughes and Ryan Giggs, growing more potent with each passing game, reached double figures while Andrei Kanchelskis, Paul Ince and Roy Keane contributed their fair share too.
Memorable wins included a 1-0 defeat of Arsenal courtesy of a Cantona thunderbolt, a derby win over Manchester City from 2-0 down, Keane rounding off the comeback in the closing minutes, and a 3-1 triumph at Old Trafford over a talented Aston Villa side. Even when the match didn't result in a win, United were thrilling to watch. They squandered a three-goal lead against Liverpool at Anfield but, in the process, produced some of the most vibrant attacking play from any team that year.
By the beginning of December, the gap was a colossal 14 points to the rest. But Blackburn, to their credit, put together a superb run that at least kept United on their toes. 10 wins in 12 after Christmas, coupled with some lax drawn matches from United, reduced the gap to seven points and United appeared to be under pressure.
2-2 draws away to Swindon and Arsenal were damaging not just because of the dropped points but because talisman Eric Cantona went sent off for violent conduct in both matches, earning himself a five-match ban at a pivotal point in the campaign.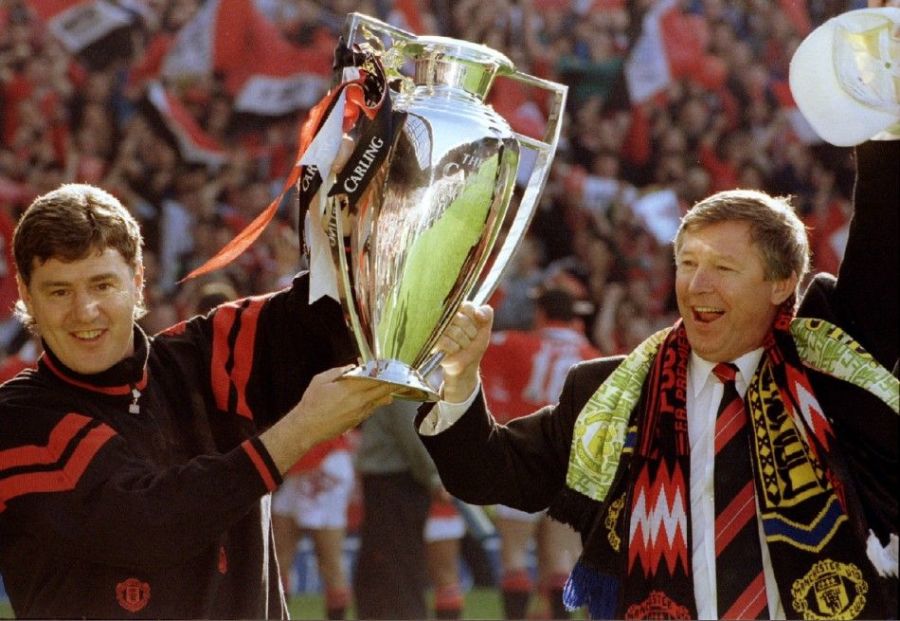 Then, Blackburn produced a vintage display, with Alan Shearer in superlative striking form to defeat United 2-0 at Ewood Park and, suddenly, it appeared that a title run-in would be incoming.
But when Cantona returned, United's nerve returned. The Frenchman scored twice in the derby to see off City, then Kanchelskis and Giggs clinched the points at Leeds United. At the same time, Rovers' belief failed them; a 3-1 loss at Southampton was followed up with a disappointing 1-1 draw with QPR at home.
Coventry's 2-1 triumph meant that United had got there with two games to spare, and, as became a theme of Premiership winners, it the final run of results ultimately settled the title; United collected 13 points from 15, Blackburn only five.
At the foot of the table, Glenn Hoddle moved to Chelsea before the season started and his Swindon Team conceded a record 100 goals in an inauspicious return to the second tier. They were joined by Oldham Athletic.
The other place was resolved on a dramatic final day. Everton looked doomed when they fell 2-0 down to Wimbledon, while Sheffield United, while only need a draw at Chelsea, went into a 2-0 lead of their own. Yet from there both matches flipped in incredible fashion. Everton stormed back and Graham Stuart's late goal secured an unlikely 3-2 win, while Sheffield United agonisingly conceded in injury time to go down 3-2 and hand Everton a reprieve.
AWARDS
PLAYER OF THE SEASON
ALAN SHEARER
The England forward's 31 goals gave Blackburn a fighting chance of the title and laid for the foundation for the amazing season that was to follow.
MANAGER OF THE SEASON
SIR ALEX FERGUSON
His side's storming performances in the first half of the season allowed them the breathing space to hold off Blackburn and claim back-to-back titles.
YOUNG PLAYER OF THE SEASON
ANDY COLE
Newcastle were a useful addition to the league and Cole's prolific 34-goal return would ultimately lead to a British record move to Manchester United.
TOP GOALSCORER
ANDY COLE - 34 GOALS
TEAM OF THE SEASON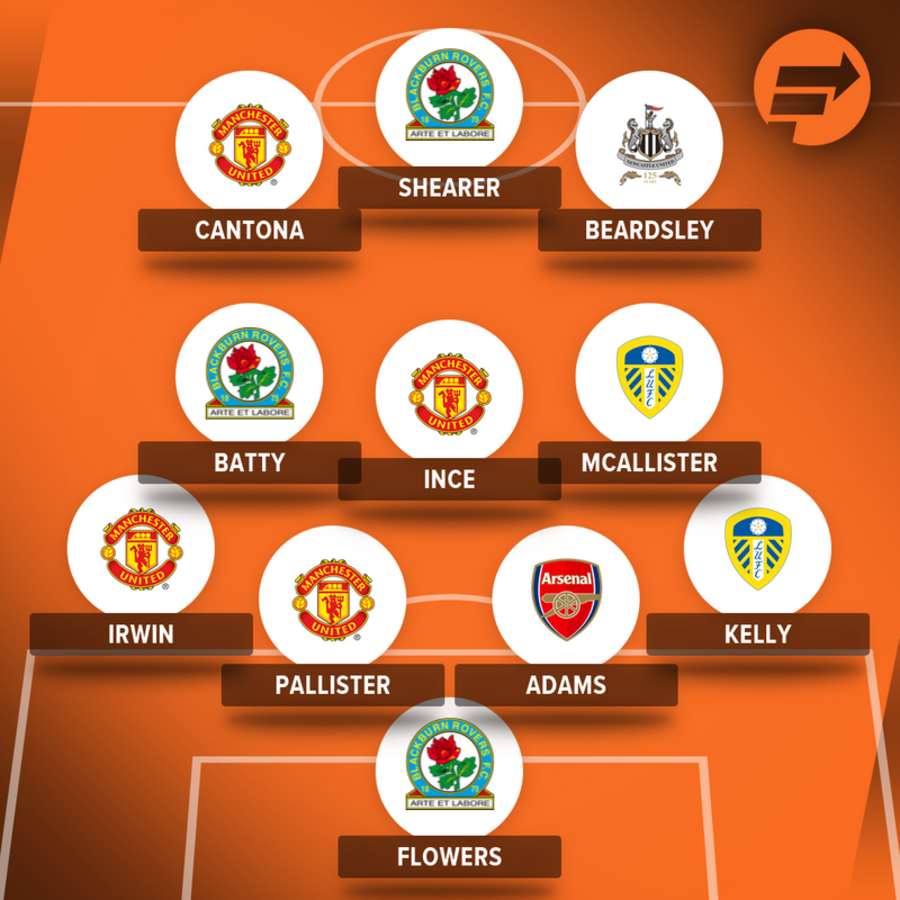 GOAL OF THE SEASON
ROD WALLACE seemed to run the entire length of the field beating numerous defenders before curling neatly into the corner.
MOST EXPENSIVE TRANSFER
Roy Keane
Nottingham Forest to Manchester United
£3.75m
KEY MOMENT OF THE SEASON
United's blistering start to the season left all the challengers in their wake, and Blackburn were unable to sufficiently make up the ground.