The 2004-05 English Premier League title was won by Chelsea in relentless fashion. Jose Mourinho's first season in England proved to be unilaterally impressive; his side lost just a single league match all season, conceded just 15 goals and recorded a massive 95 points. Arsenal finished in second position but in truth there was no title race worthy of mention; Chelsea were, by some distance, the best team in the country.
CHANGES
Roman Abramovich provided a level of financial clout never before seen in English football, and Mourinho utilised his resources to full effect. The players that were brought in all played a major role in the side's success over an extended period; Didier Drogba came in from Marseille for £24m, while defensive duo Paulo Ferreira and Ricardo Carvalho, who had performed so diligently for Mourinho in Porto's Champions League-winning season, joined for a combined fee of £30m.
Petr Cech, who would be first-choice goalkeeper for the next decade, arrived for £12m, while the brilliant Arjen Robben was a shrewd acquisition from PSV.
Manchester United spent the biggest single fee of the window, capturing the immensely talented Wayne Rooney from Everton for a fee extending to £30m. Alan Smith (Leeds, £7m) and Gabriel Heinze also helped to bolster their squad.
Real Madrid, after acquiring David Beckham the year prior, turned their attention to the Premier League once again, securing deals for Jonathan Woodgate and Michael Owen from Newcastle and Liverpool respectively. The Reds, under new boss Rafa Benitez, raided Spain in response, securing the highly-rated Xabi Alonso and Luis Garcia.
From the second tier, the promoted sides were Norwich City, West Bromich Albion and Crystal Palace, who came up via the play-offs despite finishing the league season in sixth spot.
SEASON SUMMARY
As impressive and virtually faultless as Chelsea's season was, the innate level of inconsistency in their rivals created less of a race and more of a procession. Arsenal, maintaining their unbeaten record from the previous campaign, started in superb form, but after falling to defeat Manchester United at Old Trafford at the end of October, picked up just one win in six, allowing Chelsea to open up a five-point gap at the top.
After the sides fought out a 2-2 draw at Highbury in November, the Gunners were able to keep pace until February, when damaging losses to Bolton and Manchester United meant that not only had they fallen 13 points off the pace, they had also dropped into third in the table behind United.
At the same time Chelsea just kept winning matches. A run of 13 of them, plus a draw, from January through to April sent them blistering into the distance and neither Arsenal nor United were able to claim anything like that level of consistency. Mourinho's side were enviable in attack but it was their stingy defensive play that proved so impressive, recording 10 clean sheets in row and their 15 goals conceded in the entire season remains a Premier League record.
The long wait for Chelsea's fans came away to Bolton, where one of their players of the season, Frank Lampard, scored twice in a 2-0 win to commence the celebrations.
Please don't call me arrogant, but I'm European champion and I think I'm a special one.Jose Mourinho
Arsenal were able to rally to some degree, finishing in second on 83 points, seven ahead of Manchester United in third. One of the stories of the season, Everton, came next. Despite working on a constrained budget, David Moyes negotiated the Toffees above rivals Liverpool in the table, and with it a shot at the Champions League - one, however, that would be doomed to premature failure in the qualifying round. As for Liverpool - well, their unacceptable league form was eclipsed by one of the most famous Champions League victories of them all, coming back from 3-0 against AC Milan to win on penalties in Istanbul.
Bolton Wanderers, under Sam Allardyce, finished level on points with the Reds, exceeding all expectations.
At the foot of the table, one of the founding members of the Premier League, Southampton, were relegated in what proved to be a thrilling final day. None of the three relegation positions were yet decided and West Bromich Albion, Norwich and Crystal Palace joined the Saints in battling to be the one side who could save themselves. Norwich failed miserably, being thrashed 6-0 at Fulham, while Southampton went ahead against Manchester United but lost 2-1 to end the season bottom.
That left two. Crystal Palace looked to be in the box seat, leading 2-1 going into the final 10 minutes, but a Charlton equaliser meant that West Bromich Albion survived courtesy of a victory over Portsmouth. They stayed up by a single point.
AWARDS
PLAYER OF THE SEASON
FRANK LAMPARD
The dynamic central midfielder added a dimension of goals to his already superb game, hitting 13 across the season.
MANAGER OF THE SEASON
JOSE MOURINHO
The Portuguese arrived in a haze of expectation and duly delivered, taking Chelsea to the title at a canter.
YOUNG PLAYER OF THE SEASON
WAYNE ROONEY
Rooney took to the step up from Everton in emphatic style, and begun to deliver on the promise of his early days at Goodison Park.
TOP GOALSCORER
THIERRY HENRY - 25 GOALS
The quicksilver forward collected the award for the third time in his career, courtesy of his 25 goals.
TEAM OF THE SEASON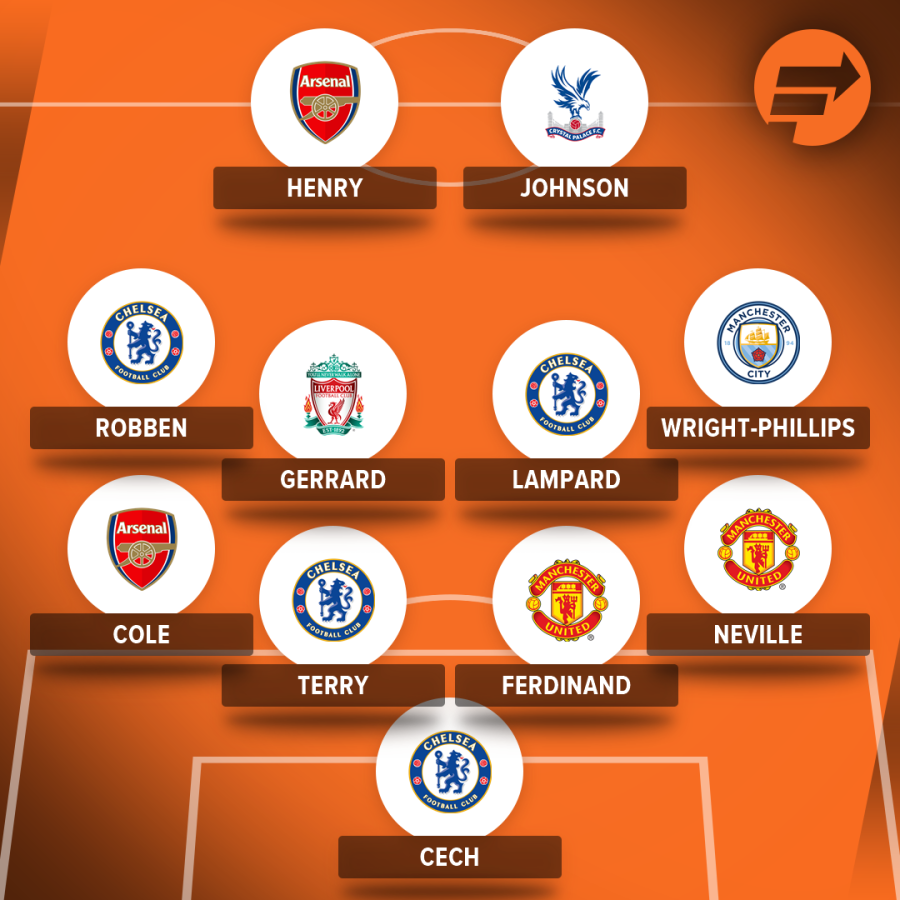 GOAL OF THE SEASON
WAYNE ROONEY won Goal of the Season for this lobbed effort against Middlesbrough in the FA Cup…..
But as this is a Premier League season review, it has to be this strike - again by Rooney - versus Newcastle United at Old Trafford.
MOST EXPENSIVE TRANSFER
Wayne Rooney
Everton to MANCHESTER UTD
£30m
KEY MOMENT OF THE SEASON
Chelsea taking advantage of United's late-season slips to set up clinching the title at Stamford Bridge against their closest rivals, which they duly did in a comprehensive 3-0 triumph.