Deportivo la Coruna clinched their first-ever Liga championship in 1999-00, which at the time, made them the smallest Spanish city to win the trophy, with a population of 250,000.
It was the peak of Javier Irureta's seven-year stint at the Galician club, who finished five points clear of second-place Barcelona to kick start a period of sustained domestic and European dark horsery in the early 2000's.
Looking back, it wasn't la Liga's finest season, with Depor the only side to win more than 20 games. However, with three of the four Champions League semi-finalists that term hailing from Spain, the league was still a force to be reckoned with.
CHANGES
Real Madrid were busy in the transfer market, adding future stalwarts Ivan Helguera and Michel Salgado to their defence. Steve McManaman also joined the club in a high-profile Bosman transfer from Liverpool, while Nicola Anelka joined from Arsenal for an ill-fated spell.
Deportivo would make one of the most important signings in their history, bringing in Roy Makaay from Tenerife. Barcelona also took a chance on the talented but injury prone attacking midfielder Jari Litmanen from Ajax.
Malaga, Numancia, Sevilla and Rayo Vallecano were promoted from the Segunda, with Extremadura, Tenerife, Salamanca and Villarreal dropping down a division.
SUMMARY
Under Irureta's influence, Deportivo developed a captivating mix of players. Hard working cogs like Noureddine Naybet and Mauro Silva were complemented by homegrown stalwarts like Fran. The eccentric flair of Djalminha and Makaay's clinical scoring assured talent in every phase.
The season was destined to be Depor's when in February, they dismantled Madrid 5-2 at the Riazor to maintain their grip on first place in emphatic fashion. The aristocrats had been flogged and by May, Irureta's team were champions.
Things were a lot messier just below, with three points separating second through sixth. Real Madrid, Valencia and Barcelona's deep runs in Europe made things more complicated, and left next season's group-stage entrants up in the air.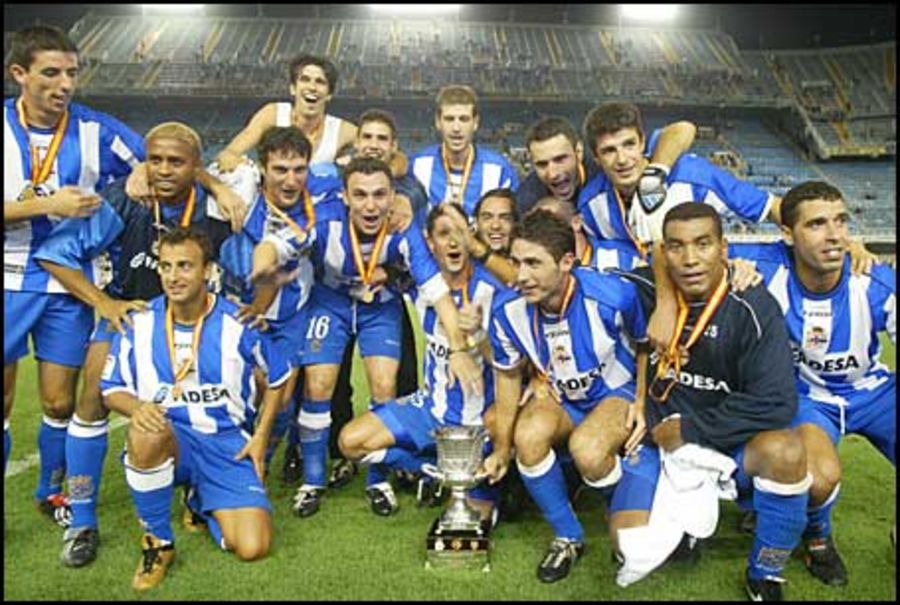 Plagued by a toxic dressing room all season, Madrid finished fifth but won the Champions League. This sent them into the pot for 2000-01 at the expense of fourth-placed Zaragoza, who could have resigned Valencia to that fate, but lost to los Che on the final matchday. Madrid also replaced John Toshack with Vicente del Bosque in November, with that mid-season change laying the foundation for one of the most successful periods of their history.
It was a bizarre season in Spain's top flight, with the three leading contenders for the Pichichi coming from teams that flattered to deceive. Salva scored a league-leading 27 goals for a Racing Santander side that finished only four points above relegation, while Catanha's 24 strikes for Malaga couldn't push them any higher than 12th.
Even stranger was the case of Atletico Madrid's Jimmy Floyd Hasselbaink, who netted 24 times - including a double against Real Madrid that gave the Rojiblancos their first win at the Bernabeu in nine seasons. However, poor form and upheaval with the mid-season departure of Claudio Ranieri doomed Atleti to relegation despite the Dutch striker's heroics.
TOP GOALSCORER
SALVA - 27 GOALS
A remarkable return of 27 goals for the Santander forward saw him earn a call up to the Spanish national team before he dropped down a division to join freshly relegated Atletico Madrid for the following season.
MOST EXPENSIVE TRANSFER
NICOLAS ANELKA
Arsenal to Real Madrid
€24m
KEY MOMENT OF THE SEASON
It was the ultimate statement game. Real Madrid were dismantled 5-2 at the Riazor. Deportivo were for real and from that point on, no one could catch them.