The 1994-95 English Premier League title was won by Blackburn Rovers, who were masterminded to victory by Kenny Dalglish and the devastating goalscoring of Alan Shearer, who scored 34 times as Rovers fended off the sternest of challenges from Manchester United to hold on amidst dramatic scenes on the final day of the season.
CHANGES
It could be argued that the mid-season transfer of Andy Cole from Newcastle United to Manchester United helped to trigger the era of extravagant spending. The £7m spent on the prolific forward was unprecedented at the time, but it wasn't long before such a fee became commonplace, and the fan became desensitised to huge transfer fees.
Blackburn Rovers weren't shy about spending, either; with the magnate Jack Walker's money behind them, they had previously spent big to sign Alan Shearer, and they had broken the transfer record this summer to bring in Chris Sutton from Norwich City for £5m. The duo immediately formed a partnership, known as the SAS.
Tottenham had an interesting summer, making moves for the Romanian duo of Gheorghe Popescu and Ilie Dumitrescu, who had enjoyed such a successful World Cup, but the real headlines were kept for the marquee arrival of Jurgen Klinsmann.
The German brought his brand of dynamic forward play and unique celebrations to a league that embraced him from the moment he arrived.
Off the pitch, league reconstruction took place. At the end of the season four teams were to be relegated and only two promoted, reducing the number of sides from 22 to 20, to ease some of the strain on players.
SEASON SUMMARY
Newcastle were the early pace-setters, losing just one of their opening 12 matches, and they were joined at the top by Nottingham Forest, buoyed by the goals of Stan Collymore. Liverpool, Manchester United and Blackburn Rovers weren't far behind.
But as Christmas approached it was United and Rovers who emerged as the two sides who appeared to have the consistency of performance to maintain a challenge across the full season.
Kenny Dalglish's side collected 34 points from a possible 36 over Christmas while United had defeated them prior to that run, convincingly, at Ewood Park. United also demolished Man City 5-0 in the derby as they looked back to their best form from the previous season.
When the sides met at Old Trafford Blackburn held a five point lead, making Eric Cantona's late header all the more vital. Rovers had however played well in the match and, undeterred, manage to maintain their advantage through a difficult month in February.
But the game-changing moment took place at Selhurst Park on 25 January. After being sent off against Crystal Palace, Cantona took issue to a comment from the crowd and leapt the advertising hoarding, kung-fu kicking his way to a nine-month ban, and United were on the back foot from that point onwards.
With 12 matches remaining, the difference between the sides was just two points, but, despite recording an incredible 9-0 win over Ipswich, United slipped up, drawing at home to Tottenham and then in a damaging 2-0 loss at Liverpool, allowing Rovers to stretch six points ahead.
I don't know if anyone else could go on and do it. I would doubt it. It was a Cinderella story. It is romantic.Sir Kenny Dalglish
Dalglish's side were looking impressive, showing resilience to see out victories in difficult fixtures, and with 10 games remaining the advantage at the top had stretched to eight points, with his side claiming to need 'a miracle'.
A reprieve came, ironically from two of United's most bitter rivals; Leeds held Rovers to a 1-1 draw, then City, in sodden conditions, won 3-2 as the leaders begun to doubt themselves.
It meant that with two games remaining Rovers held a slender two-point advantage. They had their goalkeeper Tim Flowers to thank for their 1-0 defeat of Newcastle, a string of superb stops proving vital. United's 2-1 versus Southampton the following day ensured a showdown. United had to go to West Ham where only victory would do, but knew that Blackburn, who faced Dalglish's former side, Liverpool, had an inferior goal difference and could afford no slip-ups.
What was to transpire was dramatic, nerve-wracking and spine-tingling action. When Shearer smashed Blackburn into the lead and United fell behind to West Ham, the conclusion appeared clear, but Brian McClair equalised and then, at Anfield, John Barnes made both matches 1-1 and very much in the balance. United needed a winner and bombarded the West Ham goal, Cole going close on two occasions, but, try as they might, they couldn't break through.
In surreal scenes, Anfield erupted to celebrate Jamie Redknapp's last-minute winner for Liverpool, as well as congratulating Dalglish for his side's title win as news filtered through of United's failure to win. Despite their final day loss Blackburn had done it across the season, they were worthy of their triumph.
At the foot of the table the battle to avoid the bottom four spots was intense; Ipswich (who conceded 93 goals) and Leicester City were never really in contention, finishing a full 20 points away from safety. Norwich meanwhile had looked good in the first half of the season but descended into a dreadful run, and just one win in their final 20 games condemned them to the drop.
Crystal Palace's fate was sealed on the last day, with a 3-2 defeat to Newcastle saving Aston Villa and Manchester City, both of whom had years to forget.
AWARDS
PLAYER OF THE SEASON
JURGEN KLINSMANN
The German's impact on English football was undeniable and a series of brilliant goals saw him claim the award.
MANAGER OF THE SEASON
SIR KENNY DALGLISH
Good signings and a solid foundation helped Dalglish outthink Sir Alex Ferguson and collect the title.
YOUNG PLAYER OF THE SEASON
ROBBIE FOWLER
The emergence of Fowler as a natural goalscorer with immense potential made him the obvious choice for the award.
TOP GOALSCORER
ALAN SHEARER - 34 GOALS
For second season in a row Shearer broke the 30-goal barrier, striking 34 times in a memorable title-winning campaign.
TEAM OF THE SEASON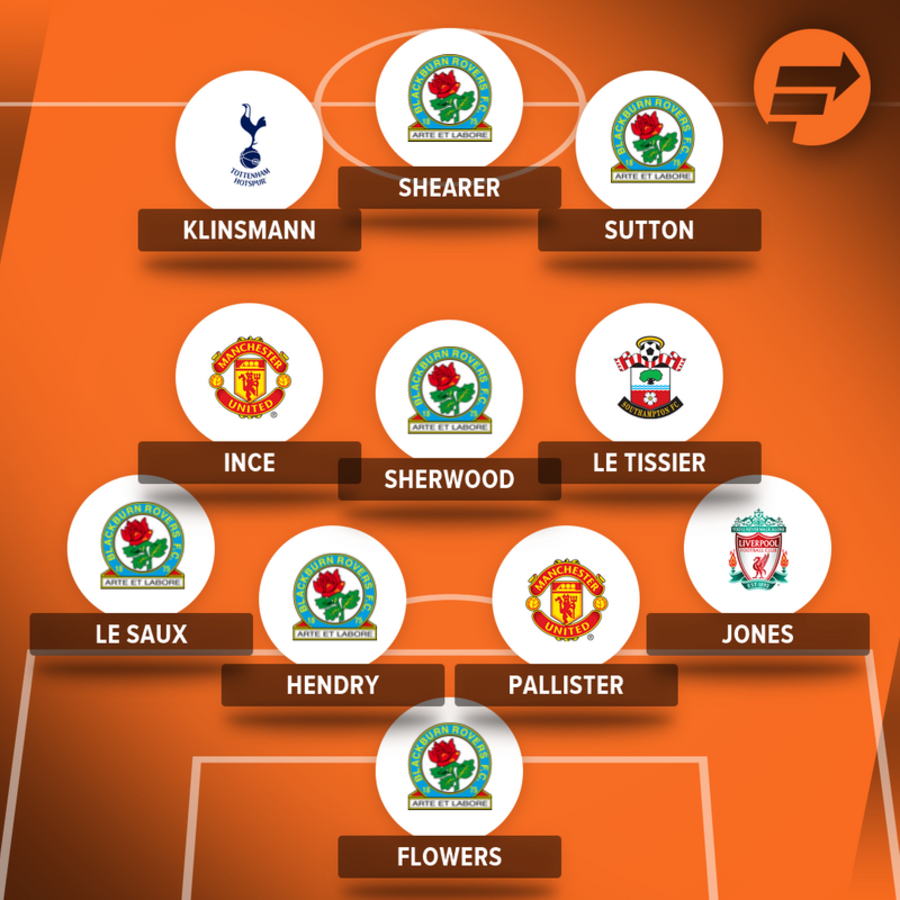 GOAL OF THE SEASON
MATT LE TISSIER'S mazy run and shot, the best of his incredible catalogue of goals.
MOST EXPENSIVE TRANSFER
Andy Cole
Newcastle United to Manchester United
£7m
KEY MOMENT OF THE SEASON
That manic final day which could have went either way but West Ham's staunch defending and United's profligate finishing allowed Blackburn to stumble over the line.