The 1996-97 English Premier League title was won by Manchester United, holding off a trio of challengers in the form of Newcastle United, Arsenal and Liverpool, to collect the trophy with games to spare. Despite a shaky mid-season spell, United were deserved champions, ending on 75 points for their fourth league in the space of five years.
CHANGES
One transfer ruled them all in this close season - Newcastle United breaking the world transfer record to capture Alan Shearer from Blackburn Rovers for a massive £15m. It was a statement of intent from a team that had come so close to winning the title the previous year.
Manchester United had also been chasing Shearer but a move to his boyhood club proved too much of a draw for Shearer, fresh from finishing top scorer at Euro 96.
Arsenal welcomed the relatively unknown Arsene Wenger to English football, and the Frenchman brought with him Patrick Vieira and, during the campaign, a 17-year-old by the name of Nicolas Anelka.
Stan Collymore's big move to Liverpool had materialised as the Reds would have hoped, and they had offloaded him to Aston Villa by the end of the season, while Lee Sharpe moved to Leeds for £4.5m from Manchester United.
Chelsea, under Ruud Gullit, were slowly building a team of distinction and they raided Italian football for a trio of eye-catching signings. Midfielder Roberto Di Matteo joined from Lazio, while Champions League winner Gianluca Vialli moved from Juventus.
Middlesbrough also spent big on attacking players, attracting Emerson and the silver fox, Fabrizio Ravanelli, who arrived for a £7m fee.
But arguably the most impactful signing of the season was Gianfranco Zola; he only joined the Blues in November but ended the campaign as player of the year after a series of spellbinding performances.
United, meanwhile, raided Norway for the duo of Ronny Johnsen and Ole Gunnar Solskjaer, while the performances of Karel Poborsky and Jordi Cruyff at Euro 96 saw United bring in both men to bolster their squad.
From the First Division Sunderland, Derby County and Leicester were promoted.
SEASON SUMMARY
Arsene Wenger's appointment most certainly raised some eyebrows among the British press, but the form of Ian Wright and Dennis Bergkamp diminished any concerns, as Arsenal begun to mount a serious championship challenge. They lost just once in their first 12 matches, while United looked shaky.
Indeed, Newcastle staked a serious claim by trouncing United 5-0 at St James' Park, and United, perhaps still shellshocked from that loss, were then comprehensively beaten by Southampton, 6-3, the following week.
When Chelsea won 2-1 at Old Trafford United appeared to be in real crisis, with challengers mounting all around them. But a scrambled victory over Arsenal turned the tide and United went on an unbeaten run, one that stabilised them at the top of the table going into the new year.
Then, with Newcastle within five points off the top, Kevin Keegan decided to resign, to be replaced by Kenny Dalglish, and their season, and indeed challenge, took some time to recover.
Liverpool were pace-setters and as the season progressed they emerged as a clear challenger to United's supremacy. As Arsenal's form dipped, the Reds, via a controversial penalty incident involving Robbie Fowler, won 2-1 at Highbury to effectively end the Gunners' chances.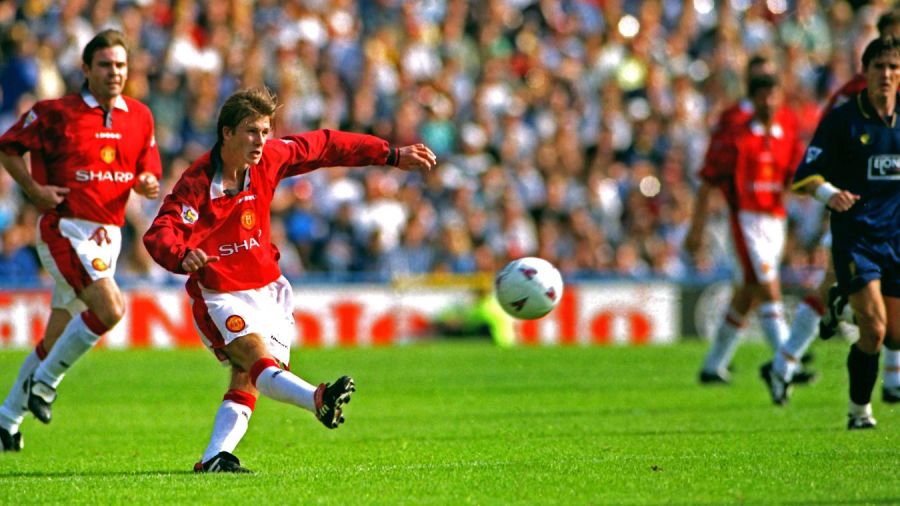 United, meanwhile, continued to prevail in tight matches, winning a series of games 2-1, but a 3-2 home defeat to Derby County gave Liverpool renewed hope that they could yet overtake them.
In the pivotal clash of the campaign, United travelled to Anfield with a two-point lead, though had played a game less, with Liverpool needing nothing less than victory. Instead the resilient visitors won 3-1, a goalkeeping error from David James allowing Andy Cole to secure the points and, ultimately the title.
United were far from convincing in the final games, drawing three of their final four, but that was still superior to the records of Liverpool and Arsenal who, with a Champions League place for second spot to play for, were stumbling over the line.
That left an unlikely door open for Newcastle, who were finishing the season the strongest of the chasing pack. Dalglish's side were unbeaten in their last 10 matches and, when Liverpool could only draw 1-1 at Sheffield Wednesday on the final day, Newcastle's 5-0 win at home to Nottingham Forest meant the Champions League spot was theirs, on goal difference
At the bottom, Nottingham Forest were relegated with games to spare, while Middlesbrough and Sunderland both went down on a dramatic final day which saw Coventry City save themselves via a final day win at Tottenham.
AWARDS
PLAYER OF THE SEASON
GIANFRANCO ZOLA
Despite only arriving in November, the mesmeric Zola was a breath of fresh air for the division and his superb skill and goals brought him the award.
MANAGER OF THE SEASON
SIR ALEX FERGUSON
Not a vintage United side, but yet Ferguson was able to mastermind victory as a new group of rivals closed in.
YOUNG PLAYER OF THE SEASON
DAVID BECKHAM
His superb delivery from wide and penchant for long-range goals made Beckham one of the most promising young Englishmen in years.
TOP GOALSCORER
ALAN SHEARER - 25 GOALS
The world record signing begun to pay back some of his transfer fee, scoring 25 times in his first season at Newcastle.
TEAM OF THE SEASON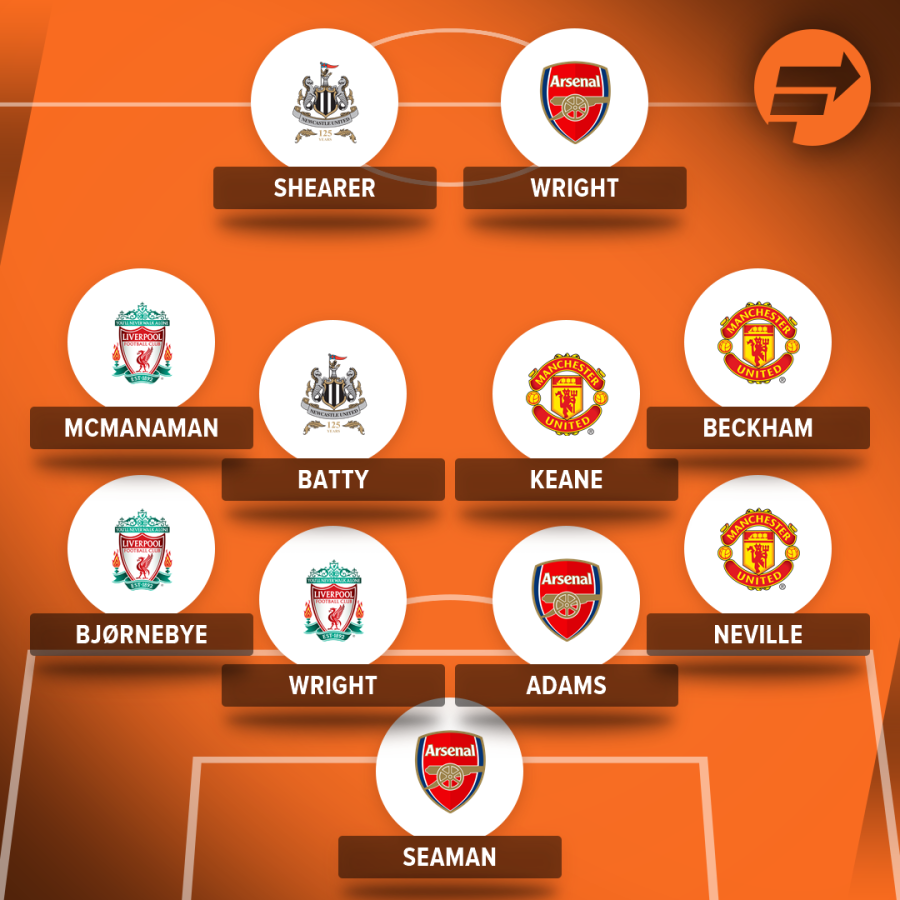 GOAL OF THE SEASON
TREVOR SINCLAIR'Soverhead kick was gravity-defying...
But as it was an FA Cup strike, surely DAVID BECKHAM'S halfway line goal is deserving of the award.
MOST EXPENSIVE TRANSFER
Alan Shearer
Blackburn Rovers to NEWCASTLE
£15m
KEY MOMENT OF THE SEASON
United effectively putting the race to bed with a ruthless 3-1 win at Anfield to send their rivals out of contention.