The 2011-12 English Premier League title was won by Manchester City in one of the most dramatic league seasons of football ever played anywhere in the world. 2-1 down going into the closing stages and needing to win, goals from Edin Dzeko and Sergio Aguero, the latter in the third minute of injury time, secured a triumph City had done their level best to throw away. Manchester United had been eight points clear at one stage but capitulated in the run-in and, even then, thought they had won it, some fans celebrating prematurely in Sunderland before news filtered through that, agonisingly, City had done it.
CHANGES
Manchester United looked to freshen up the side with youth, replacing the retiring Edwin van der Sar with the hugely talented David de Gea from Atletico Madrid, while English duo Phil Jones and Ashley Young were brought in at significant cost.
City continued to not only build their side, but plunder from Arsenal; Samir Nasri and Gael Clichy came in, but those deals were dwarfed by the capture of the much-coveted Sergio Aguero for a huge fee, a move that felt like a paradigm shift for the blue side of Manchester.
Arsenal, meanwhile, started to appear weak. As well as Nasri and Clichy departing, key tenet of recent seasons, Cesc Fabregas, finally secured his long-awaited move to Barcelona, and Arsene Wenger's business to replace that trio was haphazard at best. Mikel Arteta, Gervinho, Park Chu-Young and Andre Santos were added, but those deals struggled to convince.
Liverpool had done most of their spending in the previous January with the acquisitions of Luis Suarez and Andy Carroll, but added Jordan Henderson from Sunderland (£16m) and Stewart Downing, £20m from Aston Villa.
In the dugout, the most prominent change was the removal of Carlo Ancelotti at Chelsea, young up-and-comer Andre Villas-Boas joined from Porto. Elsewhere, former Birmingham manager Alex McLeish received a hostile reception when he moved to the other end of the city to manage Aston Villa.
SEASON SUMMARY
From the opening months of the season, it became clear that this was going to be an incessant two-horse for the title based entirely in Manchester. Both sides only lost once in the first half of the campaign, though United's was infinitely more memorable, a stunning 6-1 loss at home to a City side so rampant they could have reached double figures on the day.
On January 1, 2012, they were locked together on 45 points, and went blow-for-blow for weeks, until City's season appeared to collapse completely. From March running into April they won one in five games, and after the 1-0 away defeat to Arsenal on April 8, they fell eight points behind, a lead a seasoned side like United never relinquish.
However, United begun to get nervous and their resolve uncharacteristically shaky. A 1-0 loss to relegation-threatened Wigan reduced the gap, and when Everton fought back to claim a dramatic 4-4 draw at Old Trafford, it set up, in effect, a winner-takes-all match at the Etihad in the third-last round of the season.
United played for a draw, one that they didn't get. A Vincent Kompany header secured a 1-0 win and meant that City were ahead on goal difference with two to play. And yet, the drama wasn't over yet. Wayne Rooney's header at Sunderland meant United had done their bit; all eyes were on the Etihad. Pablo Zabaleta's fortunate goal put City in front, but they capitulated in the second half, conceding goals to Djibril Cisse and Jamie Mackie and, with 89 minutes played, they still trailed 2-1.
We have beaten United two times, we have scored more than them and conceded less so we deserve it. I never gave up. It was a crazy finish to the game and the season but the best team won the title.Roberto Mancini
As fans clawed at their eyes in frustration, Edin Dzeko's header gave hope. And then, the most famous moment in Premier League history. Mario Balotelli laid off to Sergio Aguero, who smashed home. 93 minutes, 20 seconds played in the final match of the season. City got there - but only just.
Everything else that season, from a neutral perspective, seems academic, though Robin van Persie enjoyed the most prolific year of his career to date, scoring 30 times as Arsenal finished third. Domestic underachievement from Liverpool and Chelsea allowed Tottenham to qualify for the Champions League in fourth spot.
Newcastle, meanwhile, with their Ligue 1-infused line-up, were a breath of fresh air, with Demba Ba and Papiss Cisse firing them to fifth spot in the table.
At the bottom, Wolves were by some distance the worst side in the league, conceding a hefty 82 goals in the process, and they were joined in the second tier by Bolton Wanderers and Blackburn Rovers.
AWARDS
PLAYER OF THE SEASON
ROBIN VAN PERSIE
The Dutchman, so often plagued by injuries, finally put a consistent season together and proved what a fine striker he was.
MANAGER OF THE SEASON
ALAN PARDEW
Newcastle surprised everyone with their impressive attacking football to finish in fifth position and qualify for Europe.
YOUNG PLAYER OF THE SEASON
KYLE WALKER
The quicksilver full-back emerged as a real talent, particularly from an offensive perspective, in a Tottenham team bound for the Champions League.
TOP GOALSCORER
ROBIN VAN PERSIE - 30 GOALS
30 goals put RVP ahead of Wayne Rooney in the charts - they would be team-mates the following season.
TEAM OF THE SEASON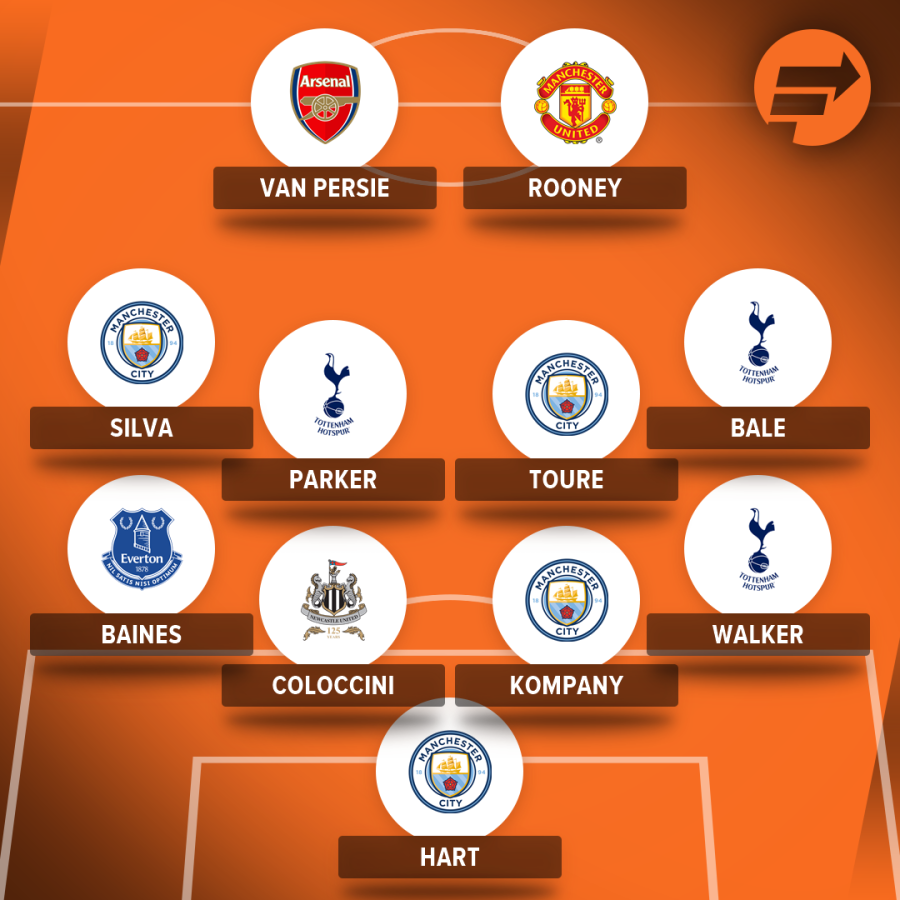 GOAL OF THE SEASON
PAPISS CISSE'S ridiculous swerving half-volley that started off at one corner of the goal before ending up in the other.
MOST EXPENSIVE TRANSFER
SERGIO AGUERO
Atletico Madrid to MANCHESTER CITY
£35m
KEY MOMENT OF THE SEASON
AGUEROOOOOOOO!!!!!!!!