The 2016-17 English Premier League title was won by Chelsea for the second time in three years, with boss Antonio Conte becoming the second Italian in succession to triumph, following Claudio Ranieri and Leicester's memorable achievement in 2016. The Blues collected 93 points to finish seven points ahead of Tottenham Hotspur, for their fifth Premier League title and sixth overall. After a shaky start, Conte's side went on a superb run in the second half of the season to lead a relative procession to the crown, leaving a transitional Liverpool and Manchester United completely in their wake.
CHANGES
The close season, as usual, witnessed major upheaval as expensive transfers became the norm, and new managers looked to shape their squads. Louis Van Gaal was replaced at Manchester United by Jose Mourinho, while Pep Guardiola arrived at Manchester City to much fanfare. Ronald Koeman swapped Southampton and St Mary's for Everton, while David Moyes arrived at Sunderland following Sam Allardyce's ill-fated departure for the England job.
On the transfer front, Paul Pogba moved to Manchester United from Juventus for a world-record fee, while Sadio Mane's arrival at Liverpool proved to be one of the most lucrative of the window. John Stones was one of the most expensive members of Guardiola's City revolution, but N'Golo Kante's decision to move to Chelsea from Leicester was one of the key components in the Blues' victory.
Hull City, Burnley and Middlesbrough were the sides newly-promoted from the Championship, replacing the relegated Newcastle United, Norwich City and Aston Villa.
SEASON SUMMARY
As the season started it provided little indication of the dominance that was to come from Chelsea. Despite winning all three of their league matches in August, September proved more testing, with losses to Liverpool and, in particular, a 3-0 defeat at Arsenal leading Conte to opt for a formation change to a 3-5-2 - a decision that would unlock the attacking capabilities of players such as Eden Hazard, Diego Costa and Pedro.
Manchester City, meanwhile, started the season in formidable form, reaching the end of September with six wins from six, but the defensive problems begun following a comprehensive 2-0 defeat to Tottenham, followed by draws with Everton and Southampton. A season of missed chances in front of goal was crystallised in December, where a 3-1 loss to Chelsea despite dominating the game ultimately shifted the balance of power to the London club, a position from which City couldn't recover, eventually finishing third, fifteen points off the pace.
No-one lost less league games in 2016-17 than Tottenham, and the attacking triumvirate of Golden Boot winner Harry Kane, Dele Alli and Christian Eriksen produced many stunning performances in the final season at the old White Hart Lane before redevelopment begun. Four draws in October ultimately proved their downfall, with only 10 points dropped between December and May, but Chelsea's consistency across the same period proved too good.
Following the Arsenal defeat, the eventual champions racked up fourteen consecutive wins to put themselves in pole position, and from there, they never looked back.
It proved to be a predictably frustrating campaign for the holders, Leicester; after the highs of their astonishing (and improbable) 2016 triumph, they recorded the worst-ever defence of a PL title, dismissing manager Claudio Ranieri mid-season when threatened with relegation, only to recover and finish in 12th.
This is for my players. It is a great achievement because this is the hardest championship to win in the world, and I have to say thanks to the players for their commitment, their attitude and their passion, and their will to do something great this season. Antonio Conte
Burnley bucked the trend for the promoted clubs, securing their EPL status, though Hull City, caught amidst a fan-ownership revolt, and Middlesbrough, whose 27 goals proved to be the lowest in the league, could not do enough to survive. Perennial escapologists Sunderland couldn't fashion another unlikely run-in, ultimately finishing bottom.
Liverpool, rejuvenated under Jurgen Klopp, joined Chelsea, Tottenham and Manchester City in the Champions League courtesy of some thrilling attacking football from Sadio Mane, Roberto Firmino and Philippe Coutinho, the latter emerging as Barcelona's top transfer target at the end of the season.
That meant Arsenal and Arsene Wenger's incredible record of qualifying for Europe's top competition every season since 1997 came to an end. Despite demolishing Chelsea at home and boasting talents such as Alexis Sanchez (24 goals) and Mesut Ozil, their nine defeats - the worst record of the top six - proved to be their downfall.
Manchester United made it five Premier League sides in the Champions League - but only thanks to their Europa League victory over Ajax; their league form proved inconsistent at best, particularly away from home.
Elsewhere, Everton were clearly the best of the rest; Romelu Lukaku was unleashed under Ronald Koeman, scoring 25 times and attracting the summer interest of Mourinho and Manchester United as the Toffees ended the campaign a clear seventh.
For most of the other sides, the main target set by their owners - survive - was achieved with varying degrees of comfort. But none had an answer to Chelsea's driven coach, talented roster and relentless winning mentality.
AWARDS
PLAYER OF THE SEASON
MANAGER OF THE SEASON
ANTONIO CONTE
The Italian overcame an unsure start to show the strength of conviction to switch formation in the wake of defeat to Arsenal, and his team never looked back.
YOUNG PLAYER OF THE SEASON
DELE ALLI
The aspiring English talent continued his development into an indispensable member of Mauricio Pochettino's burgeoning Spurs side.
TOP GOALSCORER
HARRY KANE - 29 GOALS
A highly-impressive 29 goals saw the England international top the scoring chart for the second consecutive campaign.
TEAM OF THE SEASON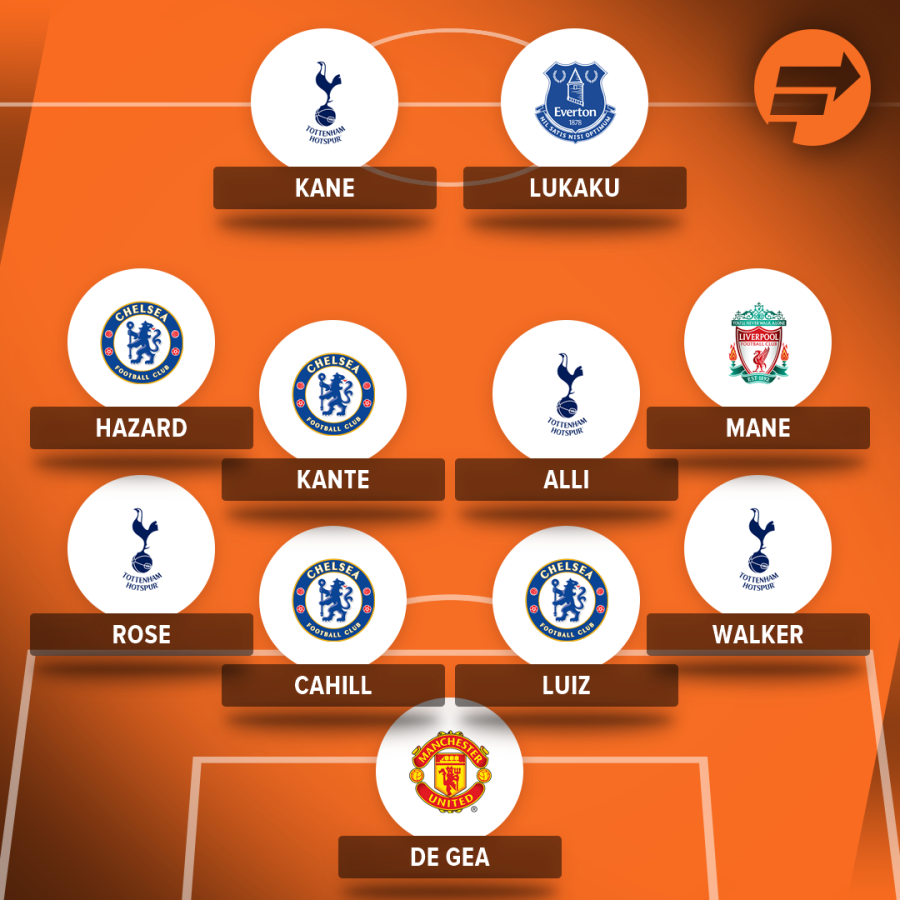 GOAL OF THE SEASON
EMRE CAN'S sensational overhead kick against Watford
MOST EXPENSIVE TRANSFER
PAUL POGBA
Juventus to MANCHESTER UNITED
£90m
KEY MOMENT OF THE SEASON
Antonio Conte reacting to a damaging 3-0 loss to Arsenal by reshuffling his starting XI and formation, and in turn sending his team on a devastating 14-game winning run that laid the foundation for their title win.