Real Madrid won their 11th Champions League title by defeating perennial city rivals Atletico Madrid on penalties after a tense 1-1 draw. The San Siro was the venue that witnessed Sergio Ramos opening the scoring early on, before Yannick Carrasco netted from close range, but only after Antoine Griezmann had missed a penalty for Atleti. When spot kicks arrived, it Cristiano Ronaldo and Real who held their nerve, to deny Atletico in cruel fashion for the second time in three seasons.
CHANGES
For the first time ever, the winners of the previous season's UEFA Europa League were awarded automatic qualification into the group stage of the Champions League the following campaign. Sevilla earned this right after winning the title for the second consecutive season, and as a result Spain had five participants in the group stage - a first for any country.
During the summer, Manchester City spent heavily again; £64m on Kevin De Bruyne from Wolfsburg, whilst also acquiring Raheem Sterling from Liverpool for £50m and Nicolas Otamendi from Valencia for £40m. Real Madrid, meanwhile, prepared for the defence of their title strengthening with the likes of Danilo, Mateo Kovacic, and Marco Asensio, who returned from a loan spell at Espanyol. Rafa Benitez started the campaign in charge of Los Blancos, but would eventually be replaced by Zinedine Zidane, who would lead the capital club to the trophy in his first half-season in charge.
SUMMARY
Barcelona, impeccable the season prior, started the defence of their title with a stutter, drawing 1-1 at Roma, but they would respond to finish top of their section as one of only two sides not to lose a match. The other, Real Madrid, were emphatic in their destruction of Swedish side Malmo, obliterating them 8-0 at Santiago Bernabeu.
Shocks at the group stage have become less common as the years have progress, but Manchester United's failure to extricate themselves from a group containing Wolfsburg, PSV, and CSKA Moscow was a massive disappointment for Louis van Gaal and his team. Group H, meanwhile, saw a pair of Champions League stalwarts, Valencia and Lyon, exit early at the hands of Zenit St Petersburg and Gent.
The Round of 16 draw pitted Paris Saint-Germain, desperate to take the next step in their project, against Chelsea, Barcelona faced Arsenal and Juventus took on Bayern Munich. PSG claimed a 2-1 win in either leg to knockout the English champions, while Barcelona made light work of Arsenal once again. Juventus and Bayern proved to be an entertaining 180 mins, but the Germans edged through - in extra time - at the Allianz Arena, 6-4 on aggregate.
A stacked quarter-final stage pitted La Liga rivals Barcelona and Atletico Madrid against each other, Both teams won their respective home matches, but it was Diego Simeone's men who would squeeze through courtesy of an Antoine Griezmann double in the second leg, knocking out the holders. Real Madrid came from 2-0 down against Wolfsburg to, in typical style, turn things around at home with a hat-trick from Cristiano Ronaldo. A clash of new money between PSG and Manchester City went to the Premier League, Kevin De Bruyne's performances in both legs central to their success. Bayern Munich secured their customary place in the last four, knocking out an impressive Benfica side.
I'm very happy for everything we've achieved together. It's not easy at all. We've really worked hard, fought it out.Zinedine Zidane
The semi-final stage was a first for Manchester City, who faced up to Real Madrid, but in a strangely subdued double header, City seemed to play within themselves and a Fernando own goal early in the second leg was enough to send Madrid to the final. Atletico Madrid were imperious in their 1-0 defeat of Bayern in the first leg of their tie, and Griezmann's second half goal at the Allianz Arena was enough to send Simeone's side through on away goals at the expense of the Germans, leaving Pep Guardiola frustrated.
So to the San Siro and only the second final ever to be contested by two sides from the same city, (their 2014 clash was the first). In a charged atmosphere, Sergio Ramos set Madrid off and running but Atleti stormed back in the second period, missing a penalty through Griezmann before deservedly levelling through Yannick Carrasco to send the game into extra time.
Carrasco tormented the Los Blancos' back line in the additional 30 minutes but Atleti couldn't break through and the inevitably of penalties finally arrived. Real Madrid were flawless, netting every single penalty via Lucas Vazquez, Marcelo, Gareth Bale, Ramos, and eventually Cristiano Ronaldo, while Atletico missed one - the crucial one - courtesy of a devastated Juanfran. Madrid had La Undecima.
PLAYER OF THE SEASON
CRISTIANO RONALDO
The Portugal captain scored an astonishing 16 goals en route to Madrid winning their 11th Champions League title.
MANAGER OF THE SEASON
ZINEDINE ZIDANE
The former Ballon d'Or winner had not been in charge of Real Madrid for as much as six months when guiding them to the title.
YOUNG PLAYER OF THE SEASON
KINGSLEY COMAN
The young Frenchman lit up the tournament with his quicksilver dribbling style, also topping the assist charts with five.
TOP GOALSCORER
CRISTIANO RONALDO - 16 GOALS
TEAM OF THE SEASON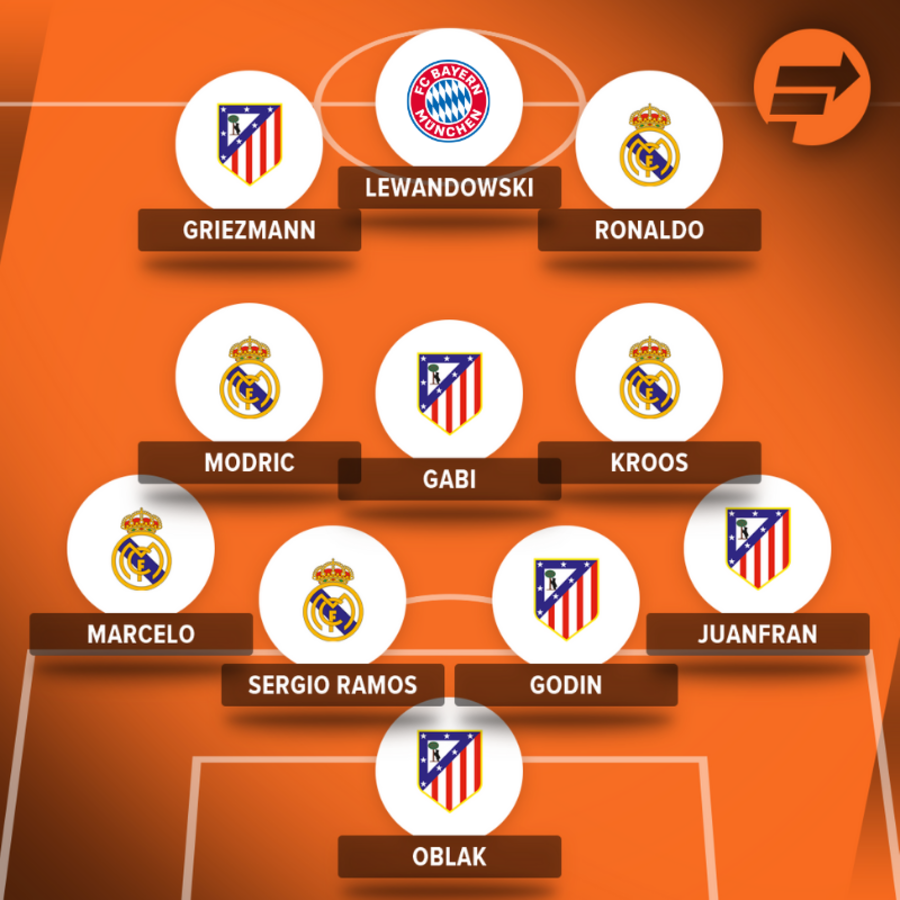 GOAL OF THE SEASON
ALESSANDRO FLORENZI netted one of the best goals in group stage history when he spotted Barcelona's Marc-Andre ter Stegen off his line before clipping a strike in off the post from the halfway line.
KEY MOMENT OF THE SEASON
It has to be one of the very last kicks of the ball in the tournament. Juanfran, who had been so reliable in all the matches previous, hit the post with his penalty in the shootout, gifting Real Madrid the Champions League trophy in the process.