The 2014-15 English Premier League title was won by Chelsea with relative comfort; having stumbled in the closing stages in the previous season, they made no such mistake this time. They steamrollered the opposition to finish on 87 points, losing just three times all season, one of which after the title was already won. The bullish, brash Diego Costa typified their style and proved perfect for the English game; his dominance of the bottom half teams put the Blues in control, while the guile of Eden Hazard and vision of Cesc Fabregas loaded the bullets for the Spaniard. It was a win that reminded of Mourinho's first spell at Chelsea and hinted at a dynasty that, unfortunately, failed to materialise.
CHANGES
Liverpool, after the glorious highs and near miss of the previous season, suffered another major setback before the season had even begun with the transfer of talisman Luis Suarez to Barcelona for £70m. His replacement, on paper, was Mario Balotelli, but his arrival was doomed from the start and was gone before anyone had even noticed.
Elsewhere Manchester United issued their intent with a £65m transfer of Angel Di Maria from Real Madrid, a move that was more logical than the end product proved to be, while also spending over £30m on young full-back Luke Shaw from Southampton.
Arsenal landed a major coup, signing Alexis Sanchez from Barcelona for £38m, while Everton smashed their transfer record with the £28m capture of Romelu Lukaku from Chelsea. However, the best business was undoubtedly completed by the eventual champions - the arrivals of Diego Costa and Cesc Fabregas were instrumental in the Blues' title triumph.
On the managerial front, two interesting changes occurred - Mauricio Pochettino arrived at Tottenham, while Ronald Koeman replaced him in the Southampton dugout.
SEASON SUMMARY
Chelsea, still stinging from the manner in which they capitulated the season prior, started with intent and kept their foot to the accelerator for much of the opening months of the season. Mourinho's men were unbeaten until December, recording emphatic wins over Everton and Tottenham, while recording positive results away to Manchester City, Manchester United and Liverpool.
For a while it appeared that the champions Manchester City had the ability to go with Chelsea as they pulled away from the rest of the pack. A 12-game unbeaten run through the Christmas period moved City within touching distance of the Blues, and a tense 1-1 draw at Stamford Bridge at the end of January suggested a close run-in was to come. But a dreadful run of results through March saw four defeats in six matches, all be confirming Chelsea as champions.
No other side really threatened to make a race of it. United, under Louis Van Gaal, showed improvement on the previous campaign and recorded some thrilling wins, not least the 4-2 demolition of City, and a 2-1 win at Liverpool courtesy of an eye-catching Juan Mata volley. But encouraging runs were always bookended by frustrating ones, suggesting that Van Gaal still had work to do to return the club to their former glory.
The English game is still my favourite. I could be smarter and like other mangers choose teams and countries where it's easy to be champions, where they can enjoy calmly their success. I choose a country where it's difficult to win and a club without a big tradition of winning Premier League titles because the last one was in 2010. I choose a difficult job.Jose Mourinho
For Liverpool, a season to be stricken from the record. With Suarez gone they were simply a less viable threat and the new additions, including the Southampton duo of Adam Lallana and Dejan Lovren, took time to bed in. Brendan Rodgers' side suffered their worst league start in 50 years and although they recovered to finish sixth, it represented a massive anti-climax following the near miss of the previous year. Arsenal, meanwhile, reached expectations of qualifying for the Champions League once again, but again appeared to be one or two players short of being a top-level side. Southampton were able to shake off the loss of key players to finish in seventh spot. Swansea City were an impressive eighth.
In the relegation zone, QPR were never not in danger of the drop and their final day thrashing at the hand of Manchester City summed up a dismal campaign. They were joined by Burnley and Hull City - two sides who proved too good for the Championship, but didn't quite have enough to compete in the top flight.
Above them Newcastle, Sunderland and Aston Villa all survived but has precious little else to remember from a season that, for all three, hinted at more serious problems to come.
AWARDS
PLAYER OF THE SEASON
EDEN HAZARD
A player who, if interested, can rival any in the world, and in this campaign his 14 goals and 10 assists set him apart from his peers.
MANAGER OF THE SEASON
JOSE MOURINHO
The Portuguese conjured memories of his previous spell in charge, creating a Chelsea side difficult to beat and ruthless in attack.
YOUNG PLAYER OF THE SEASON
HARRY KANE
The Tottenham forward graduated from fringe player to first-team regular and showed promise that Spurs and England had developed a future star.
TOP GOALSCORER
SERGIO AGUERO - 26 GOALS
Even if City struggle to hit the heights, Aguero is a perennial goalscorer, and his 26 goals this season put him well clear of Harry Kane in second.
TEAM OF THE SEASON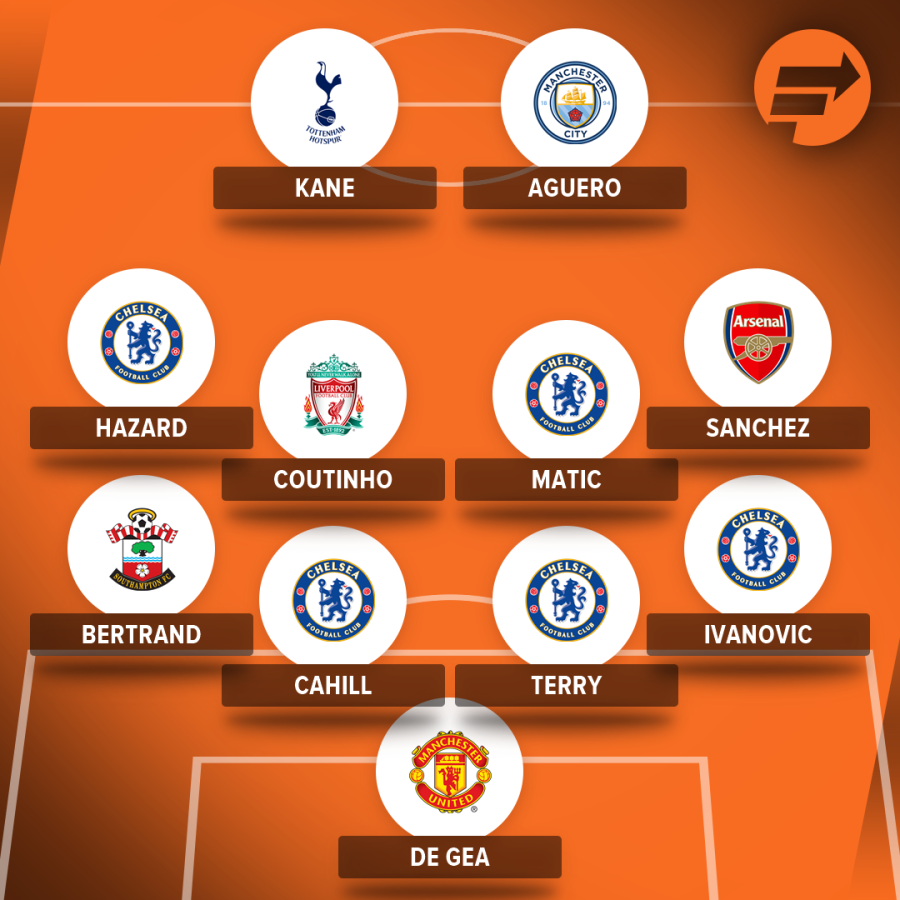 GOAL OF THE SEASON
After the competition was hijacked, Jack Wilshere's perfectly ordinary strike against West Brom won the BBC award, but the true winner was CHARLIE ADAM'S improbable 70-yarder for Stoke away at Chelsea.
MOST EXPENSIVE TRANSFER
ANGEL DI MARIA
Real Madrid to MANCHESTER UNITED
£65m
KEY MOMENT OF THE SEASON
In the month of April, City capitulated, while Mourinho's side recorded vital wins over Stoke, QPR and Manchester United, before a hard-fought 0-0 draw at Arsenal all but clinched the title.