Barcelona cruised to the title, taking advantage of a ruinous Real Madrid, who went through no less than three head coaches, and an inconsistent Atletico Madrid to win with plenty to spare. Atletico finished second but never looked likely to usurp Barca as champions, with the Blaugrana once again inspired by the talents of Lionel Messi. Down at the other end of the table, it was despair for Girona, Huesca, and Rayo Vallecano, who suffered relegation...
CHANGES
No less than nine teams had new head coaches in charge for the start of the 2019 season, with every arrival being either Spanish or Argentine. Julen Lopetegui swapped Spain for Real Madrid, while the likes of Pablo Machin, Antonio Mohamed, and Mauricio Pellegrino took over their respective sides. In the transfer market, Madrid were surprisingly quiet in terms of a big name coming in.
A fair amount was spent, but it was Thibaut Courtois from Chelsea who would be the only regular starter, and even he saw regular competition from Keylor Navas. Their failure to replace Juventus-bound Ronaldo would see them suffer. Vinicius Junior did finally arrive from Flamengo, though. Barcelona, meanwhile, brought in the likes of Clement Lenglet, Arthur, Malcom, and Arturo Vidal. The biggest spenders were Atletico, with Diego Simeone splurging on the talents of World Cup winner Thomas Lemar, Rodri, and Gelson Martins. For the new season, the Primera Division welcomed promoted sides, Huesca, Real Valladolid, and Rayo Vallecano.
SUMMARY
In the first third of the season, it looked like Spain would have a fresh championship challenger in the form of Sevilla, who actually led the league into December. After previously losing 4-2 to Barcelona to lose top spot, they did so again six weeks later after consecutive draws with Alaves and Valencia. Machin's men would later go on a horrendous run of one win in nine at the turn of the year, which ultimately cost him his job.
As Sevilla drew those two crucial fixtures in December, Barcelona took advantage to go top - a position which they would never surrender. Ernesto Valverde's men started well enough with four consecutive wins, but would then go on a run of four fixtures without a victory. It was the 4-2 win versus Sevilla which would turn their fortunes around, with Messi, Philippe Coutinho, Ivan Rakitic and Luis Suarez all finding the back of the net.
Thereafter, they would go on a superb run of just one loss in 26 games, but what a loss it was. In one of the fixtures of the season, Real Betis dismantled Barca on the counter at the Camp Nou, winning 4-3. It would be a highlight of a strange season for Betis, who would eventually finish 10th.
In possibly the most heartwarming story of the season the return to the Villarreal of Santi Cazorla, who rebuilt his career after a series of serious injuries suffered whilst at Arsenal and even earned a recall to the Spain national side.
Winning the league by this distance is something that is tremendously difficult in every competition. What we have done for the past two years is incredible and we want to celebrate it with our people.Ernesto Valverde
The way that Lopetegui was dumped by Spain would unfortunately for him be a harbinger for his termination at Madrid. After only four-and-a-half months in charge, he lost his job after his side were destroyed 5-1 in the Clasico by Barca, which was part of a run of five defeats in six games.
Solari was promoted from Real Madrid Castilla to take over, but didn't enjoy better fortune. Under his tenure, Madrid endured one of the worst weeks in their history, as they were knocked out of the Copa del Rey by Barcelona, saw their title hopes go up in smoke, and were then eliminated from the Champions League in emphatic fashion by Ajax. He was sacked, and the legendary figure of Zinedine Zidane returned, with the main focus being on next season.
Atletico once again had the best defence in the league, conceding just 29 goals, but it would be a 2-0 loss against Barcelona in April which would truly hand the initiative to Valverde's men in the title race. In that fixture, Diego Costa was sent off in the first half as Suarez and Messi scored in the 2-0 win.
The second half of the campaign was wretched for Celta, as they lost 12 times in total from January onwards. Relegation was on the horizon, but they found a hero in Iago Aspas. Down in 18th position, against Villarreal, Celta were down 2-0 at half-time, knowing that another defeat would see them lose significant ground, but the former Liverpool man stepped up with a winner in injury time to complete a 3-2 turnaround. He was subbed off, crying, as Balaidos applauded.
The win would create an upturn in form which would ultimately save Celta, at the expense of Girona, Huesca, and Rayo Vallecano.
PLAYER OF THE SEASON
MANAGER OF THE SEASON
JOSE BORDALAS
The Getafe boss came within two points of securing the Madrid side Champions League football for the first time in their history.
TOP GOALSCORER
LIONEL MESSI - 36 GOALS
TEAM OF THE SEASON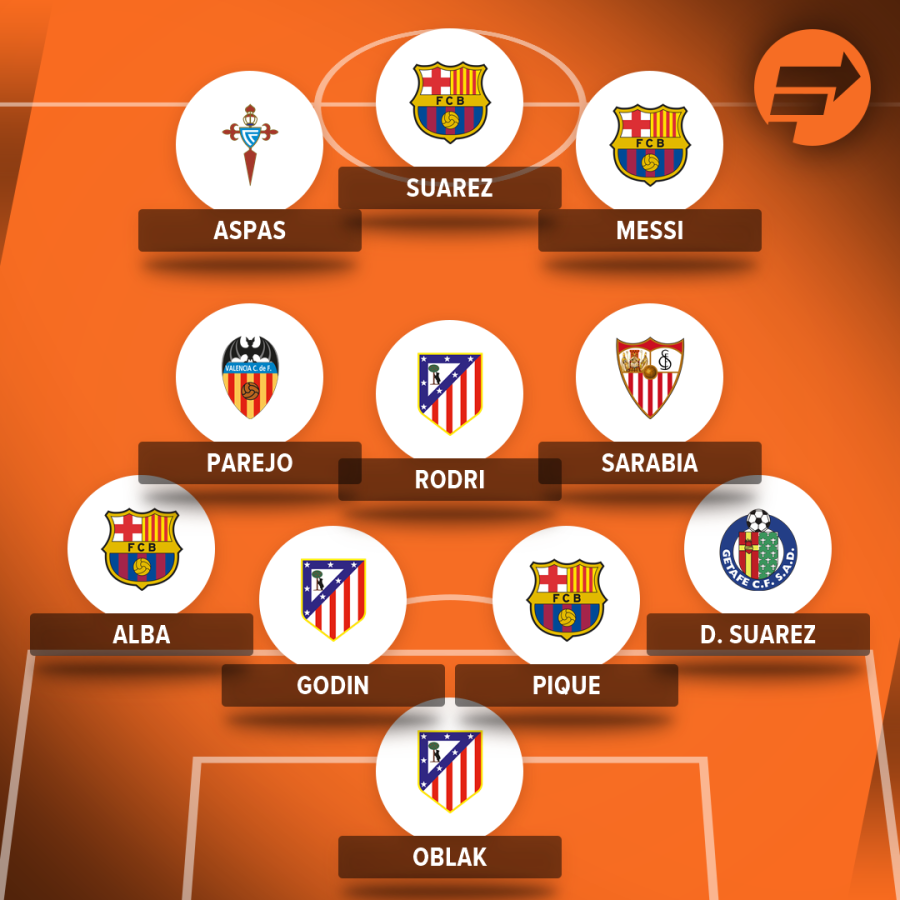 GOAL OF THE SEASON
CHIMY AVILA hangs around outside the box waiting for a corner kick to be floated to him, and meets it with a ferocious long-range volley which nearly bursts the net.
MOST EXPENSIVE TRANSFER
THOMAS LEMAR
Monaco to Atletico
£63m
KEY MOMENT OF THE SEASON
Iago Aspas, a Celta man through and through, since a child, strikes the winning goal against Villarreal which would prove vital in their escape from relegation.