WHERE: Camp Nou, Barcelona
WHEN: 10 March, 2007
COMPETITION: Spanish Primera Division, Week 26
WEATHER: Dry
LINE-UPS:
Barcelona (4-3-3): Valdes; Thuram, Marquez, Puyol, Oleguer; Deco, Xavi, Iniesta; Messi, Eto'o, Ronaldinho
Real Madrid (4-3-3): Casillas: Salgado, Ramos, Helguera, Torres; Guti, Gago, Diarra; Raul, Van Nistelrooy, Higuain
RE-LIVE
PRE-MATCH
Barcelona, on the back of two consecutive La Liga titles and as Champions League holders, had been in pole position for the league title in one of the tightest title races of the past 20 years. But two defeats in three, away to Valencia and Sevilla, had let Real Madrid back into the equation and if they could avoid defeat, dethroning Frank Rijkaard's side could be in their grasp.
⏱️ 1' - There's nearly 100,000 people in the Camp Nou for this battle, a majestic sight, knowing full well that victory will go a long way to ensuring a third consecutive title for Barca. Madrid, meanwhile, have seen an upturn in form in what had been an indifferent season. But it's wild in here. An absolutely vital match from two good, good teams.
⏱️ 2' - Fabio Cannavaro is the key absentee for the visitors while for Barca the ebullient Lionel Messi, just back from a long spell out with injury, was preferred to the more experienced Javier Saviola and Eidur Gudjohnsen.
⏱️ 3' - Interesting how much more build-up work Van Nistelrooy was doing in Madrid than he was asked to do at Manchester United. He's dropping deep to build up the game with Raul and Gonzalo Higuain, positioned either side of him.
⏱️ 5' - ⚽ GOAL! GOAL! GOAL! Van Nistelrooy scores! Some neat build-up from the Dutchman feeds Higuain wide, his low cross is a total mess from Thuram, who hooks his clearance right into the path of Ruud. He composes himself brilliantly to curl home. Great finish.
⏱️ 7' - Van Nistelrooy only scored one league goal for Man Utd outside the box in his five years there, but this was placed with perfection past the diving body of Carles Puyol. The game is on.
⏱️ 9' - Everything about this is utterly manic. Tactics and formations are being foregone for careless passing - particularly from Barca - and a 100mph pace. The centre of the pitch is being totally disregarded, as a long ball finds Samuel Eto'o who can only slash straight across goal.
⏱️ 11' - ⚽ GOAL! GOAL! GOAL! MESSI MESSI MESSI! The little 19-year-old delivers. Some untidy attempted build-up deflects off Eto'o, who slides wide to Messi. His first touch towards goal is perfect, and as Iker Casillas narrows the angle, he slots it with disdain past him into the corner. Barely 11 mins in and it's 1-1. Tone is set.
⏱️ 12' - PENALTY Real Madrid! This is relentless. Guti breaks into the area and Oleguer leaves a leg hanging which the Madrid player welcomes as the perfect opportunity to go down. Looks just a little bit harsh, but it was a silly challenge and Oleguer is booked.
⏱️ 13' - ⚽ GOAL! GOAL! GOAL! Van Nistelrooy slots home the penalty and Madrid are ahead again. This game has barely had a chance to find a pattern yet, but Madrid are 2-1 ahead and Oleguer really doesn't look as if he can cope with the movement of Ruud. 1-2!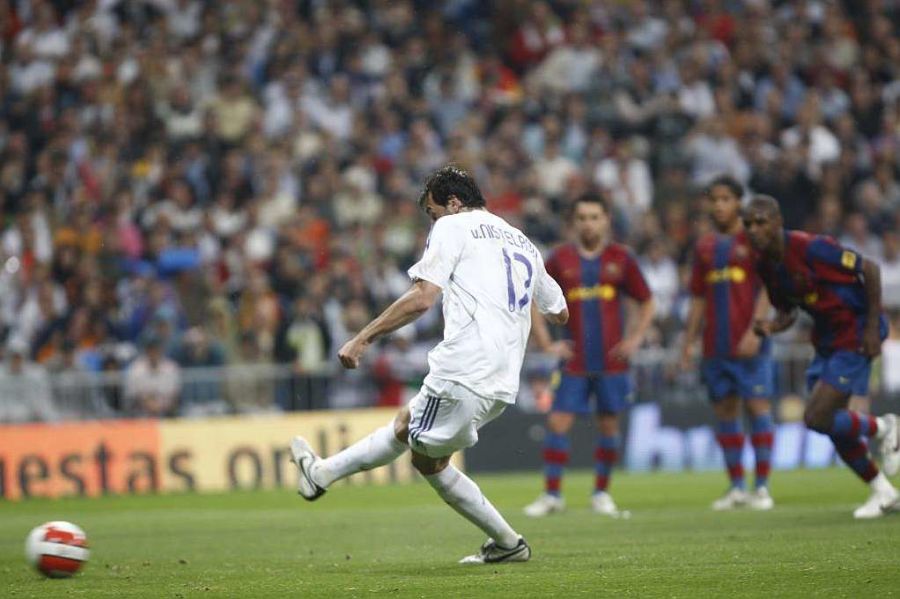 ⏱️ 16' - Sergio Ramos decides that he should let Ronaldinho what he's going to be all about for the next decade or more, so upends him in a spectacularly obvious foul, for which he is warned, and a yellow card seems so utterly obviously in the post.
⏱️ 19' - It is SUCH a bitty game, being broken up by fouls and general messiness all over the place, but Eto'o breaks through the crap to get through on goal only for Casillas to dive at his feet brilliantly to block the low shot.
⏱️ 21' - RAMOS, doubling down on his foul on Ronaldinho from minutes before, just straight kicks the Brazilian up in the air. He trots away as Ronnie rolls around in agony. Utterly ridiculous and an obvious yellow, but good to know Ramos has always been like this.
⏱️ 24' - This game isn't quite the end of Ronaldinho, he's still pinging passes everywhere and generally being brilliant, and though it's not the genius of the year before the crowd anticipation when he gets the ball is only matched by, well, Messi, every year after that.
⏱️ 27' - ⚽ GOAL! GOAL! GOAL! And Ronaldinho still has it to create the equaliser for MESSI. Ron dribbles inside and after exchanging passes with Eto'o lashes a shot at goal. Casillas parries to Messi and the chance is difficult, but he blasts the half-volley into the roof of the net to wild celebrations. A fantastic finish.
⏱️ 30' - And we are back to the ultra-violent kicking of each other, with Rafa Marquez joining Ramos in the book. There's just too many human people moving around to make sense of any of this.
⏱️ 32' - ⚠️ CHANCE! HUY, MESSI! Some fantastic build-up from Xavi, firstly winning possession then laying in Messi. His first touch is sound but as Casillas narrows the angle he chooses to try and find the near post and he fails, he effort heading into the side netting. A rare moment of humanity, and reflection, amidst this craziness.
⏱️ 35' - Neither fans, nor players, nor coaches have any idea what to make of this. This was an era of cagey Clasicos but this is anything but, a five-a-side, end-to-end piece of theatre where the teams are merely expressing themselves, and it's utterly exhilarating to experience again.
⏱️ 38' - ⚠️ CHANCE! HUY, HIGUAIN! The young Argentine would make his name finishing chances like this, but this time his curling shot from the edge of the area takes a clip off the defender and glances inches wide, met with an almighty cry of relief from the crowd.
⏱️ 40' - ⚠️ CHANCE! HUY, ETO'O! And Barca break instantly from the corner, Ronaldinho breaking down the right and his low cross is just begging to be converted by Eto'o, but an intervention from Michel Salgado, who then collides with the post, causes Eto'o to somehow slice wide with the goal gaping. An unbelievable miss, but utterly breathless, two great teams and players achieving their peak performances all in one half.
⏱️ 43' - It's so easy to say now what we know about the man, but Xavi has had a SENSATIONAL half of football. Calming in the middle of a hurricane, keeping the ball, dropping back to his centre-backs and taking responsibility. He was always here, but this feels like an arrival or a different kind after a horror spell out through injury.
⏱️ 45' - ⚠️ RED RED RED! OLEGUER! He had already been booked for the penalty incident with Guti and now Oleguer cleans out Fernando Gago about 60 yards from goal in the most meaningless foul you'll ever see. Utterly stupid, utterly pointless, and will likely interrupt the flow of what had been an incredible contest.
⏱️ 45' - ... And XAVI cleans out Guti for good measure, clearly still unhappy about the red card, and goes in the book.
⏱️ HALF-TIME - If you are after tactical analysis, forget it. Eto'o' Ronaldinho are a fluid wide pair, Eto'o dropping deep to collect while Ron takes up the space behind him. Xavi has been exceptional, Messi vital but fleeting. For Madrid Ramos is finding his Clasico personality while Higuain has drifted, Raul has been anonymous, and Van Nistelrooy superb. But the red card stifled what could have been an all-timer in terms of Clasico chaos.
SECOND HALF
⏱️ 46' - Madrid return with a clear intention to score. To be clear, they were five points behind Barca as things stood, with Sevilla and both Valencia ahead of them. A win, level at 2-2 and against 10 men, seemed a necessity.
⏱️ 49' - It wasn't just these days that Ramos would go on marauding runs trying to get involved in the attack. He appears, somehow, as the furthermost attacker, playing a pass through to Higuain, but his first touch and mullet which followed him through are both ill-timed and largely regrettable.
⏱️ 52' - A curious thing; Ronaldinho tries to play a one-two but finds Messi standing in his space, ready to dictate the play from there. It was immediately obvious from this point that is where his future lay, and why Ron should probably have been moved out to AC Milan at the end of this season, rather than the next.
⏱️ 54' - The crowd BRAY in dissent as Diarra fouls Deco who was on the move, but the yellow they so crave doesn't arrive and they tell the ref exactly what they think. On second viewing, it's actually a clean tackle. But after Oleguer, the referee will be encouraged to even this up however possible.
⏱️ 57' - As expected, Madrid finding all the space where 11 men would be able to screen. But since Van Nistelrooy's penalty they've offered barely any attacking threat. Can they really believe?
⏱️ 60' - Raul, who barely touched the ball, is replaced with Robinho for the final half-hour. You could have been forgiven for saying this was the end for him, but as we know he enjoyed a brief renaissance before heading to Germany and Schalke.
⏱️ 63' - One thing that will stun the modern viewer - the position of the full-backs. Iniesta takes up the position as the winger on the right, attempting to cross into the area, and it's not just because of the numerical disadvantage. At this era, in this type of game, unless a team was utterly untrenched in defence full-backs just didn't threaten opposition territory.
⏱️ 66' - ⚠️ CHANCE! RUUD! Higuain slips a well-timed ball into his path and with Victor Valdes closing and the chance of the hat-trick, he tries to dink over the keeper and only finds his flailing arm. In the context of this tight half, it's a bad miss.
⏱️ 68' - ⚠️ CHANCE! RUUD! Real Madrid turning the screw. The Dutchman collects the ball on the left of the box and cuts inside onto his right, attempting to send Valdes the wrong way, but his low shot is blocked by the legs of the keeper to safety. Madrid should be ahead...
#OnThisDay in 2007
FC Barcelona 3-3 Real Madrid
19 Year Old Lionel #Messi scores a hattrick in #ElClasico and announces himself onto the World's biggest stage. #ElPartidoDeLionelMessi pic.twitter.com/VJ9lyA0WqV

— ice (@fcbice) March 10, 2019
⏱️ 71' - Even with Robinho on the pitch Madrid often lack the pace to exploit Barca's exposed defence. Van Nistelrooy, now 30, can't break with the ball quick enough and at least two separate chances go astray.
⏱️ 73' - ⚽ GOAL! GOAL! GOAL! Guti drifts in a free-kick from wide and Ramos meets it with a flick header, competing with Carles Puyol, to glance into the net off the crossbar. A brilliant header and on the balance of play of the second half, utterly deserved.
⏱️ 76' - Ramos' positions on the field continue to defy belief. He's playing centre-back with a 3-2 lead yet he is disappearing into the attack at will and requiring the diligent Gago and Diarra to drop over and cover. It's really quite unnecessary considering his team are already in front against 10 men.
⏱️ 78' - Ramos' positions on the field continue to defy belief. He's playing centre-back with a 3-2 lead yet he is disappearing into the attack at will and requiring the diligent Gago and Diarra to drop over and cover. It's really quite unnecessary considering his team are already in front against 10 men.
⏱️ 80' - Both Sylvinho (Eto'o) and Juliano Belletti (Deco) are on for Barca now as they look to answer the clear lack of width problem in the team and exploit Madrid in the wide areas. Marquez cracks a neat volley but it is into Casillas' glove all the way and he tips over with ease.
⏱️ 80' - Madrid counter-attack on a poor Marquez touch and with Robinho, Guti and Van Nistelrooy in attack they have options. But the play is too slow and by the time the ball reaches Ruud he is closed down all too easy and the chance is gone. That could have been the game.
⏱️ 82' - ⚠️ CHANCE! HUY, INIESTA! Ronaldinho does brilliantly to hold off Salgado and slide inside to Iniesta, who takes a touch and looks to place his shot, but is just wide of the near post. In the meantime, a protester enters the field trying to wave a message in Arabic, he is tackled quickly, and we get on with things as if it never happened. Indeed both Eidur Gudjohnsen (Marquez) and Ruben de la Red (Guti) enter the fray during the confusion.
⏱️ 85' - Madrid just want to see this out now. The formation has all dropped deep with so many opposition forwards in the way, and they will defend the edge of the 18-yard box for the rest of this. Ronaldinho and Messi combine but full-back Miguel Torres produces a fantastic tackle to stop the latter.
⏱️ 87' - Higuain is NOT happy. A rare Madrid counter-attack sees Robinho try numerous step-overs but Higuain is in space. the ball never comes, Robinho is dispossessed, Higuain screams to the heavens, life continues.
⏱️ 89' - Heading into injury time and other than a Messi shot well wide of the target, the kind of which he'd never attempt today, Madrid look pretty comfortable seeing this out.
⏱️ 90' -⚽ GOAL! GOAL! GOAL! OR NOT! MESSI MESSI MESSI! What a player, what a hat-trick. Ronaldinho cuts in from the left and plays into the middle, looking for someone, anyone. Messi's first touch is exquisite, he then skips past the next challenge of Helguera and smashes his low left-footed shot into the opposition corner as Ramos dives in vain. It's genius. It's glorious. It's the end to an incredible game with seconds remaining.
WHAT HAPPENED NEXT?
From this position Madrid found heart, togetherness, and the ability to put a fantastic run together. They went unbeaten for the remainder of the season and going into the final day they only had to beat Mallorca at home to win the title.
They went 1-0 behind but a Jose Reyes (RIP) inspired comeback led to a 3-1 win and dethroned Rijkaard's Barca that season and the next.
I Rewatched this match on Footballia, which has a huge database of classic matches you can watch in full.