Borussia Dortmund suffered their eighth defeat of the Bundesliga season on Saturday in a 2-1 defeat to Freiburg.
It was the club's third defeat from their last five league games and means the club now sit a massive 16 points behind league leaders Bayern Munich and just 15 off the relegation play-off spot.
While a number of issues may be playing a part in Dortmund's slump in form, interim head coach Edin Terzic would undoubtedly be able to ignore most of them if only he could get his star striker scoring goals quite like he once was earlier in the season.
As incredible as it may be to say for a player that currently has 22 goals to his name this season, Erling Haaland may be out of form.
Is Haaland out of form at Dortmund?
It may seem odd to pick apart the performances of a striker that currently boasts a record of 27 goals and six assists in just 29 games for the Bundesliga side, but there's little doubt that that well of goals seems to be drying up ever so slightly.
For example, since the turn of the year Haaland has featured in each of Dortmund's eight games in all competitions but managed just five goals along the way. Again, that would be fine for most strikers but is by no means the high standards the Norwegian striker has set himself.
Indeed, when we break Haaland's season into two parts - his form in 2020 and then his form since the turn of the year - we see a drastic turn in his performances. In the first half of the season the striker was averaging an incredible 1.31 goals per 90 minutes for Dortmund but since the turn of the year that number has dropped to 0.57.
Why is Haaland now struggling to score?
Perhaps the metric that underlines Haaland's recent performances is the player's xG. Haaland has an impressive average of 0.71 xG per 90 minutes for Dortmund this season, but that number has dropped down to 0.60 over the last five games. Yet, even that number is a little misleading.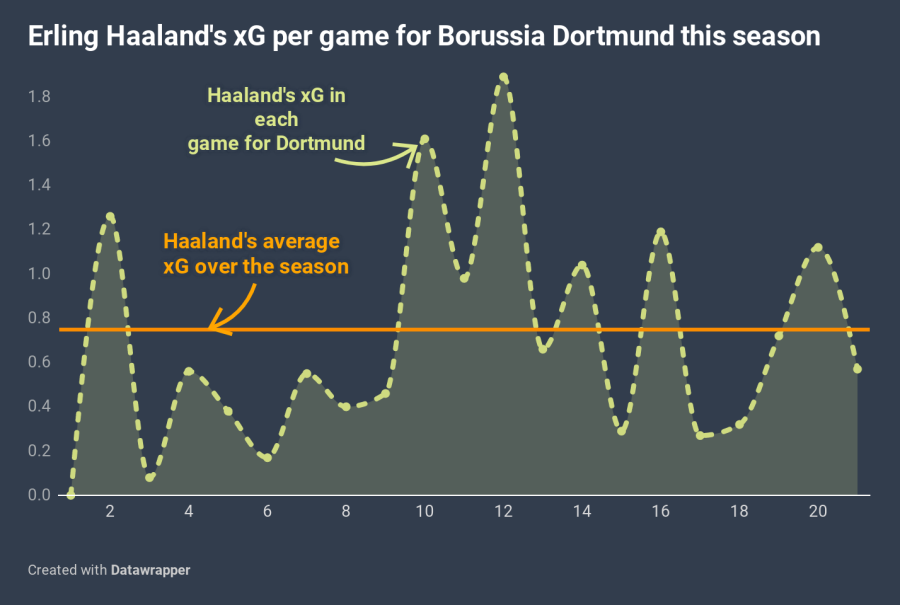 As we can see from the graph above, which outlines Haaland's xG with his own average for the season, the striker has managed to accumulate an xG greater than his seasonal average in two of his last seven games in all competitions. And as such it'll come as no surprise to learn that he only managed five goals in that period.
As the old saying goes, one swallow doesn't make a summer. And in this instance a handful of games most certainly do not suggest that Dortmund's key striker is showing any signs of long-term deterioration or a lasting dip in performances. Haaland is just in a bit of a slump.
Perhaps the young striker will bounce back and this minor bump on the road will be forgotten about soon enough. But for now there's undoubtedly an issue that needs solved at Dortmund. The German side have a misfiring striker and until he gets back into his groove their poor performances may rumble on.