Whether playing with a 4-3-3, 3-5-2, 4-2-3-1 or even a traditional 4-4-2, full-backs have never been more important to just about every team in the Premier League.
At the very top of their game, a good full-back not only ensures his defensive line isn't bombarded with crosses or runs into the box, but also offers an extra dimension to his team's attacking play.
As such, a lot of money has been spent in the English top-flight on good full-backs. Which means some of the best left and right-backs in the sport currently reside in the Premier League.
But which one has stood out among all others as the best full-back in this season's campaign?
This season's best Premier League full-backs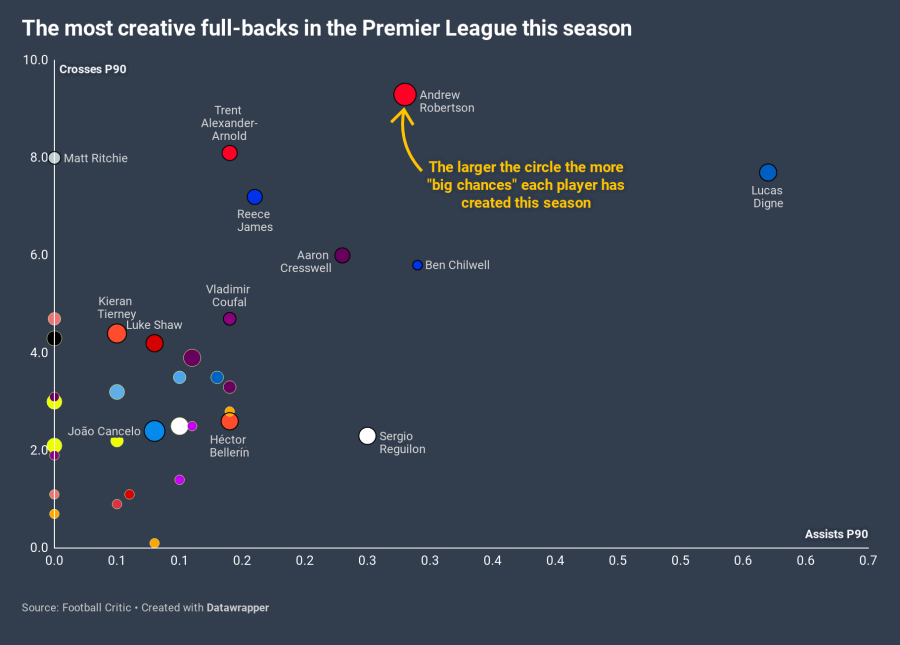 When we correlate this season's Premier League data and look at how many crosses and assists each full-back is creating every 90 minutes we get a graph like the one above. As stated, we've also illustrated how many "big chances" each player has created so far this season through the side of each circle. We've also excluded any player that has played less than 500 minutes this season.
When it comes to crosses P90, Andy Robertson leads the way with 9.3, followed by fellow Liverpool defender Trent Alexander-Arnold with 8.1, Newcastle winger-turned-defender Matt Ritchie on 8.0, Everton's Lucas Digne on 7.7 and Reece James of Chelsea sits on 7.2 to round up the top five.
When we want to then rank each full-back on their assists P90, Everton's Digne comes out in front with 0.57, followed by Chelsea's Ben Chilwelll, Liverpool's Robertson, Tottenham Hotspur defender Sergio Reguilon and then Aaron Cresswell of West Ham.
Of course, assists can be a little misleading because they rely on another player to tap home the chance. So when we then filter through the league's full-backs based on "big chances" we find Robertson once again top with seven so far this season, followed by Manchester City's Joao Cancelo, Arsenal's Kieran Tierey in third, Luke Shaw of Manchester United in fourth and Gunner's right-back Hector Bellerin in fifth.
Whether or not each of these statistics definitively means which full-back is better than the rest is up for debate, but as the graph shows the likes of Robertson, Digne and perhaps even Chelsea pair James and Chilwell are probably the best, all-round full-backs in the division this season.