By KAUSTUBH PANDEY
Tanguy Ndombele's time at Tottenham seemed to be coming to an end at the conclusion of a turbulent 2019/20 season. But instead of downing his tools, the Frenchman has shown that he's not a quitter - far from it.
While his signing under Mauricio Pochettino was met with rejoice and fanfare, there were constant question marks in France over whether he would shed his work rate issues in England. During his time in the lower divisions of France, Ndombele's application was doubted; Guingamp even released him as a teenager. Even at Lyon, there were accusations that Ndombele wasn't always up for it in lesser games.
Under Jose Mourinho, these problems were bound to arise sooner or later. And they came up pretty early, more so since Christian Eriksen's Spurs exit. The Dane's departure to Inter meant that there was a greater burden on Ndombele to perform and become Tottenham's chief chance creator. That burden increased further with injuries to Harry Kane and Son Heung Min.
If that wasn't enough, Mourinho's Spurs lacked a trademark ball-winner in defensive midfield, forcing the manager to play a midfield three instead of a 4-2-3-1. This often meant that Ndombele had to cover more ground than usual. The lack of a structure and Ndombele's nonchalance as a player let him down.
During lockdown, Mourinho made attempts to get the Frenchman up to the speed of his style but it hardly worked. Words were put out in the press that he could look to leave the after a single season.
But instead of giving up like many other Jose Mourinho fallouts, Ndombele has become one of Mourinho's most important players. The Frenchman has benefitted from having a solid midfield foundation behind him in Pierre-Emile Hojbjerg and Moussa Sissoko. It has allowed him to generate an Expected Goals P90 of 0.11 and an Expected Assists tally of 0.14, which is well more than last season.
Apart from the fact that he is more likely to contribute to goals more often, Ndombele's off the ball work has improved, too. The 24-year-old has made 11.5 pressures P90 minutes in midfield, which is up from 9.55 from last season. He's also pressing more in the attacking third and while he doesn't press as much in the defensive third, the organisation behind him makes sure that he plays in a structure that can help him.
Hojbjerg and Sissoko can often drop very close to the backline to diffuse any dangers that the opposition attack poses, denying their wide players to cut inside and create chances. Ndombele is tasked with carrying the ball into advanced areas through the press for Kane and Son.
He has shown glimpses of how good he is at that this season, and it came to the fore in Spurs' game against Southampton. To create the first goal, the Frenchman bamboozled James Ward-Prowse and Oriol Romeu to set Kane through. Against Chelsea, he did the same thing against N'Golo Kante. And he came up with impressive performances against Manchester United and Manchester City too, playing a decisive role in turning the results in Spurs' favour.
He now seems to have a defined role in a defined team. It has come to a point where Mourinho might have to preserve Ndombele to keep him fit; while Giovani Lo Celso continues to have fitness issues, Ndombele is someone that Mourinho has to rely on this season because of his system's demands and the lack of options in that position.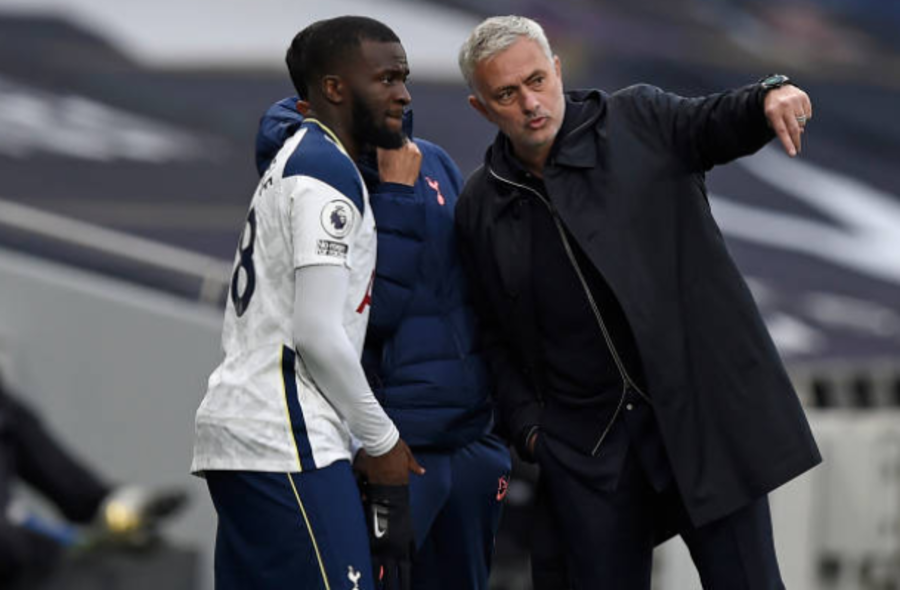 What he brings to the table is something that only limited players in the Premier League do, let alone at Spurs. The turn, the drop of a shoulder and swift move forward has become his trademark and it is something that sets him apart from others.
He would certainly want to play further forward, like Pochettino planned, but Ndombele is certainly showing that he has the fighting spirit that Mourinho loves in his players. As things stand, that itself is enough. It will only get better.