Scott McTominay is a player that embodies the spirit of a Manchester United midfielder.
The Scot has been at the club since 2002 and broke into the first-team under Jose Mourinho in the 2017/18 season, and his real influence in the first-team was felt in 2018/19, when Ole Gunnar Solskjær took over.
In December 2019 he suffered a knee ligament injury which kept him out of action for two-months and by the time he had returned to fitness, Matic had been reinstated as the team's first-choice defensive midfielder and McTominay returned to the bench.
As the 2020/21 season approaches fast, and with the arrival of Donny van de Beek to bolster United's ranks, where does it leave McTominay? What will he need to do to restore himself to the first team?
READ MORE:
Chelsea need to give Werner 'six months' to adapt to the Premier League
Griezmann on Messi saga: 'It's between him and the club'
Can Liverpool go back-to-back? History says they can
Alexis Sanchez wanted to leave Man Utd after first day
The numbers behind McTominay's 2019/20
McTominay was primarily deployed in a double-pivot alongside Fred in a 4-2-3-1 early on in the season. Solskjaer's side functioned primarily on absorbing pressure and breaking with pace on the counter with the likes of Daniel James, Anthony Martial and Marcus Rashford.
Fred and McTominay grew in confidence as a pair as the season went on. Both players were solid in terms of their responsibilities on the pitch. Fred was tasked with evading the opposition's press with his dribbles and then breaking the lines with his passes from deep. As for McTominay, his role was to break up play and using his physicality to recycle possession safely.
When we take a closer look at his underlying defensive metrics from last season, we get a clearer picture.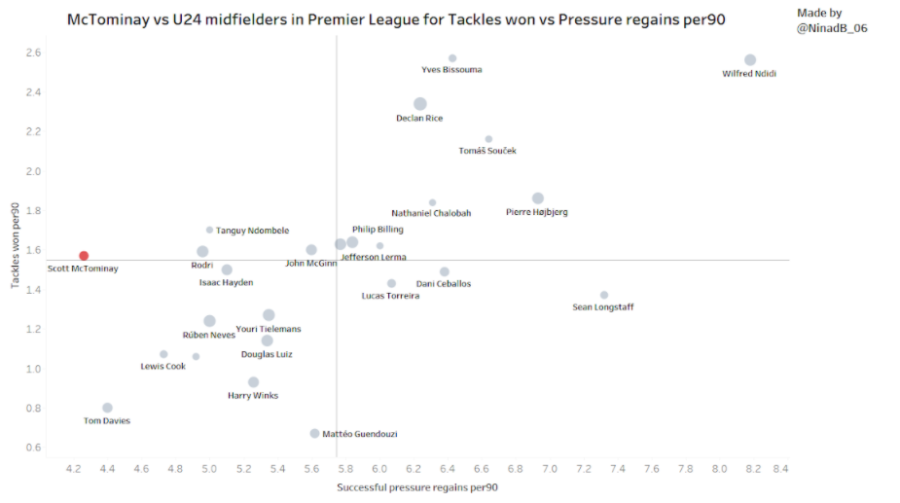 As seen from the above image, McTominay is an above-average tackler who won an average of 1.57 tackles P90 last season. However, he is not as effective when it comes to pressing the opposition, as portrayed by his 4.26 successful pressure regains P90. This is where Fred helped cover his deficiencies and pressed the opposition proactively.
Although McTominay was a better tackler than an average Premier League midfielder under the age of 24, he still has some room to grow in this regard. Taking a look at interceptions made and aerial duels won P90, McTominay shows up reasonably well too.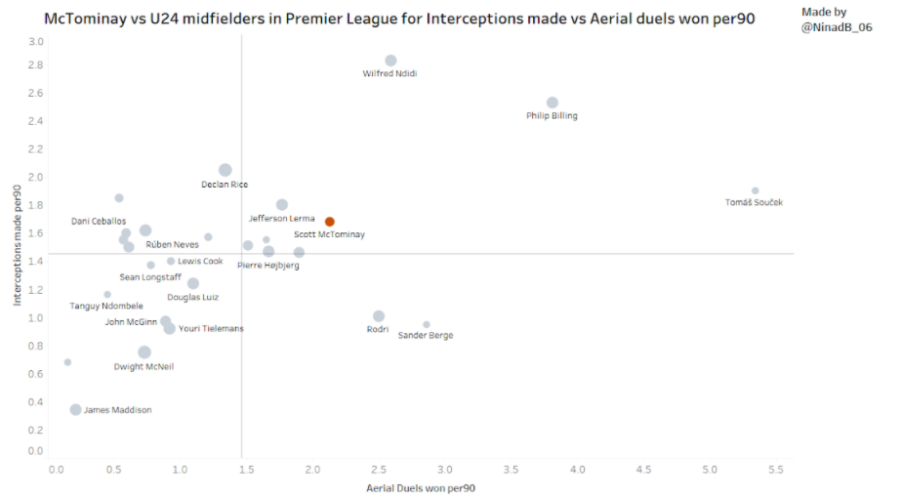 At 6ft 3in, McTominay used his height to good effect and won 2.5 aerial duels P90 as well as making 1.68 interceptions P90.
It's important for the sole defensive midfielder to be able to screen the defence well and be a reliable presence in front of the defence. Although McTominay wins a good number of his aerial duels, he is not always the most reliable presence.
This is down to his age and lack of experience playing top-level football in a defensive position. Early in his youth career, McTominay was an attacker and he used his attacking instincts to produce some memorable moments with his goals against Arsenal and Manchester City, particularly.
With Michael Carrick as part of the coaching setup, McTominay can be expected to improve as a deep-lying midfielder who not only screens the defence well but progresses the ball too.
Since the restart of the league, Solskjaer has opted to go for a midfield pivot of Matic and Pogba and more recently, Fred, with Bruno Fernandes just ahead.
McTominay still feels like a box-to-box player who enjoys being direct and attacking the opposition half, but he lacks the positional discipline required to be a sole defensive midfielder. That should change with time as Carrick helps the youngster improve his overall game.
Van de Beek's arrival is a huge boost to the team's quality in midfield. Although not a defensive player in a strict sense, the Dutchman thrives on attacking spaces between the lines and around the penalty area. He will add some serious competition to the starting XI selection for the upcoming season.
It is a given that Pogba will continue as part of the double pivot for next season. However, whether McTominay steps up to the role next season, remains to be seen. The signs are that this is a player who can only improve and is willing to give it his all for United. Only he can decide what's next for him.