It was an intense night in Lisbon.
A night that saw Bayern Munich win their second treble after 2013, while Paris Saint-Germain left the Champions League empty-handed again.
No-one can really argue that the Germans are a deserved winner of the trophy – hardly any team in recent seasons was as dominant with their results as Bayern in this campaign: 11 wins in 11 games is enough proof.
But, yesterday we also saw how small the nuances between winning and losing are, and how big the outcome bias still is amongst the football world.
A common opinion after the final whistle was:
"Bayern's win over Paris was also a proof that their teamwork and collective philosophy is the better approach than a philosophy based just on individual qualities."
Is it, though?
The Teams
There were some question marks before the game – in truth there was more than you would expect for a final. Would Hansi Flick trust his proven team, or would he adapt to the fast Paris attack by bringing a (not fully fit) Niklas Süle in for Jerome Boateng, who is not the quickest player? Sacrificing Thiago or Leon Goretzka for Benjamin Pavard to switch Joshua Kimmich to the midfield again was another, rumour.
In the end, Flick really made one change in contrast to their Lyon game but it was Kingsley Coman who replaced Ivan Perisic on the left wing to bring more 1 v 1 quality to their team.
Thomas Tuchel fielded the same PSG team that beat RB Leipzig, with the exception of Keylor Navas returning into goal, meaning that playmaker Marco Verratti still was not fit to play a full 90 minutes.
The tactical keys
1. High line
Against many expectations, Flick decided not to change his high line approach and Bayern Munich pressed Paris deep in their own half. This helped them
create some high turnovers in the first half, where Paris' midfielders lost the ball under pressure on the one hand, but was also responsible for nearly all of Paris' key chances on the other.
2. Di Maria as defensive weak link:
As much as the Argentinian represents an offensive threat, he hardly does anything from a defensive perspective despite trying to keep his opponents in his cover shadow. Bayern managed to expose that weakness more and more as the game proceeded. Tuchel was forced to let Di María and Kylian Mbappe switch sides, which was rather a defensive reaction than an attempt to confuse Bayern's defence.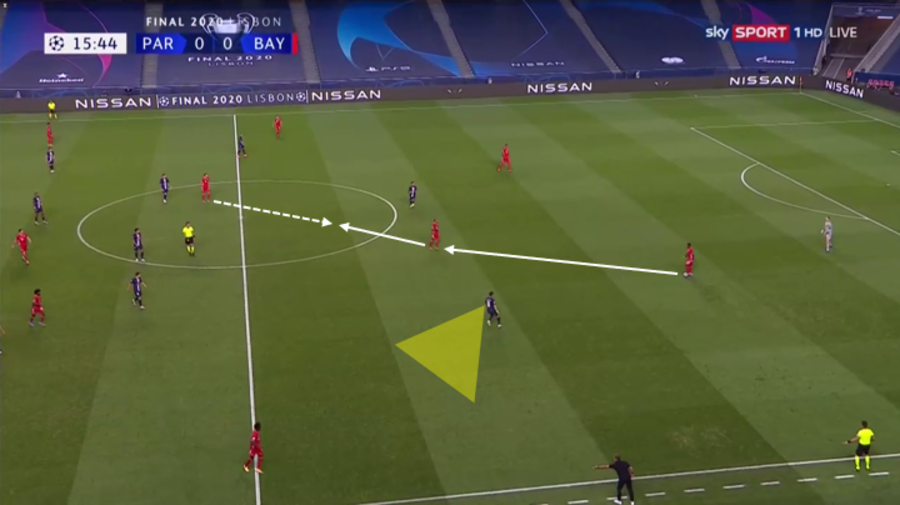 Di María has Alphonso Davies in his cover shadow which forces Alaba to play to the centre.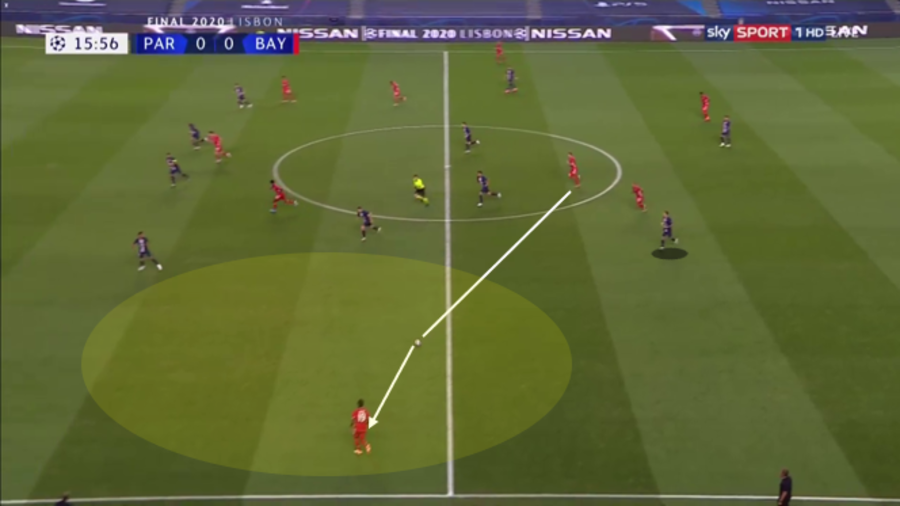 But he fails to adjust his position and leaves Davies wide open while Bayern used the third-man-concept to pass him the ball.
3. Calmness in possession:
Paris' team is full of players who are great on the ball and can absorb pressure with their first touch and ball control, especially their centre backs, Thiago Silva and Presnel Kimpembe, who constantly managed to remain calm despite Bayern's intense press. That was key for Paris' good first half as they circulated the ball well in their own rows and prevented Bayern building momentum.
4. Direct play:
Paris was most dangerous when they brought the ball with as few touches as possible to their front three. They tried to outplay Bayern's press with many one-contact passes which of course caused a lot of inaccuracy and turnovers but also created dangerous situations when successful.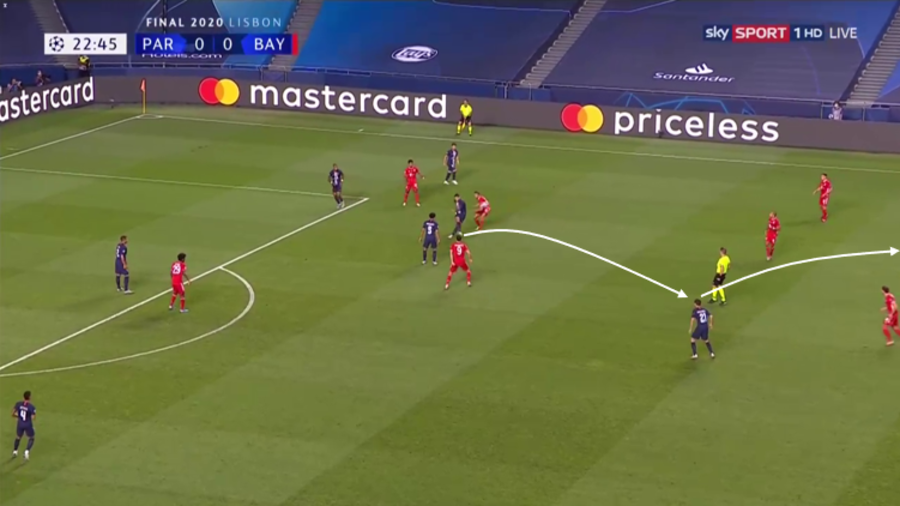 Paris progresses the ball with two one-contact passes to Mbappé...
Who lengthens the ball to Neymar...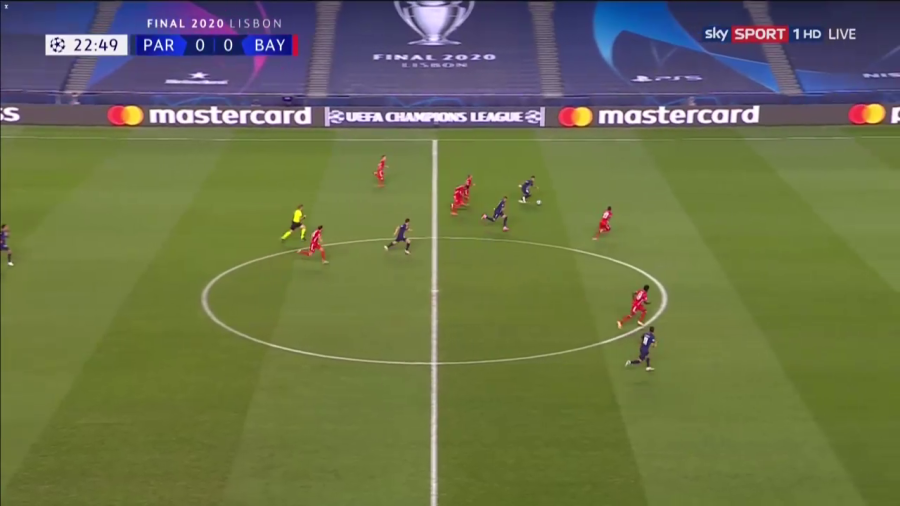 And sends him into a dangerous 1 v 1.
The key scenes
17th Minute | Neymar Chance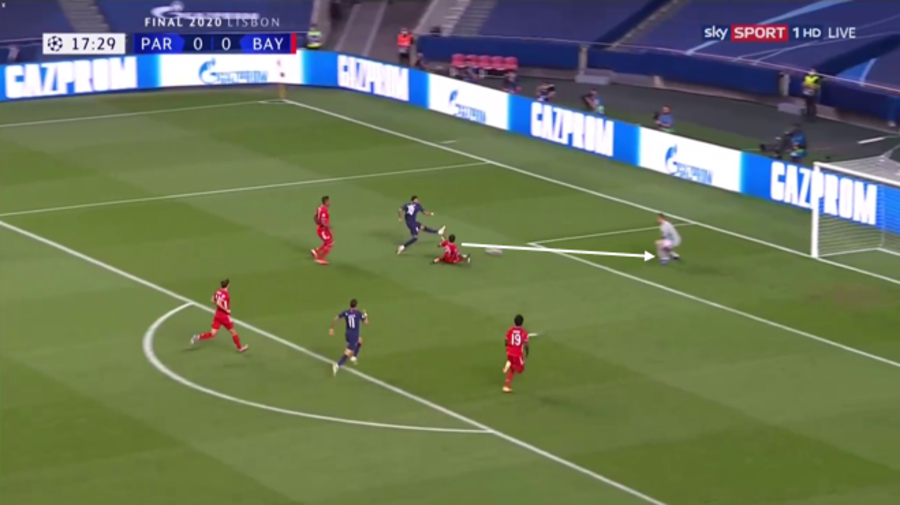 After a turnover from Serge Gnabry, Marquinhos plays a long ball to Mbappé who plays a through ball to Neymar who strikes with his left foot but his shot is saved by Neuer's foot.
22nd Minute | Lewandowski Chance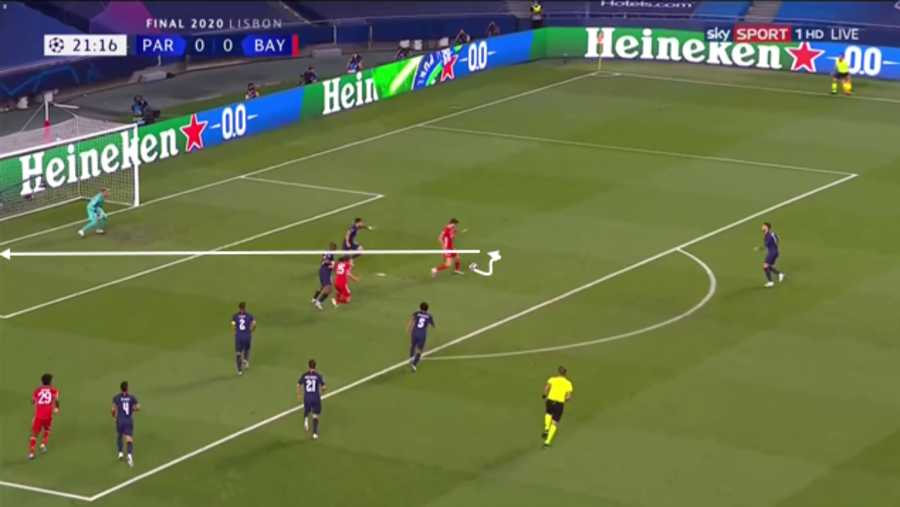 Davies has space on the left side and crosses the ball into the box to Lewandowski who, despite being outnumbered, is able to turn and shoot and hits the post.
45th Minute | Mbappe Chance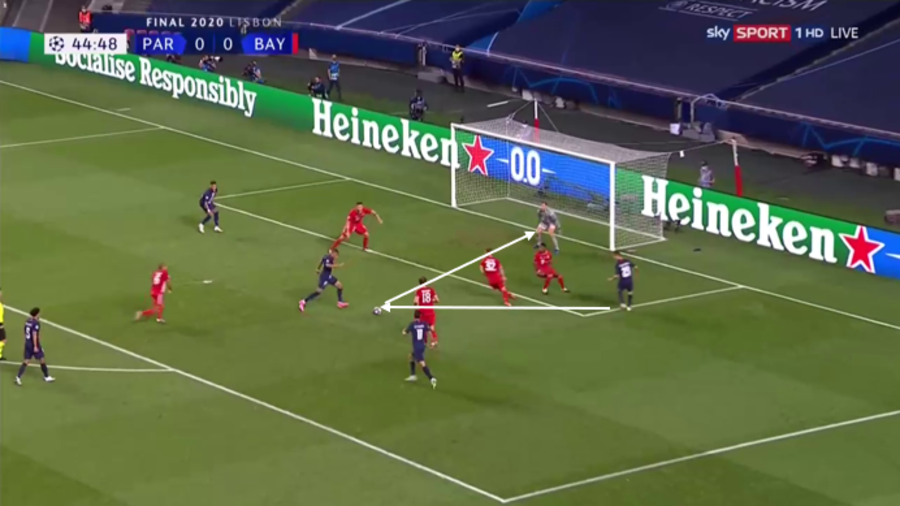 Alaba misplaces a pass in his own box to Mbappé, who passes to Ander Herrera, who gets the ball back from him and shoots right in the arms of Neuer from 10 yards out, with a clear goal in front of him.
59th Minute | Coman Goal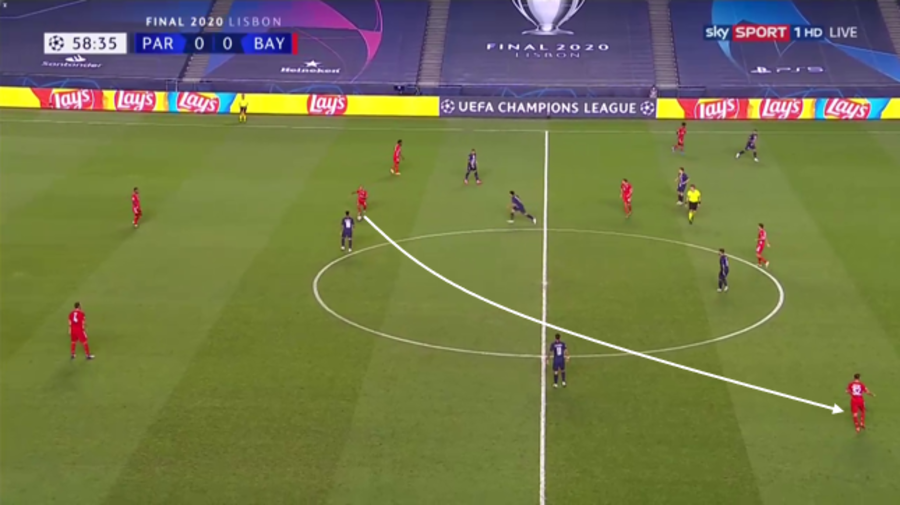 Thiago plays a progressive pass to Kimmich that opens up Paris' midfield.
After a quick passing combination on the right wing Kimmich crosses the ball onto the far post, where Coman finishes with his head.
70th Minute | Marquinhos Chance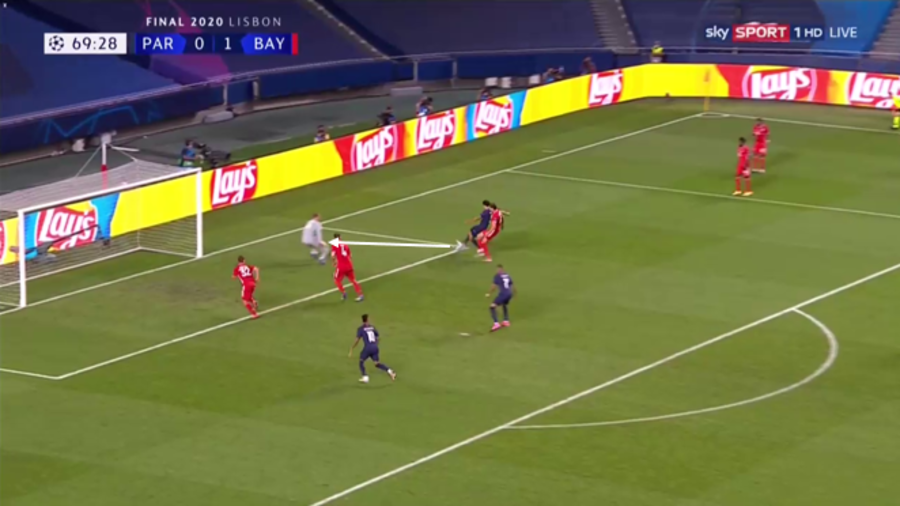 Marquinhos makes a deep run into the box and is spotted by Di María, who nutmegs Alaba with his pass. Marquinhos is in a 1 v 1 against Neuer but his shot is saved by Neuer's foot.
Penalty Calls
Both team had one big penalty call each.
Coman was held back by Thilo Kehrer late in the first half, then Kimmich hitting Mbappé's foot deep in the second half.
Still, Paris will feel to be on the bad end of those decisions as while Coman's situation rather was a 'maybe', Kimmich clearly fouled Mbappé which made you wonder why the VAR didn't intervene in that situation.
Key Players
Thiago:
Thiago was the best player on the pitch, dictating the tempo with his 95 touches. He pre-assisted the decisive goal of the night with his sharp pass to Kimmich and again played a key role defensively with his three tackles and two interceptions.
Coman:
The hero of the final. Often criticised for his bad decision-making and missing output, Coman indeed struggled in the first half. When the game opened up his 1 v 1 ability was crucial as Paris' right back Kehrer was not able to stop him. The fact that Coman scored the goal with his head after a cross sums up a strange but incredible night for him.
Neuer:
Already written off by many experts, Manuel Neuer found his top form back when it mattered most. Despite being a touch sloppy with his feet, he was the one that kept Bayern in control when he saved Neymar and Marquinhos' big 1 v 1 chances with his signature move – the ''scissor save''.
Thiago Silva:
It was definitely not the fault of their centre backs that Paris' lost the final. Silva proved that he can still be a world-class defender, even in the age of 35. His calmness on the ball and leadership was crucial for Paris to firstly hold the game at 0-0 for so long, and later not break apart when Bayern constantly hit them on the counter.
Conclusion
One better finish or one different call by the referee could have turned the game into another direction and also change the quoted sentence above.
Bayern were the more clinical team and deserved to win, but it has nothing to do with Paris' performance as a team and their players just playing for themselves.
In fact, the game was totally equal (both teams created an identical xG of 1.1) with both teams successfully neutralising their opponent key players.
Gnabry and Neymar, two players that were expected to decide this match were not factor in the end for example. In the end it was decided but one world-class attack by the Germans that was finished with a header by one of the unlikeliest players to do so. That's football and that's why we all love it.