How Arsenal wish they had a player of Dennis Bergkamp's abilities at the moment.
One of the greatest players in the history of the club and arguably one of the most unselfish, one of Bergkamp's key attributes was his ability to bring his team-mates into the game.
We've teamed up with football analyst Marius Fischer, known as @Gegenpressing91 on Twitter, who has worked with magic with Microsoft Excel to map out all of the Dutchman's assists for the Gunners.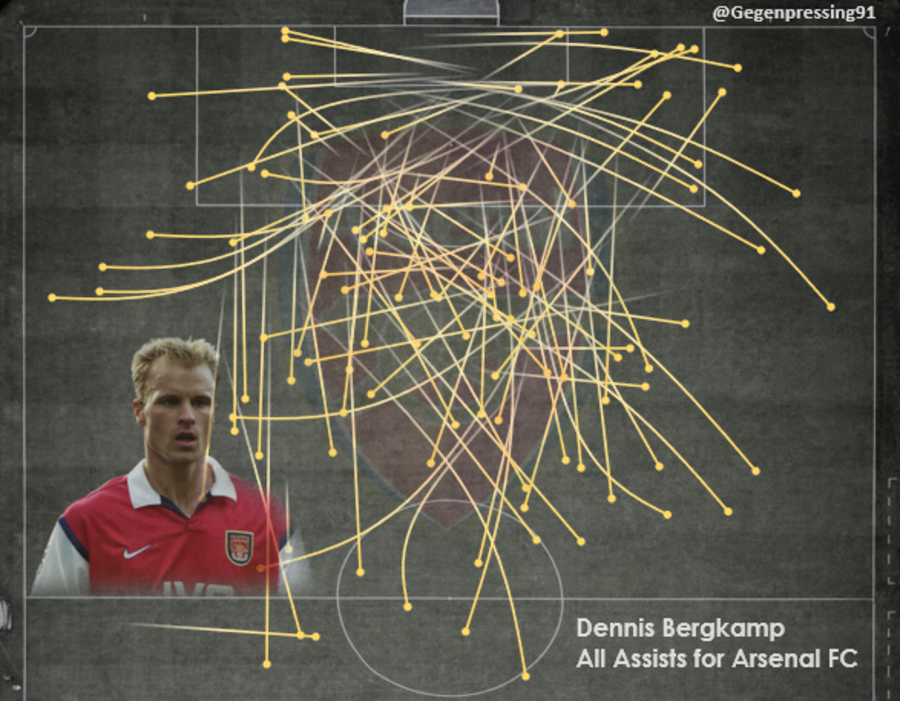 Marius says:
"If you talk about Arsenal FC it's the great Thierry Henry who comes to mind first.
"But behind all his radiance, it was Dennis Bergkamp who produced pure magic with the ball for 11 years in an Arsenal shirt.
"The striker from the Netherlands started his career at Ajax before moving for a short spell to Inter and then landing in North London in 1995. He was a perfect professional with a great attitude – off the pitch he was only famous for his fear of flying which prevented him of taking part in several Champions League away games.
"Next to his 87 goals in 315 for Arsenal he was one of the best playmakers they ever had. His 117 assists for the club came in as much variety as you could imagine: Cutbacks, through balls, crosses, 1-2's – Bergkamp could do it all."
You can see from the points of his assists how varied a creator Bergkamp was, from wide set-piece deliveries to incisive through balls from deep that bisected defences.