You could say that diving has never gone away and you'd be right.
But there was, for a time, when officials were asked to look at incidents and try to identify simulation. Yellow cards were issued and a concerted attempt to stamp out blatant cheating was orchestrated at the highest level.
But since VAR, it's all gone. A genuine problem in the game has been circumvented by drawing lines on screens and attempting to find offsides where there aren't any. The bureaucratic pen-pushers who have somehow arrived in a position of dictating the game - we are looking at you, David Elleray and IFAB - have shifted the balance of what's deemed important to the future of the game.
And in doing so we've allowed the disease of diving to drift back in virtually unnoticed. The lack of fans has allowed players to gesticulate, to throw themselves around and to shout and berate officials for fouls that didn't exist.
This weekend we saw two prime candidates from the genre. Barcelona are no strangers to getting decisions of their own and the standard of refereeing has, for some time, been a disgrace in La Liga, but this was special.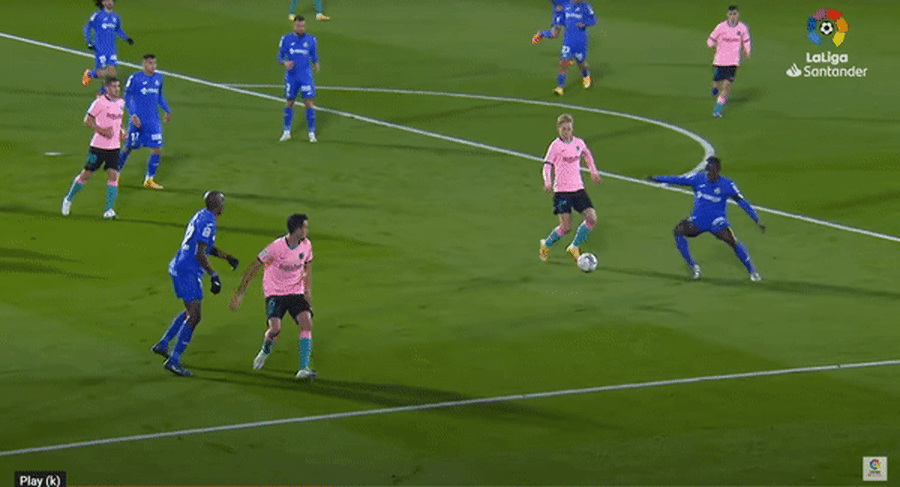 Frenkie De Jong is trying to do anything other than foul Dakonam Djene. He leans back to get out of the tackle but Djene screams as if poleaxed, throws his body towards the Dutchman and successfully cons another gullible referee, this time the hapless Cesar Soto.
Then we have Michy Batshuayi in the Crystal Palace against Brighton mate. A near-6ft forward backs into a 5ft defender, throws his body towards him and feigns contact. Once again the referee, and VAR, both deem this challenge to be enough to award a penalty kick which has a 75% chance of being converted.
Could Brighton consider themselves unfortunate? 🤔

Lamptey is adjudged to have fouled Batshuayi and Zaha converts from the spot!

📺 Watch on Sky Sports PL
📱 Follow #CRYBHA here: https://t.co/OPHRtPweAd
📲 Download the @SkySports app! pic.twitter.com/DvyPrGEVnL

— Sky Sports Premier League (@SkySportsPL) October 18, 2020
It's important not to blame the players. They are simply taking advantage of some of the weakest officiating and guidance from the game's leaders we've ever seen. And as long as they can get away with it, they will do it.
And it's being normalised by garbage punditry mentioning players who 'know what they are doing' and 'did well to earn that'. It's not, it's cheating. And the sooner we establish that, and the people running the game come to their senses. The better. Because no-one wants to see penalties like this.
Serious foul play being ignored
And it makes it all the worse when these minor infractions are being punished and yet major incidents in which players are being injured are ignored because of VAR protocol.
The referee was weak on numerous incidents involving Getafe's roughhousing of Barcelona's skilful players in their clash on Saturday night, notably the one below on 17-year-old Pedri, while Lionel Messi also suffered a forearm attack to the face which was only punished with a yellow.
rezaré por la desaparición del Getafe pic.twitter.com/Swfd7OzYR3

— 14 (@FormulaNico) October 18, 2020
And 18-year-old Ansu Fati had to deal with Getafe wide player Allan Nyom, who committed eight fouls in the contest and was seemingly able to operate with impunity, standing over him accusing him of diving (when he hadn't) just minutes after his own team-mate had done the same. Once again, the referee did nothing.
And then there's Jordan Pickford, who may not have meant to injure Virgil van Dijk but still made a damn good job of it. And, allegedly, the incident was not assessed for serious foul play because the VAR official, David Coote, was too busy drawing lines to Van Dijk's armpit to assess for offside.
Jordan Pickford avoided any further punishment for this challenge on Virgil van Dijk.#EFC | #LFC pic.twitter.com/GSHDdwAUvj

— Sporting Life Football (@SportingLifeFC) October 17, 2020
This is what we've become. Where injury and direct harm to players, plus manipulation of the rules, have been benched in the thrall to the new technology, but more importantly to the limited responsibility that referees are revelling in.
They never need to make a call, to make a spilt-second decision based on their instincts. It's all done for them and it's completely destroyed refereeing.
We can't be happy with this.