It was one of the more frantic games of the season and the referee and VAR were heavily involved as Real Madrid went down 4-1 to Valencia at the Mestalla.
VAR was consulted for all four of Valencia's goals - let's see if the officials got them correct.
1. PENALTY AWARD v LUCAS VAZQUEZ
Jose Gaya looks to cross the ball into the area, but Vazquez's hand is outstretched and the ball clearly strikes him as he moves.
✅ CORRECT
You can argue all you like about the changes to the handball law and perhaps a few years ago this one would be far more debateable, but under the current legislation Vazquez's hand is in a natural position and so, if the ball hits him, it has to be given.
2. PENALTY RETAKE
Carlos Soler's spot kick is brilliantly saved by Thibaut Courtois, and as the ball breaks back to him, his rebound cannons off the post. Yunus Musah slammed into the net but he had encroached at the initial kick, so the referee ordered a retake. Soler slammed home for 1-1.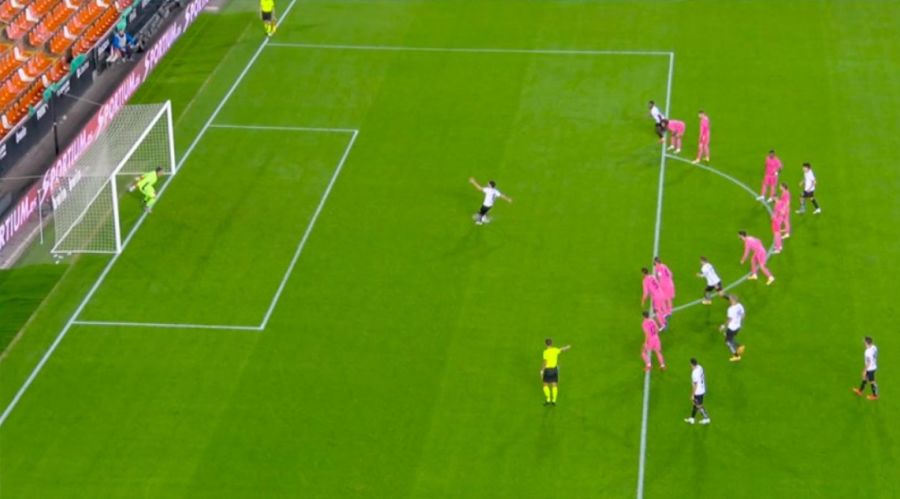 ✅ CORRECT
This law seems to be extremely stupid, as the kick was missed in the first instance, and Musah gained the advantage by scoring to ensure that it was retaken. But it is the law, and he did encroach, by the tiniest of margins. So again, after a long time debating it, the officials got it correct.
3. FOUL ON ASENSIO?
In the build-up to Raphael Varane's own goal, Real Madrid were convinced that Marco Asensio had been fouled. VAR went back and ran the incident but chose to award the goal.
✅ CORRECT
This was one of the more 50/50 incidents, but Asensio is weak in the challenge and Denis Cheryshev nicks the ball off him and builds the attack. Had Asensio been stronger he could have held off the Russian, but instead allowed the opposition to break. There wasn't enough in it to award a foul - good call once again.
4. FOUL ON MAXI GOMEZ?
Maxi Gomez swivels just yards from goal and goes down under a supposed challenge from Marcelo. Referee consults VAR and awards the kick.
❌ WRONG
This is the most contentious incident of them all. Gomez writhes in pain but Marcelo makes virtually no contact with him as both of them slide in for the ball. This wasn't a clear and obvious error, and it shouldn't have been awarded as a penalty.
5. HANDBALL BY RAMOS?
Ramos chases down Musah, and the ball rolls down his arm and goes to safety.
✅ CORRECT
Even with a confused handball rule, this is a penalty now and forever, and Ramos knew it.
Valencia-cf-real-madrid-cf/player-stats/2158965">Valencia 4-1 Real Madrid: Player Ratings, Match Stats, Player Stats