This weekend's Bundesliga action was hugely significant for both of Germany's two biggest clubs - Bayern Munich and Borussia Dortmund - for completely different reasons.
For Bayern, it was an opportunity to draw a line under a hard-fought, tricky league campaign that undoubtedly looked as though it had finally reached a conclusion when the final whistle went at the Red Bull Arena and was greeted by a genuine outpour of emotion from Hansi Flick's side.
In contrast, full time at the Westfalenstadion was accompanied by a now common sight of Dortmund players looking to the sky in disbelief, with hands firmly on hips. After an even match, Eintracht Frankfurt had all but confirmed their spot in next season's Champions League at Dortmund's expense, with a late goal from Andre Silva.
One team had shown their quality and taken a significant step towards their goal. Another continued to stumble and looked just as lost as ever.
Dortmund are useless without Sancho
Dortmund were absolutely useless on Saturday. Whether it was Nico Schulz's impressively accurate own goal, another quiet performance from Marco Reus or Erling Haaland storming around the pitch in a huff, Edin Terzic's side looked like a team that had no idea what they were doing.
Much of that will undoubtedly be down to the man on the sideline. Dortmund have picked up some impressive results in isolation under Terzic, but the lack of cohesion between the players or any sense of joined-up thinking suggests the interim head coach either hasn't gotten anything through to these players or simply isn't trying.
However, it isn't all Terzic's fault. A huge issue with this team - which was on show for all to see against Eintracht Frankfurt on Saturday - is that they simply can't compete when Jadon Sancho is either out of the squad or not dragging them to victory.
Although the former Manchester City youth player has had his ups and downs this season, Sancho has still managed to pick up six goals and 11 assists in just 21 league appearances. Crucially, those goals and assists have come in 12 games. And within those games Dortmund have averaged a rather impressive 2.4 points per match. However in the 15 games Sancho either hasn't played in or failed to either score or create an assist, Dortmund's points per match average drops to 0.9.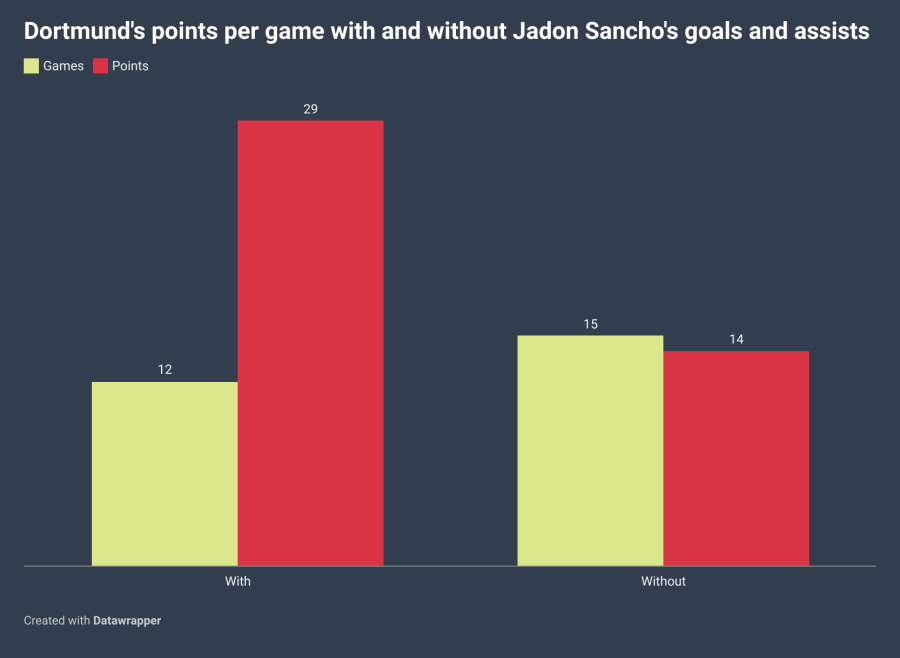 Indeed, of the 21 goals Haaland has scored in the Bundesliga this season, no less than six have come directly from a pass, cross or through ball delivered by Sancho. No other Dortmund player has that chemistry with the club's talisman or seems to be capable of turning a game on its head.
Now, suggesting that Dortmund tend to win more games when Sancho sticks the ball in the back of the net isn't exactly a ground-breaking discovery, but it should point out that the team as a whole simply fails to compensate for him.
While the whole world seems to be fixated on where Haaland may go next season, it could perhaps be worth considering how much this team would continue to crumble if it were to be Sancho that departs.
Why Bayern Munich always win
There really is just no stopping Bayern Munich, is there? You can throw an improved Bayer Leverkusen side at them and they'll bag a last-minute winner, you can throw three unexpected Arminia Bielefeld goals at them and they'll still snatch a point and you can force them to travel to RB Leipzig for a title decider without their key striker and they'll wrestle all three points off the young pretenders in a drab but effective performance.
Indeed, Saturday's "Topspiel" was, to all intents and purposes, a Bundesliga title decider and Hansi Flick's side picked up the vital win by doing exactly what they've been doing so well throughout the same: never giving up.
As well as Saturday's result and the two aforementioned dogged displays, Bayern have also come from behind to beat Dortmund 3-2, come from behind to draw with Julian Nagelsmann's side 3-3, come from behind to beat Wolfsburg 2-1 and, again, come from behind to beat Dortmund 4-2. All of that in one league campaign.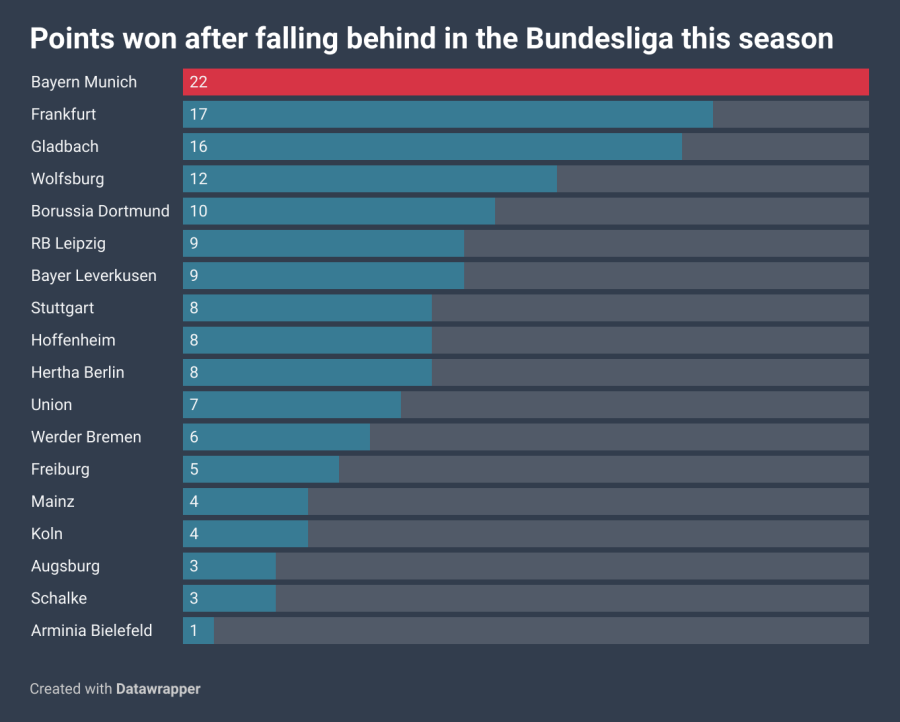 In fact, when we look at how many points Bayern have clawed back from losing positions in the league this season we can see that they've won an incredible 22 from 13 games in which they went behind. Frankfurt - who are potentially the team of the season - have only won 17 points from 14 games in which they've gone behind and after that there's really no comparison.
Indeed, Bayern have only lost three of the 13 Bundesliga games they've gone behind in this season. In comparison, Dortmund have lost 10 of the 16 they've gone behind in during that same period.
This, of course, is where we would say this is the clear "performance of champions" or something silly like that but to an extent it clearly is. Bayern will win this Bundesliga because they have more money and better players than everyone else, but they've also fought extremely hard for it too.
Sign up below to receive our Bundesliga analytics newsletter every Tuesday morning.