With just nine games left of the Bundesliga season, we're now beginning to see which teams will be able to challenge for major honours, which ones may have to settle for mid-table mediocrity and which ones will undoubtedly have to battle till the very end to avoid relegation.
The business end of the league campaign also offers us even more topics to dive into and this weekend's action has once again offered plenty of interesting Bundesliga stats and performances to look over.
The Bundesliga is finally seeing the real Kalajdzic
Only four teams have picked up more points than Pellegrino Matarazzo's Stuttgart side have in the last 10 Bundesliga match days and a lot of that has been down to the incredible form of Sasa Kalajdzic.
The Austrian forward has been in remarkable form lately, bagging eight goals in his last seven games. Which is all the more impressive when you consider that Kalajdzic is still a relatively unknown quantity in the Bundesliga.
Despite turning 24 this year, this current league campaign is only Kalajdzic's third full season in a European top flight, following two years at Austrian side Admira Wacker and then an entire season out injured after joining Stuttgart in 2019.
What's even more intriguing about the young talent is that Kalajdzic actually started off as an attacking midfielder in Austria, but has now established himself as a bona fide target man for Stuttgart.
Five of the Austrian's 13 Bundesliga games this season have come from his head and most of the rest have come from an outstretched leg getting on the end of a Borna Sosa cross. The 24-year-old has a better rate in the air than Robert Lewandowski and Erling Haaland and is undoubtedly one of Matarazzo's exciting, young players.
How good is Wolfsburg's Weghorst?
It's tough being an old-fashioned No.9 in the Bundesliga. While other leagues seem to be moving towards false 9s, inside forwards or simply avoiding playing any strikers at all, the German top-flight seems to be rammed full of excellent forwards. And Wout Weghorst is undoubtedly one of them.
In Saturday's 5-0 demolishing of Schalke the Dutch striker picked up an impressive 9.1 FC Rating and the man of the match award, after scoring a goal and providing the assists for a further two. And perhaps the most complimentary way of describing his performance is to simply say that it was typical Weghorst.
Sure, he's a big man - standing tall at 6ft4 - but he's so much more than a towering target man. As he showed from his first goal, when he took the ball in tight space and fired it into the opposite corner of the net with his left foot, Weghorst is an excellent finisher and has a shot accuracy bested by just one other striker in the division.
His two assists - the first a cut across the goalmouth for Ridle Baku and the second a lay-off for the very same wide player - also showcased an underappreciated part of his game too. While Weghorst is a goal scorer first and foremost, only Robert Lewandowski has provided more assists from a striker's position in the top flight this season and only two other strikers have created more "big chances" than the Dutch forward.
As the old saying goes, Weghorst has good feet for a big man. But rather than just being handy with the ball on the ground, the Wolfsburg forward has proved to be an outstanding goal scorer and playmaker this season. He's a complete forward and while he may not be Lewandowski or Haaland, he's still an outstanding player. Which may explain why Tottenham Hotspur have been chasing him for the last two transfer windows.
Are Hertha Berlin going to get relegated?
Nothing seems to be working for Hertha Berlin this season. They've spent a fortune, sacked their manager and even brought Sami Khedira to the club in January, and yet they still seem to be tumbling down the Bundesliga table.
Indeed, if fans of the capital side had hoped the steady hands of Pal Dardai would have turned things around, they're now looking at just one win and a single draw from his first seven games in charge and probably feeling pretty dejected.
However, there is still some hope. Dardai's first seven games were unquestionably a baptism of fire for the former head coach. as his side faced Eintracht Frankfurt, Bayern Munich, Stuttgart, RB Leipzig, Wolfsburg, Augsburg and then Borussia Dortmund. That's five of the top six sides in the Bundesliga and undoubtedly a tough run of fixtures for any Bundesliga manager.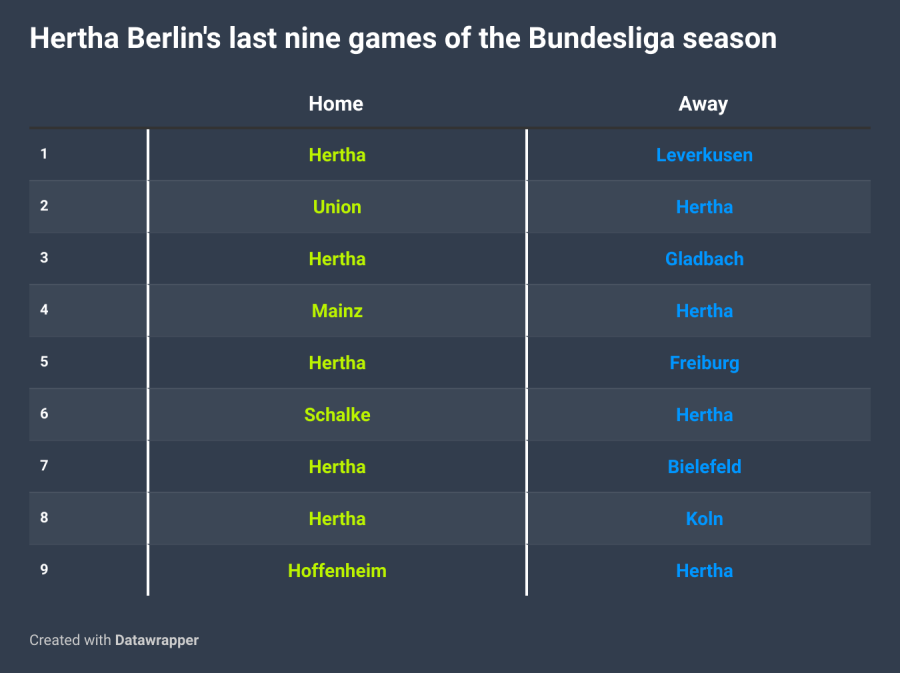 The real test of whether Hertha will avoid the drop starts now. They host a troubled Bayer Leverkusen side on Sunday, then play Union Berlin, Gladbach, Mainz, Freiburg, Schalke, Arminia Bielefeld, FC Köln and then Hoffenheim on the final day of the season.
As a notable contrast to Dardai's first seven games in charge, the Hertha coach now faces six of the bottom nine sides in the division. And if his side can't pick up enough points from those fixtures then they really do deserve to go down.
Sign up below to receive our Bundesliga analytics newsletter every Tuesday morning.