2012 Semi-Final:
1️⃣ Chelsea 1-0 Barcelona
2️⃣ Barcelona 2-2 Chelsea
Lost 3-2 on aggregate
Barcelona totally dominated Roberto di Matteo's Chelsea in the first leg; Alexis Sanchez hit the bar from close range, Pedro hit the post, but they were undone by a Didier Drogba goal at the end of a sweeping move. But Barca emerged with all of the ball, and all of the chances, and were supremely confident they could complete the job back at Camp Nou.
In the second leg, Barca were even more dominant, with Sergio Busquets and Andres Iniesta goals putting them ahead in the tie. But Ramires' lob put Chelsea back in front on away goals and Lionel Messi's penalty miss set the stage for Fernando Torres' late breakaway goal.
Tactics/Luck/Both?
Barca had 73% possession across both ties, had 36 efforts on goal and completed six times as many passes as the Blues. They dominated but it came down to a moment when Messi proved fallible. This really should have been another final, but Pep's side retained the same philosophy that had been so thrilling in 2011 and there's little a coach can do about a game like this.
It did, however, lead to Pep taking a break from the game to ponder his next move and sit out the 2012-13 season.
2014 Semi-Final:
1️⃣ Real Madrid 1-0 Bayern Munich
2️⃣ Bayern Munich 0-4 Real Madrid
Lost 5-0 on aggregate
In what became a running theme, Bayern were territorially dominant in the first leg, with Carlo Ancelotti's hosts happy to cede possession and control of the game for long spells. But Bayern weren't able to create real opportunities and Karim Benzema's goal was enough to take a lead to Germany.
In the second leg, Bayern were undone by two woefully defended set-pieces, with Sergio Ramos' two headers effectively killing the tie. Bayern chased the game from then on and were always susceptible on the break, something that Cristiano Ronaldo took full advantage of, scoring twice. Bayern had lots of possession as Madrid sat deep but the tie was over after Ramos' second goal.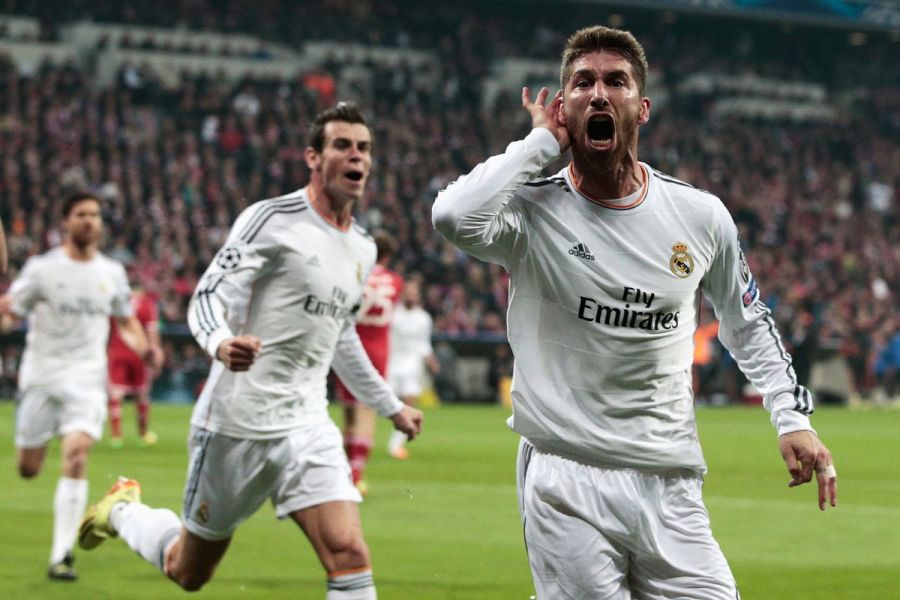 Tactics/Luck/Both?
Even if Ramos hadn't scored early, Madrid, with Angel Di Maria, Gareth Bale and Ronaldo, had already proven extremely dangerous on the break and it would have been difficult to see them not scoring at least one away goal.
Perhaps in this case, Pep caught Madrid at the wrong time, but it was another first leg where possession couldn't be translated into goals and by the time his team had recovered from the own poor defensive shape, they were out.
2015 Semi-Final:
Lost 5-3 on aggregate
Bayern played an extremely high line at Camp Nou, matching up 3 v 3 v Messi, Neymar and Luis Suarez. It should have led to a comfortable first-half lead for the hosts, but Suarez and Neymar contrived to miss clear-cut chances and Bayern were able to weather the storm and indeed grew into the game, through fortune rather than anything else.
But in the closing stages Messi's genius came to the fore, scoring twice, the second a dismantling, ankle-breaking manoeuvre on Jerome Boateng. But the naivety of pushing forward for an away goal in injury time cost them - seven Bayern players were in Barca's final third as Neymar broke clear for the killer goal.
In the second leg, despite Mehdi Benatia's early goal, Bayern's woeful defensive structure was sliced through time and again by Barca's front three. Neymar's equaliser effectively ended the tie and in much the same fashion as the Madrid defeat, Bayern were comprehensively out.
Tactics/Luck/Both?
Pep most definitely overthought the first leg and tried to be bold and attacking, but just left his beleaguered defence with too much to do against the best attacking triumvirate in the world. And by not accepting the loss in the closing stages he failed to give his side any chance of turning it around.
This was a vintage Barcelona only bettered by his own side in 2011, but Guardiola did his side little favours in the first leg.
2016 Semi-Final:
1️⃣ Atletico Madrid 1-0 Bayern Munich
2️⃣ Bayern Munich 2-1 Atletico Madrid
Lost on away goals
The first leg was an absorbing, tight, classic knockout contest, with chances for both sides and the teams only separated by a piece of genius from Saul, slaloming through four challenges before curling into the corner. David Alaba hit the crossbar for Bayern, but Fernando Torres hit the post late on in a game which could have went either way, one in which Pep set up with a conventional 4-3-3 formation, with Douglas Costa and Kingsley Coman operating in the wide positions.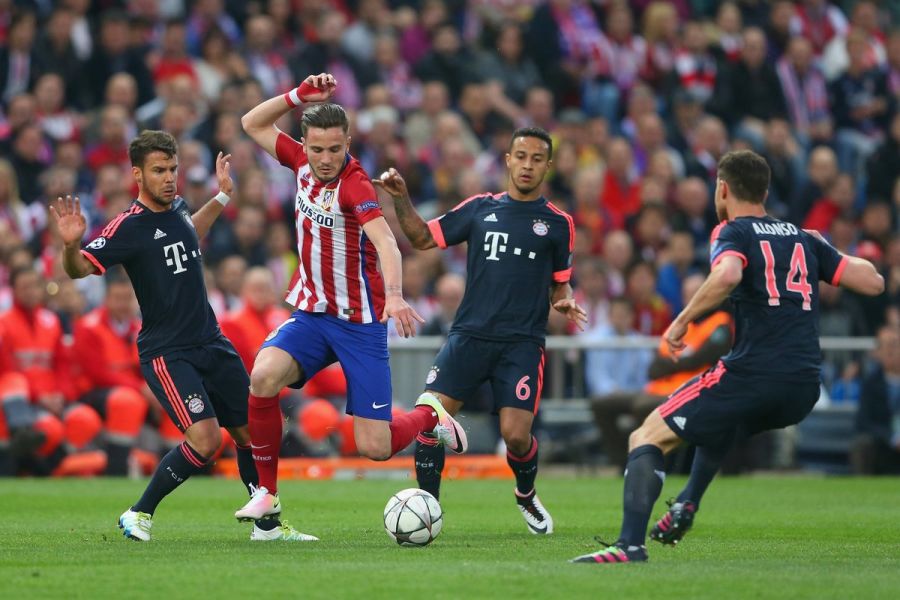 In the second leg Pep kept his formation and swapped in Franck Ribery, and in the first half they were totally dominant. Xabi Alonso had already put them ahead from a deflected free-kick before Thomas Muller contrived to miss a penalty, Jan Oblak - simply superb over two legs - diving to his right to parry.
That moment proved pivotal as Torres sent Antoine Griezmann clear in the second half - the Frenchman appeared just offside and VAR would likely have brought the incident back - to slot past Neuer and though Robert Lewandowski put Bayern back ahead on the night, they were out on away goals - a cruel loss.
Tactics/Luck/Both?
Pep stuck to the formation that has always served him well and given how the matches played out can count this as one of his most unfortunate exits. A combination of missed penalties and poor refereeing contributed to his demise.
2017 Round of 16:
1️⃣ Man City 5-3 Monaco
2️⃣ Monaco 3-1 Man City
Lost on away goals
In Pep's first season at City he was trying to reconstruct an old defence inherited from Manuel Pellegrini - you could argue he is still trying to do that at the moment - but they were outplayed across both legs by a wonderful Monaco side containing a burgeoning Kylian Mbappe.
Monaco had double the number of attempts at the Etihad but Radamel Falcao's missed penalty was crucial as City came from behind to win 5-3 in a crazy contest.
But City's defensive frailties came to the fore once again in the second leg as Monaco got the goals they needed to go through. Pep once again operated with his 4-3-3 but his defenders let him down on too many occasions. Even then, they were a little unfortunate in a tie which could really have gone either way.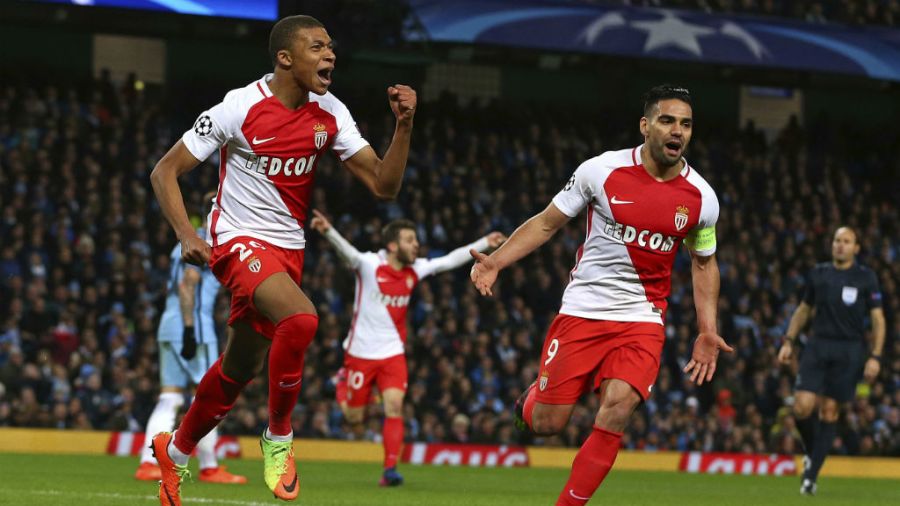 Tactics/Luck/Both?
The finer moments of this were decided by Mbappe and City couldn't press home their advantage when it really counted. Also, questions need to be asked about Pep's ability to organise his defence, conceding six and could easily have conceded more.
2018 Quarter-Final:
1️⃣ Liverpool 3-0 Manchester City
2️⃣ Manchester City 1-2 Liverpool
Lost 5-1 on aggregate
City's defence simply couldn't cope with the intensity and ruthlessness of Liverpool's finishing in the first half, with an Ederson error allowing Salah to open the scoring before Alex Oxlade-Chamberlain's thunderbolt made it two, and Sadio Mane's header meant they had a three-goal lead before half-time.
The running theme continued; Pep's 4-3-3 formation had more touches, passes, possession and shots but in truth Liverpool were extremely comfortable and it was an occasion where Pep's team were simply blown away.
The second leg was fundamentally different; City flew out of the blocks with Gabriel Jesus scoring early before Bernardo Silva smashed the inside of the post with a brilliant long-range effort.
City were in the ascendancy and once again Pep can point to a refereeing decision that proved controversial, Sane's goal ruled out for offside despite replays showing the goal should have stood. Salah then killed the game in the second half and Roberto Firmino's winner was academic.
Tactics/Luck/Both?
Pep's team were simply outplayed in the first leg and in the second he operated with a hugely offensive 3-1-3-3 formation, knowing they needed goals. If the match goes to 3-2 on aggregate, it could have been a famous comeback, but as it was he was left ruing another marginal refereeing call.
2019 Quarter-Final:
1️⃣ Tottenham 1-0 Manchester City
2️⃣ Manchester City 4-3 Tottenham
Lost on away goals
City were tentative and defensive in the first leg, far from their dominant self in terms of possession and chances created. But again the match turned on an incident outwith Guardiola's control; Sergio Aguero's early missed penalty would have been a crucial away goal in the context of the tie.
The match looked to be heading for a draw before Son Heung-Min's late winner set up a ludicrous second leg in which five goals were scored in the opening 21 minutes. City were going out on away goals but Aguero's 59th minute goal put them briefly ahead. Fernando Llorente put Spurs back ahead on away goals, and in the dying moments Sterling thought he had won it, only for his 95th minute goal to be correctly ruled out for offside.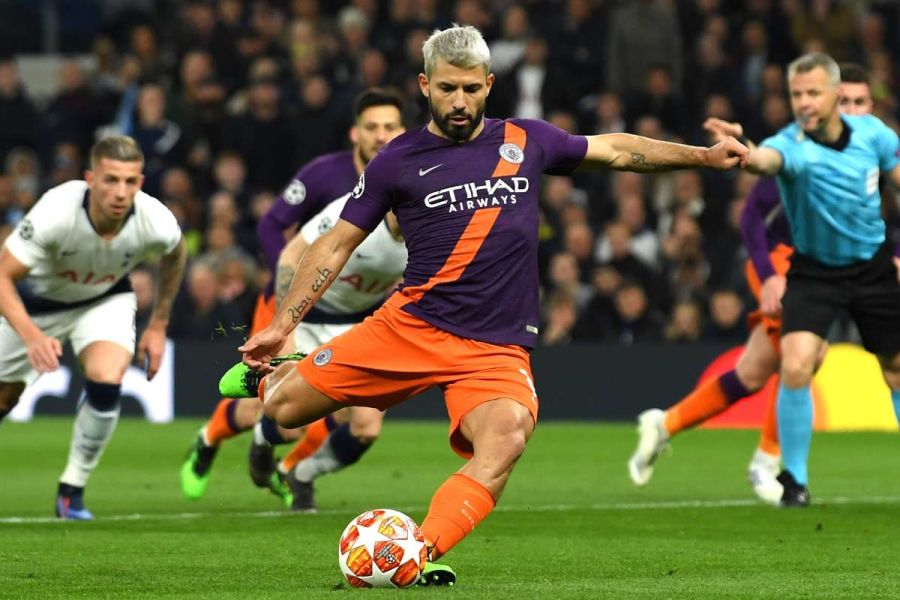 It was somewhat cruel that if VAR had been in operation in previous seasons, Pep's teams may well have progressed, but in this case its usage forced his team's exit in the cruellest manner imaginable.
Tactics/Luck/Both?
Easily one of Pep's most unfortunate exits; despite the low-key performance in the first leg if his prime forward scores a penalty, the tie could have been over before it began. And where VAR may have helped him in the past, it conspired against him here.
2020 Quarter-Final:
1️⃣ Man City 1-3 Lyon
Lyon have been a team in transition all season, though knocked out Juventus in the previous round and Pep attempted to match up like-for-like with their 3-5-2, sacrificing the set up that had been so effective for City in many matches in the season.
City's build-up as a result was pedestrian, his players unfamiliar with their roles and Lyon deservedly led at the interval through Maxwel Cornet. City had produced nothing and only when Riyad Mahrez came on and City reverted somewhat to type did the game come alive for them.
Sterling set up Kevin De Bruyne to equalise but City were once again denied by a bizarre refereeing decision, with Aymeric Laporte appearing to be tripped before Moussa Dembele ran through to score. Sterling then missed one of the all-time sitters, firing over the bar from six yards before an Ederson error handed Dembele a double and the third quarter-final exit in a row at City for Pep Guardiola.
Tactics/Luck/Both?
This is the perfect storm of Guardiola performing excessive, obsessive due diligence to an opponent and not trusting his players to perform to the level they have done across the entire season. And when combined with player error and yet another refereeing decision that went against him, it combines to create yet another exit.