Facing Real Sociedad in the second round of 2020/21 La Liga, reigning champions Real Madrid were the only 'Big Three' side in action.
Their league success in 19/20 was built on defensive solidity, but the lack of presence in the box and goals from forwards was a problem, and it may continue to hurt them this season.
Let's have a look at their performance in more detail.
Real Sociedad 0-0 Real Madrid: Player Ratings, Match Statistics, Player Statistics
Real Madrid in possession
As expected, Madrid played from the back, with the pressing-resistant double pivot assisting the back four. Kroos often dropped very deep, while Modric would come back to help if needed. Real Sociedad pressed high in a vertically compact 4-1-3-2, with Guevara sitting behind Merino and the wingers. The strikers tried to block passing lanes towards Kroos, and at the same time moved towards Madrid's centre-backs. Merino would then run towards Kroos, with the two wingers staying close to the opposite full-backs.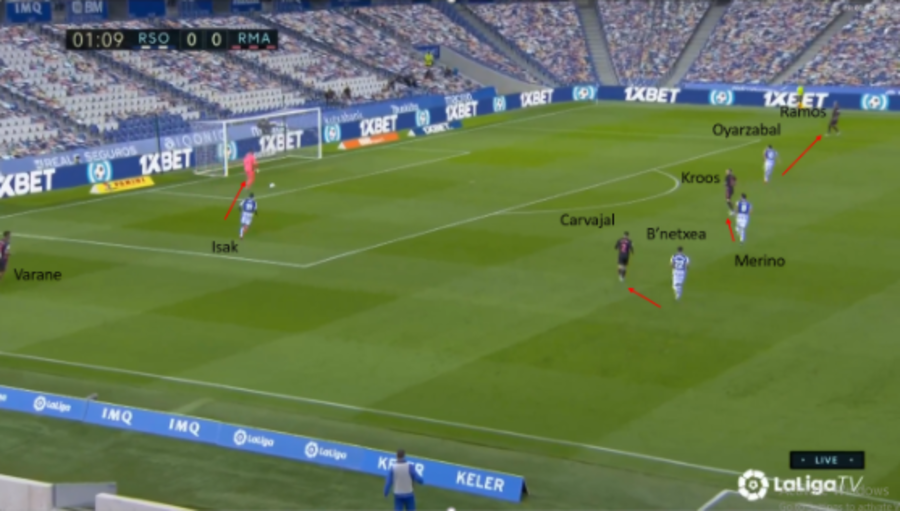 Sociedad's players in the middle forced Madrid wide, and they would then overload the ball-side and press intensely, usually forcing a long ball. Madrid really struggled to beat this high press, but there were a few instances in which they managed to do so. Karim Benzema would drop deep to offer a progressive passing lane, then hold up the ball and distribute it effectively.
In the below example, Benzema offered Kroos a passing lane, received the ball, got past two Sociedad players and then passed the ball to Dani Carvajal.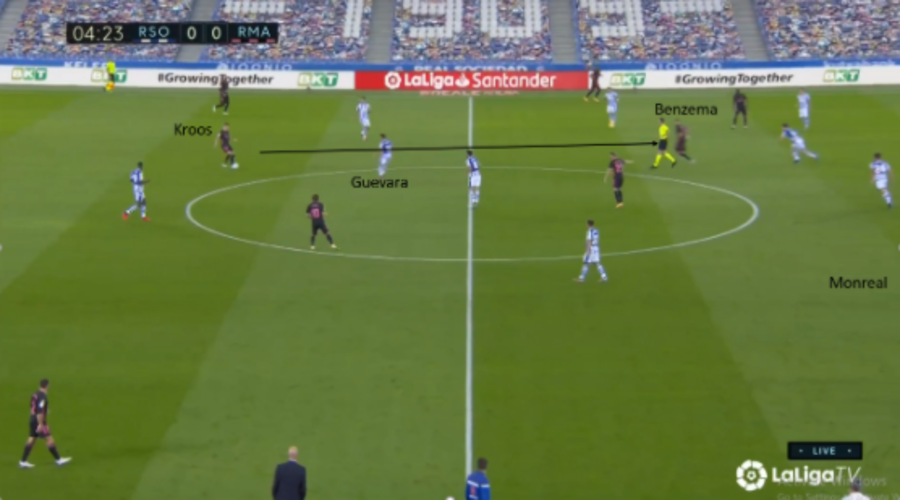 In their own half, Sociedad would get back to a horizontally and vertically compact 4-4-2 shape, which limited the space between the lines that Martin Odegaard and Benzema love occupying. This shape would, again, force Madrid wide.
The nearby players could quickly shift across and support the wide players. It was notable that when the ball was on Madrid's right, Sociedad's right-winger Portu remained wide, perhaps knowing the threat of a quick switch to the pacey and skilful Ferland Mendy and Vinícius Jnr.
There were few attacking ideas from Madrid. They relied on Odegaard and Benzema roaming between the lines and feeding the wide players, who were not well supported and usually had to combine with each other, or dribble past their men to progress the attack.
They would then try to cross the ball towards Benzema (who at times was too deep, or outside the area when the ball was crossed) and the far-side striker. The wingers and Odegaard didn't provide enough physical presence in the air, while low crosses were dealt with superbly by La Real's defence.
Elustondo was dominant with a game-high eight clearances, while Aihen and Le Normand each made four. Real's full-backs and wingers attempted a total of nine crosses, none of which were accurate.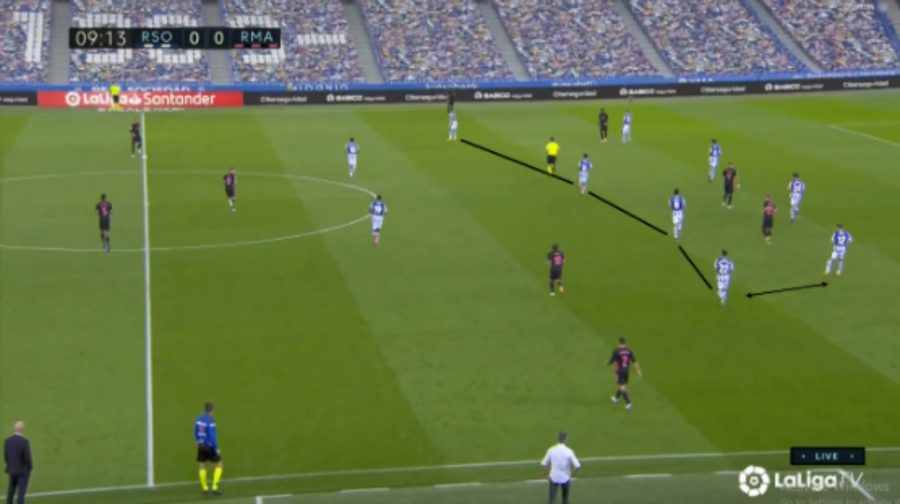 There was a few instances in which Madrid tried to attack down the middle by overloading the zone and combining quickly, but were often successful due to Sociedad's compactness around the ball. Upon losing possession, Madrid players would immediately rush towards the ball area to counter-press, with Kroos and Modric showing admirable resolve.
The below is an example of Madrid's counter-pressing. Upon conceding possession, Kroos and Varane rushed towards the opponents (solid red arrows), with Carvajal and Modric crowding the centre - which means they could instantly surround Barrenetxea and suffocate him (dashed red arrows).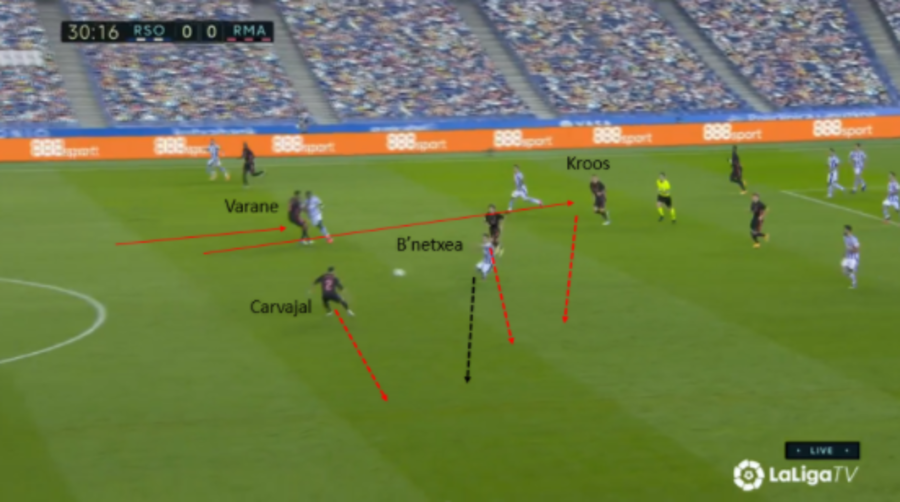 Real Sociedad in possession
The midfield trio of Kroos, Modric and Odegaard were given a lot of possession, so Sociedad's spells were few and far between and they were usually cut short due to Madrid's 4-2-3-1 high press. It would start with Odegaard marking Guevara and Benzema pressing the centre-back on the ball, the wingers staying close on their opposite full-backs, and the full-backs following the opposite wingers and Modric following Merino.
A pass to the other centre-back would mean Odegaard stepping out to press him, while blocking his passing lane towards Guevara. Benzema would be the one who pressed Remiro when needed. The lack of movements/dribbles to open up passing lanes meant that Sociedad mostly resorted to going long. There were a few times goalkeeper Remiro tried long, powerful ground passes to solve this, but ended up giving the ball away in dangerous areas.
Here, we can see Odegaard using his cover shadow effectively to limit the opponent's passing options. Benzema already anticipated a back pass to Remiro.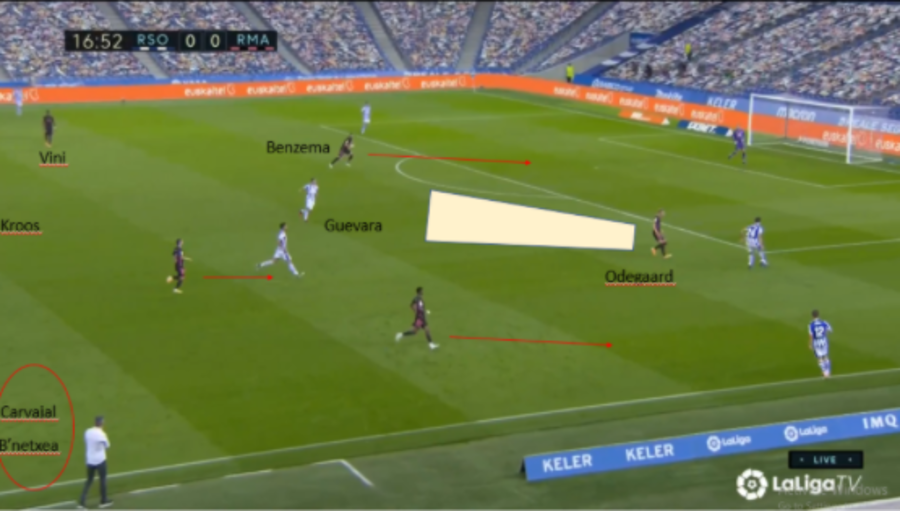 Mostly unable to build up successfully, Sociedad had to wait for counter-attacking chances, but these attempts were usually stopped early by Madrid's counter-presses.
These kind of low-scoring matches have become the norm in La Liga, partly due to the lack of quality attackers and solid two-banks-of-four mid-blocks.
Madrid had 68% possession, but once again struggled to create chances. With Luka Jovic not in Zinedine Zidane's plans, the side's lack of prolific goalscorers will continue to be a problem.
Meanwhile, Sociedad probably set out for a draw. They created few chances, but were disciplined in defending and got a deserved point.