This year's DFL Super Cup was once again the battle between Germany's two biggest clubs.
After successful league campaigns, both teams have had mixed results in their first two Bundesliga matches, both with impressive wins followed by a terrible defeat. This match would be another test of their respective strengths.
Line-ups
Bayern (4-2-3-1): Manuel Neuer; Alphonso Davies, Lucas Hernández, Niklas Süle, Benjamin Pavard; Corentin Tolisso, Javi Martínez; Kingsley Coman, Joshua Kimmich, Thomas Mueller, Robert Lewandowski.
Dortmund (3-4-2-1): Marwin Hitz; Manuel Akanji, Mats Hummels, Emre Can; Thomas Delaney, Mahmoud Dahoud, Felix Passlack, Thomas Meunier; Julian Brandt, Marco Reus; Erling Haaland.
Bayern in possession
As usual, Bayern looked to play from the back. Joshua Kimmich and Javi Martinez were often the deepest midfielders - they would roam to provide passing options, and could usually drop deep as Lucas naturally moved towards the left half-space/wing to support Davies.
The likes of Kimmich and Niklas Sule are great passers and could look for teammates dropping between the lines such as Thomas Muller and Robert Lewandowski. Dortmund set up in a 3-4-2-1 with a narrow front three to limit central progression. The double pivot would be right behind them to overload the middle, making life difficult for the likes of Kimmich and Javi; Kimmich only registered 49 accurate passes, and Javi 52.
When Neuer passed passed the ball short to a centre-back, Haaland would stay in the middle to block his passing lane towards Bayern's deepest midfielder, typically Javi, while the ball-near attacking midfielder would press the aforementioned centre-back and the ball-far attacking mid staying close. As Bayern's midfielders had little space to operate, the centre-backs had to progress the all through either wing. Dortmund's narrow front three and the double pivot would overload that side, with the ball-near wing-back (the ball-near CB also stepped out to follow Bayern's nearby winger when he dropped deep) pushing higher to congest the ball area.
The sequence in the below example started with Reus pressing Lucas, forcing him to pass to Davies. The black-and-yellow players instantly surrounded the ball area. Bayern's midfielders were tightly marked, while Meunier stepped out to press Davies. Gnabry then got the ball, but Can proactively congested the area in an attempt to win the ball.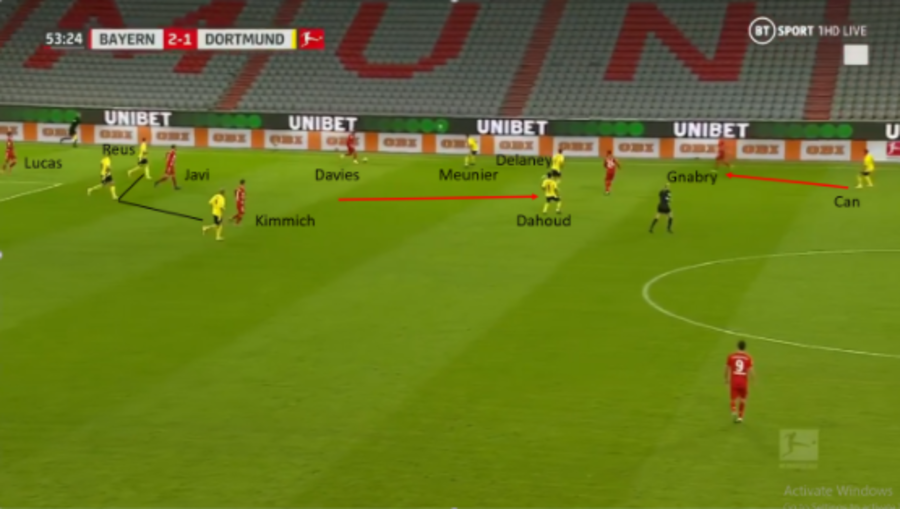 Dortmund's high press could be exposed by long balls over the top. However, Bayern only played with a true winger for nearly the whole match, while Lucas and Javi's vision and pressing resistance could not match those of David Alaba and the departed Thiago Alcántara. In addition, Dortmund's wing-backs, sided CBs and pivots often smartly wait until the pass was just made to rush at the opponents from behind. This approach resulted in a lot of turnovers, and Dortmund really should have done better in those situations. However, both Dortmund goals came from such situations, with Akanji the one winning the ball back and started the counter in both cases.
The below image showed the incident leading to Dortmund's first goal. Dortmund's high press led to Bayern progressing through right-back Pavard, who was then instantly closed down by Passlack. With Kimmich and Javi followed closely by Dortmund's double pivot, he tried to find Mueller. Akanji read the pass and got the ball, then found Reus, whose brilliant first-time pass to Haaland immediately put Dortmund in a great 3v2 situation.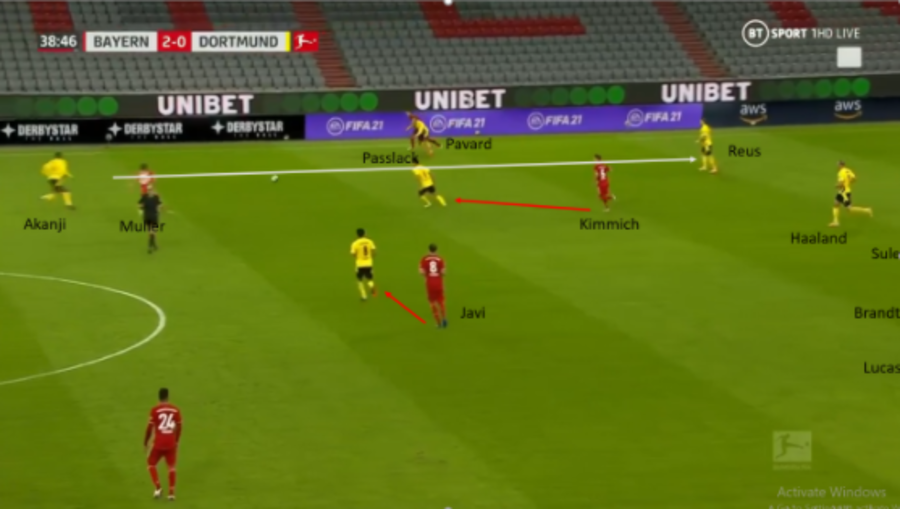 As Dortmund's front three were narrow, U-shaped passes from the Bayern back four was the best way to open more passing lanes for a wide player. They could also rely on long balls towards Mueller and Lewandowski to progress the ball.
In their own half, Dortmund would retreat to a narrow and compact 5-4-1 shape. Bayern used a 4-3-3 instead of their favourite 4-2-3-1, meaning Mueller played on the right instead of roaming freely in the middle. The lack of runners up front and combination between the front four of a 4-2-3-1 made Bayern's play quite static. They also missed the runs from midfield of the physical Goretzka, whose aerial prowess was much better than Kimmich or Tolisso's. Javi and Tolisso couldn't control the game the way Thiago did last season. Bayern ended up creating very few chances from open play.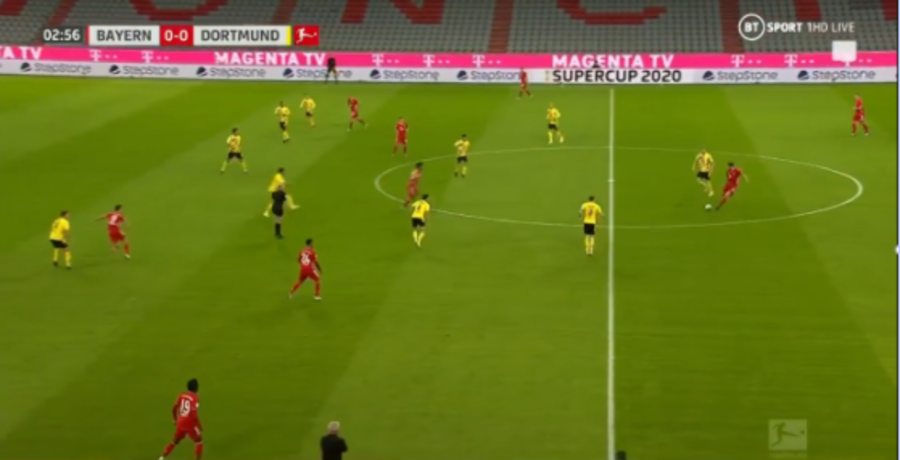 Dortmund in possession
Similar to the case at the other end, Bayern's high press forced Dortmund to go long many times. However, Bayern were much better at long balls with 70% accuracy compared to Dortmund's poor 45%. Bayern's 3-4-3 press matched perfectly with Dortmund's 3-4-3, so they could start their high press by marking one by one. The full-backs pushing high, while Javi dropped deep to form a temporary back three. Here, Coman and Lewandowski were blocking Can's passing lane towards Meunier and Hummels, with Davies ready to press Meunier if needed. Kimmich and Tolisso marked the double pivot (circled red). Mueller here could instantly press Akanji.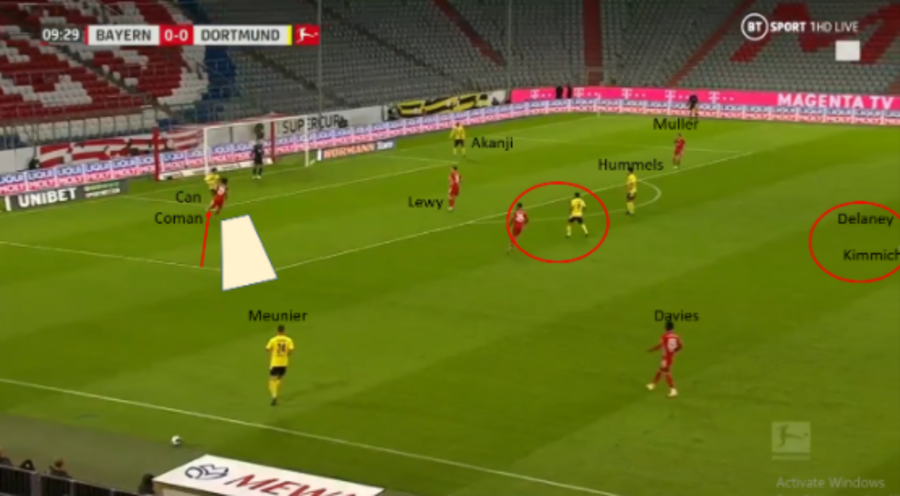 Dortmund struggled to get the ball forward. Only 46% of their 98 possession sequences reached Bayern's half. A good solution they found was passes between lines towards a dropping front player, notably Brandt, who would then combine quickly to get the ball to either flank as Bayern's full-backs usually pushed high. Here, Brandt provided a passing option for Can and forced Sule to step way out of his position. Dortmund could then progress through the far side. These switches of play proved to be a key idea as Bayern always tried to stay compact so that they could overload the ball side and press intensely.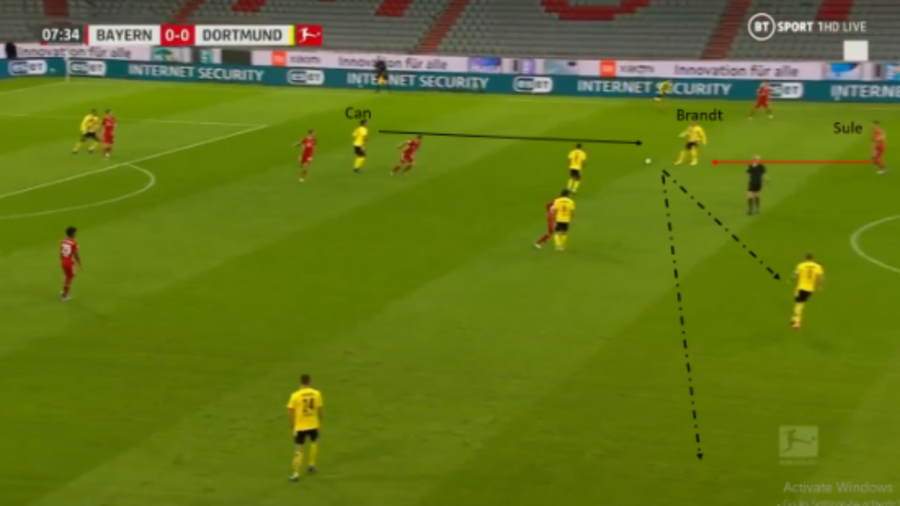 Bayern's press weakened in the second half and gave Dortmund better chances. However, Dortmund were not clinical enough, and eventually lost 3-2.
Conclusion
Both side's quality high press gave their opponent a hard time, resulting in a total of only 17 shots. Bayern were clearly not at their best, but once again showed their clinical nature in decisive moments. Dortmund impressed with their pressing and transition play, but would have to rue the chances they should have finished.