Jadon Sancho's form this season for Borussia Dortmund has been labelled a 'crisis' in Germany, with the England man failing to live up to the incredible standards he set in 2019/20.
Bundesliga analysts are speculating over whether the 20-year-old's head has been turned by the incessant Manchester United rumours and has taken his eye off the ball.
So let's have a quick snapshot of Sancho's early-season numbers in 20/21 versus his stellar 19/20. We'll look at Bundesliga and Champions League performances only to provide a direct comparison.
2020/21 Sancho
| | | | |
| --- | --- | --- | --- |
| Stat | 19/20 | 20/21 | Up/Down? |
| Shots P90 | 1.75 | 1.9 | ✔️ |
| Goals P90 | 0.47 | 0.12 | ❌ |
| Assists P90 | 0.45 | 0.25 | ❌ |
| Key Passes P90 | 1.6 | 1.6 | ✔️ |
| Dribbles P90 | 5.6 | 5.0 | ❌ |
| xG Per Shot | 0.11 | 0.15 | ✔️ |
| Expected Assists | 0.48 | 0.49 | ✔️ |
| Chances Created | 1.2 | 1.4 | ✔️ |
There's a few things to note right off the bat when it comes to Sancho. Firstly, his numbers in 2019/20 were nothing short of phenomenal, massively overperforming his expected goals and also his expected assists. All of it added to the mystery of a player blowing up xG models and the fantasy Manchester United fans had of him arriving in England and blowing the league apart.
In reality he was always going to regress back to the mean in terms of his tangible goals and assists. So we need to look a little bit deeper.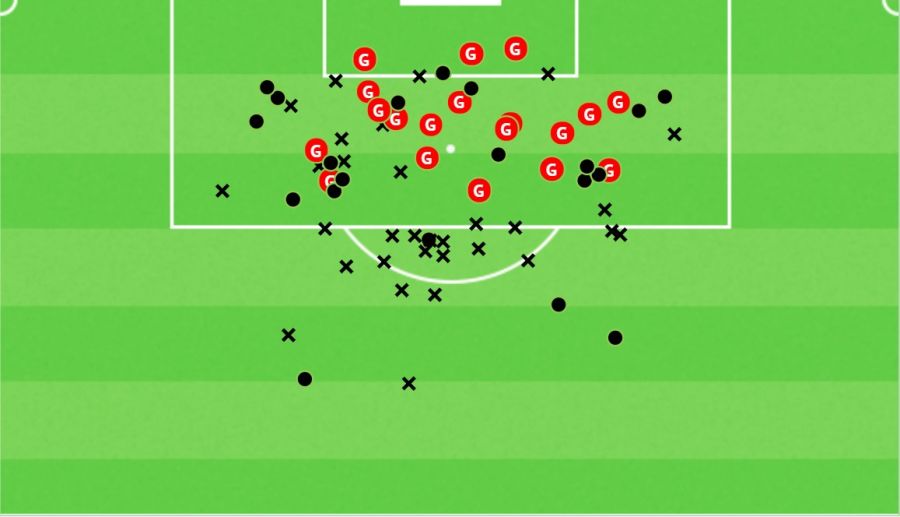 Goals and Assists, or lack thereof, are always going to be heavily scrutinised (he has just two assists and no goals in the Bundesliga, while his only strike of the season came in the Champions League against Zenit - from the penalty spot).
But beneath that we need to look at his sample size (eight appearances in 20/21) and also that his numbers aren't hugely off where he was last season. Key Passes and Chances Created are in the same ballpark if not a little increased, while his volume of shots has increased as has his xG per shot.
And if you compare his shot map from last season to this one, he's not doing a whole lot different. He isn't getting anxious about not scoring and taking potshots from positions where he wouldn't normally. No; he scored all of his goals from inside the penalty area last season and that's where he is trying to score from again.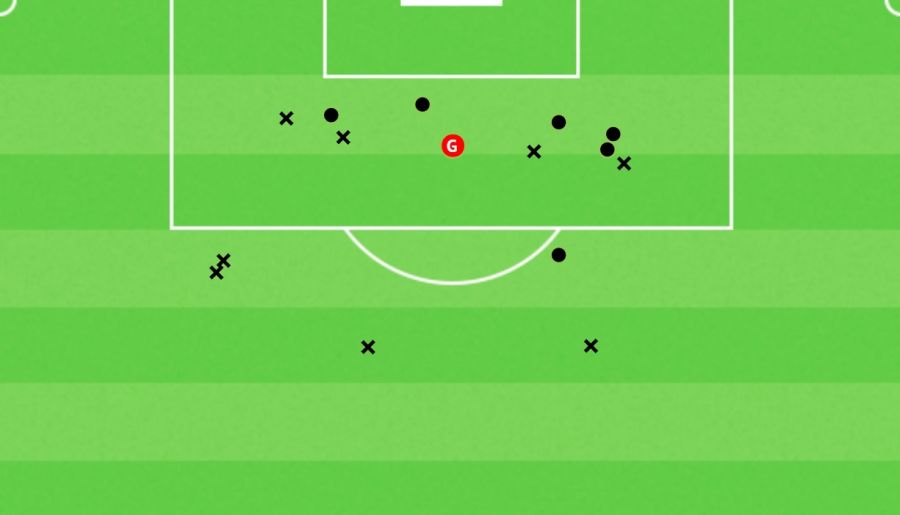 So the underlying approach that served Sancho so well last season is being retained. We must reiterate that he blew away expectations last season in every sense. Even his conversion rate was at ludicrously high levels. This regression, given everything else that is also happening, was to be expected.
Is this a Jadon Sancho crisis? No.
READ MORE:
Jadon Sancho: Player Stats, Career Stats, Player Position
Messi 'runs a regime of terror at Barcelona', claims former agent