Colin Millar, author of 'The Frying Pan of Spain: Sevilla v Real Betis - Spain's Hottest Football Rivalry', said that Sevilla currently has one of the best three squads in the club's history (the other two were the 1940s and the 2005-07 ones).
Surprisingly, almost all of Los Palanganas' starting XI last season were newcomers. In this article, we will take a brief look at their main squad, before analysing whether Ivan Rakitic's return to the club could prove to be yet another smart move from director of football Monchi.
Sevilla's squad review
It has to be said that Monchi has done a brilliant job at forming a whole new squad by spending €177.5m to bring in 17 players, the most successful ones so far being Diego Carlos, Jules Kounde and Lucas Ocampos. However, there have also been unsuccessful signings, especially in the forward position.
Barcelona: Squad, FC Ratings, Matches, Formations
Despite losing key players Ever Banega and Sergio Reguilon this season, Sevilla have got quality replacements in Rakitic and Marcos Acuna, with Oliver Torres competing with the Croatian for a starting spot. They have one of the best back fours in Europe, which is protected by the ever-reliable Fernando. After Banega's departure, Spanish maestro Joan Jordan is expected to be the team's main playmaker.
At the front, explosive winger Ocampos will be the main threat. Suso and Munir El Haddadi will compete for the other winger position. Although Munir has been much more prolific in terms of goals and assists, Suso seems to be Julen Lopetegui's preferred choice as he compliments the evergreen Jesus Navas better on the right wing.
Sevilla mainly attack down the wings, and crosses from the overlapping full-backs are a key tactic. With a left foot capable of curling crosses towards the forwards, Suso's inward runs usually attract the opponent's wide players and open up space for Navas to overlap and cross. Here, he threatens to cross the ball, but instead finds Navas' overlapping run.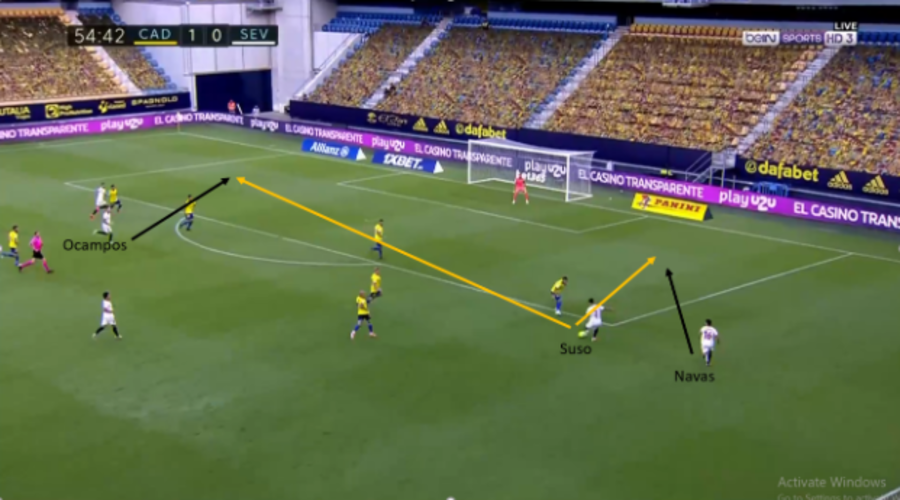 Sevilla's newly-signed centre-forwards were the squad's biggest problem last season, with Luuk de Jong and Youssef En-Neysri nowhere near the level of Wissam Ben Yedder, who joined Monaco last in the same summer. In addition, Lopetegui's side has been somewhat rigid in their attacking ideas, mostly relying on wing combinations and crosses.
The return of Carlos Fernández after a successful loan spell at Granada could prove to be decisive for Sevilla's ambition this season. Playing for an arguably smaller club, the Seville native managed to score 11 goals in La Liga after 2165 minutes this season, more than De Jong and Neysri's combined figures after a total of 2853 minutes. Besides being a prolific goalscorer, his dribbling, passing skills and teamwork mean he is comfortable playing anywhere in the final third. He's clearly a more versatile attacker than the static De Jong and the vision-lacking En-Neysri.
With Rakitic being Sevilla's only major midfield signing this summer, we'll look at how he'll fit in with the club's style of play.
How does Rakitic fit in?
The few matches in which Rakitic has featured this season were enough to show that the former Barcelona man still has a lot left in his tank. At Sevilla, Rakitic has been used as a roaming playmaker in the left central midfielder position. He's one of the team's two main playmakers, the other being Jordan on the right.
In the build-up, he'll drop deep to the left side of the CB pair to receive and then distribute the ball. This allows the full-backs to push higher. Below, his dropping deep also attracts an opponent, leaving left-back Acuna free to get the ball and push forward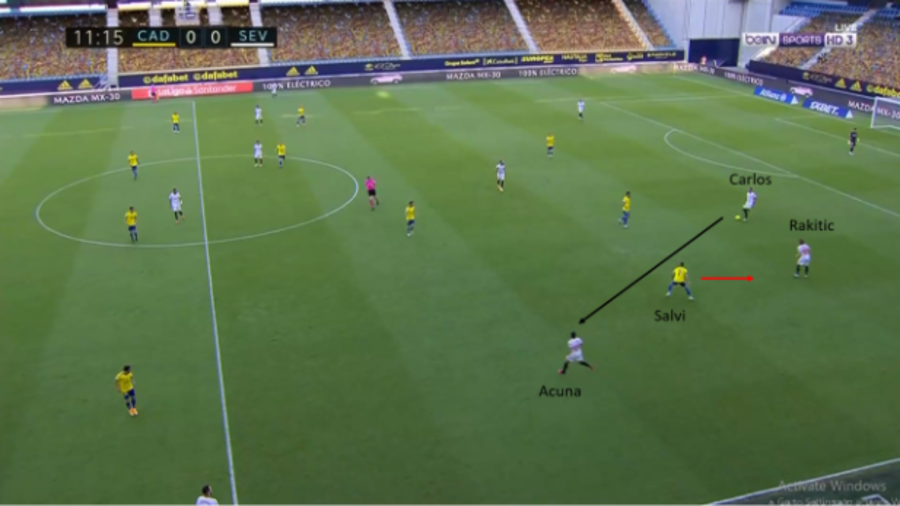 He constantly moves into space to create a good passing option for his teammates. Here, he roams to find a good position between the lines and provide Nemanja Gudelj with a ball option. Should he get the ball, he will have enough time and space to connect with Oliver and En-Neysri.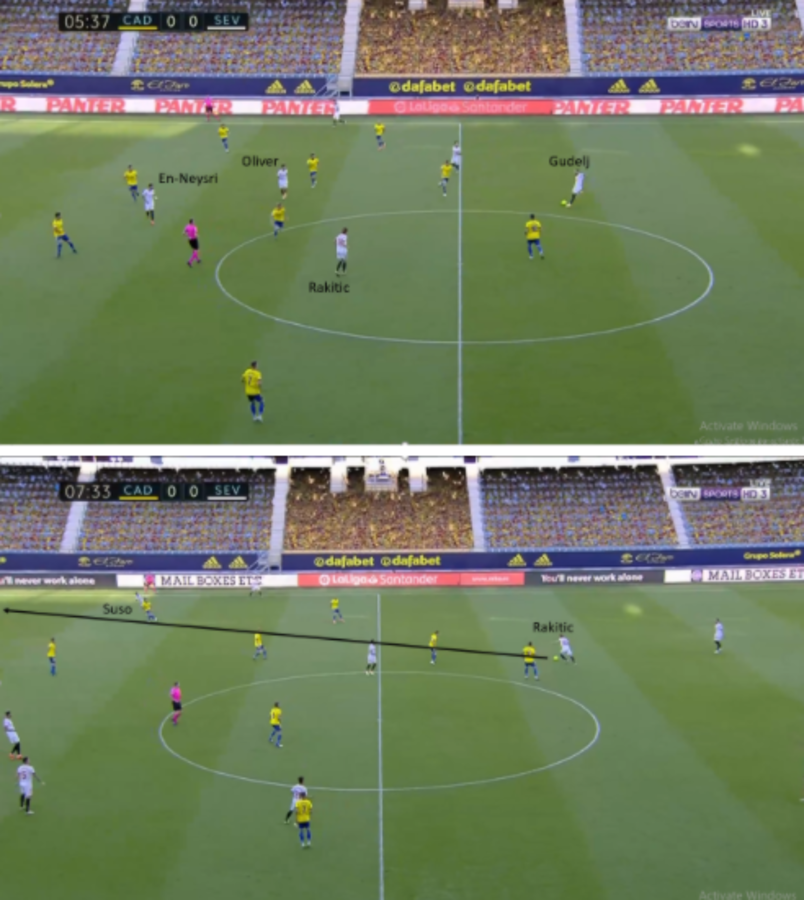 Sevilla have more runners than Barcelona. Their mobile wingers and full-backs are the side's main attacking threat. With his range of passing, Rakitic can quickly scan the field and find the runs of wide players into space. He's capable of playing quality long passes with both feet. In the above image, he recognises Suso's run and plays a quality ball over the top.
Capable of powerful long shots, Rakitic often makes late runs to win the second ball or have a strike on goal by himself. He can also make runs down the half-space to support the wide players. Here, he makes a smart run towards the touchline and then receives Ocampos' pass in a dangerous position.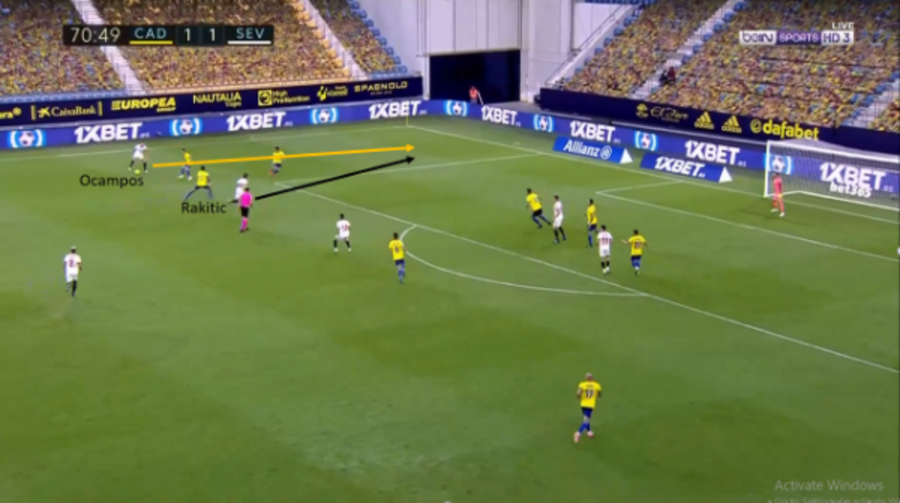 Here's the Croatian's midfield radar in the last two positions (in pink) compared to Banega's (in black). We can see that he's extremely capable of progressing the ball, though less creative and takes less risky passes than the Argentine. He's more capable defensively, in particular his ability to intercept the ball.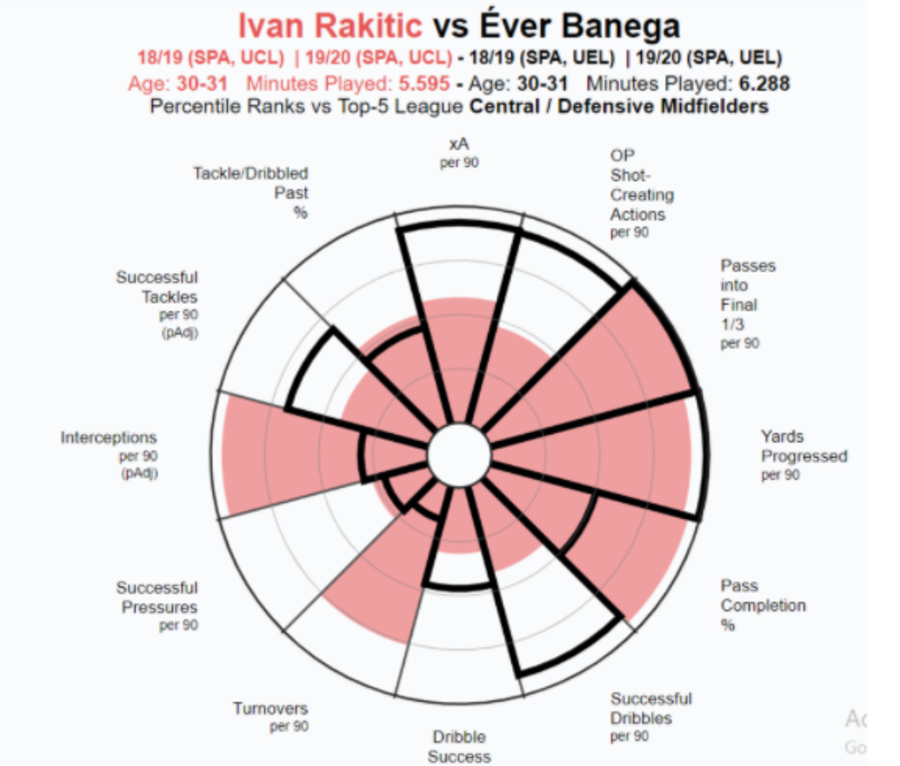 Although his physicality is in decline at the age of 32, he's still very smart in his positioning (hence intercepting a lot of balls). He can coordinate well with his teammates in pressing situations. The below example shows a counterpressing effort from Sevilla versus Bayern. Upon his side losing the ball, Rakitic instantly moves to block Thomas Muller's passing lane towards Leon Goretkza.
Conclusion
It is clear that Rakitic could be a great addition to an already strong squad. Given the Big Three's recent problems, Sevilla could challenge for the title this season. However, their rigid attacking play has never been prolific, while the likes of De Jong and En-Neysri are probably not good enough for a side competing for the La Liga title.
That problem, along with their incredible resilience and defensive quality, means that this side arguably suits knock-out cup matches better. They have shown their tenacity throughout their last four Europa League titles, and in their impressive outing against Bayern in the Super Cup. The Andalusian giants have what it takes in big matches. This season could prove to be a memorable one for them.