Rivaldo was 32-years-old when he left his home country of Brazil for Greece, having previously returned after a hugely successful spell in Europe, particularly with Barcelona.
The move back to Brazil was thought to be him winding his career down, but he would surprisingly return to Europe with Olympiacos after not featuring too much with Cruzeiro.
Rivaldo enjoyed a career renaissance, and battered in plenty of outstanding goals.
We've teamed up with football analyst Marius Fischer, known as @Gegenpressing91 on Twitter, who has worked his magic with Microsoft Excel to map out all Rivaldo's scored goals for Olympiacos.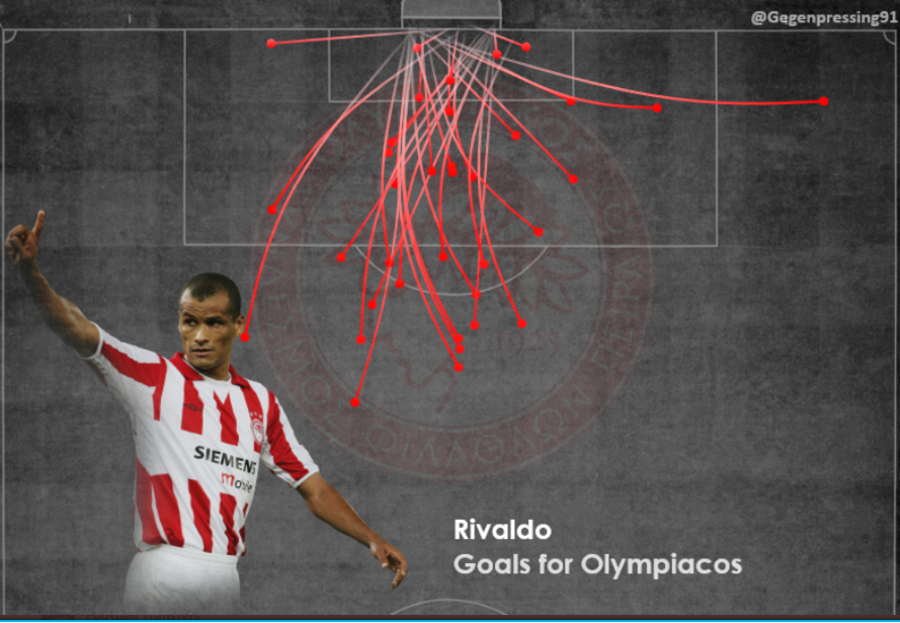 Marius says:
"The great Brazilian left footer Rivaldo playing for Olympiacos Piraeus? Not a picture that many of us had in mind.
"But in fact, he spent full four years in the Greek Super League that was one of the best destinations for 'older stars' back in the day before the likes of Russia, China or Qatar emerged to change that.
"Rivaldo became a superstar at Barca, where he scored 86 goals in 157 games and produced many magic goals like an overhead kick in the last minute against CF Valencia to send his team into the Champions League.
"When he got older, he changed his game and became more of a classic striker. For Olympiacos he scored 36 goals in 70 matches and, despite Rivaldo already being in his thirties, football in Greece proved too easy for him.
"He scored volleys, lobs, rabonas – his left foot was just too lethal for the defenders in the Super League.
"His famous goal was a long-range free-kick from a hard angle to score the winning goal in the domestic cup final – a goal that gave him a place in the hearts of all Olympiacos fans."
Rivaldo's best years certainly came with Barcelona at club level, while he is a World Cup winner with Brazil, too, but his period in Greece will go down as one of the most impressive second acts of the past 20 years.