Wages to Revenue Ratio is a useful way for recognising which clubs are running sustainable businesses and which are running a little too close to capacity.
The general consensus is that wages-to-revenue ratio of less than 70% is one that can be managed, but anything above that is dangerous and needs to be monitored.
In association with the Football Finance Times team, you can see the 20 Premier League clubs from the 2018/19 season, their total wage bills in £, and the % of that wage bill to their total revenue.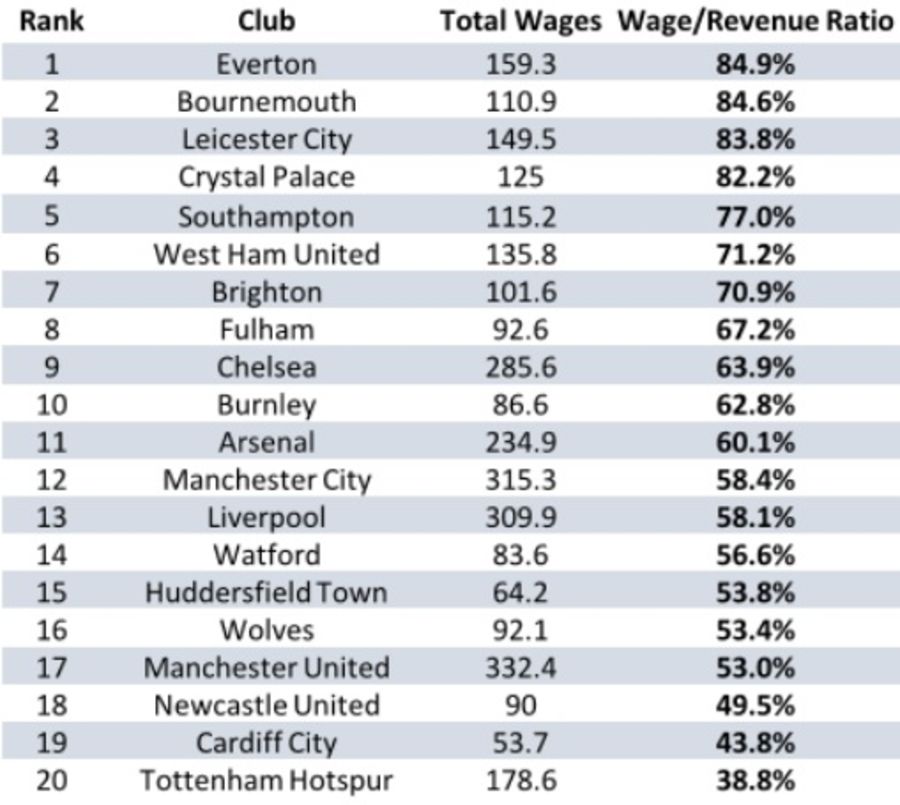 KEY TAKEAWAYS
- Everton have spent a considerable sum of money in growing their squad in recent years, and with that has came a considerable increase in wages.
- But this has not been met - yet - with any improvement on the pitch in terms of league position or cup success, nor has it equalled an upturn in commercial revenue.
- As a result their 84.9% ratio is the highest in the Premier League meaning what most Everton fans know already - they need to get some of the deadwood in their squad off the wage bill.
- Bournemouth (84.6%) with such a small stadium and therefore lower matchday revenue than any other club in the Premier League, are wholly reliant on broadcasting revenue and given they have spent more since last year, there should be real concern about what will happen and how many players will need to be sold to balance the books should they be relegated.
- Leicester (83.8%), Crystal Palace (82.2%) and Southampton (77%) will all need to be extremely careful and given the coronavirus situation may already be assessing the size of their squads for next season.
- At the other end of the scale, Tottenham (38.8%) enjoyed increase matchday revenue as a result of playing at Wembley then latterly their new stadium, as well as a thrilling run to the Champions League final. All this combined with the club's strict wage structure means that not only are they currently in rude health, you would expect some significant salary spending in the years to come.