There has been some focus recently on the usefulness of possession, and how a player's pass completion rates and indeed number of completed passes aren't much of an indicator of what a player does well, other than the fact they retain the ball.
FootballCritic previously took two statistics - possession percentage and goals scored - and applied it to the Premier League.
We looked at how 'possession effective' teams are by taking their goals scored and dividing it by their average % possession across the season.
Now, we will use the same formula for La Liga.
LA LIGA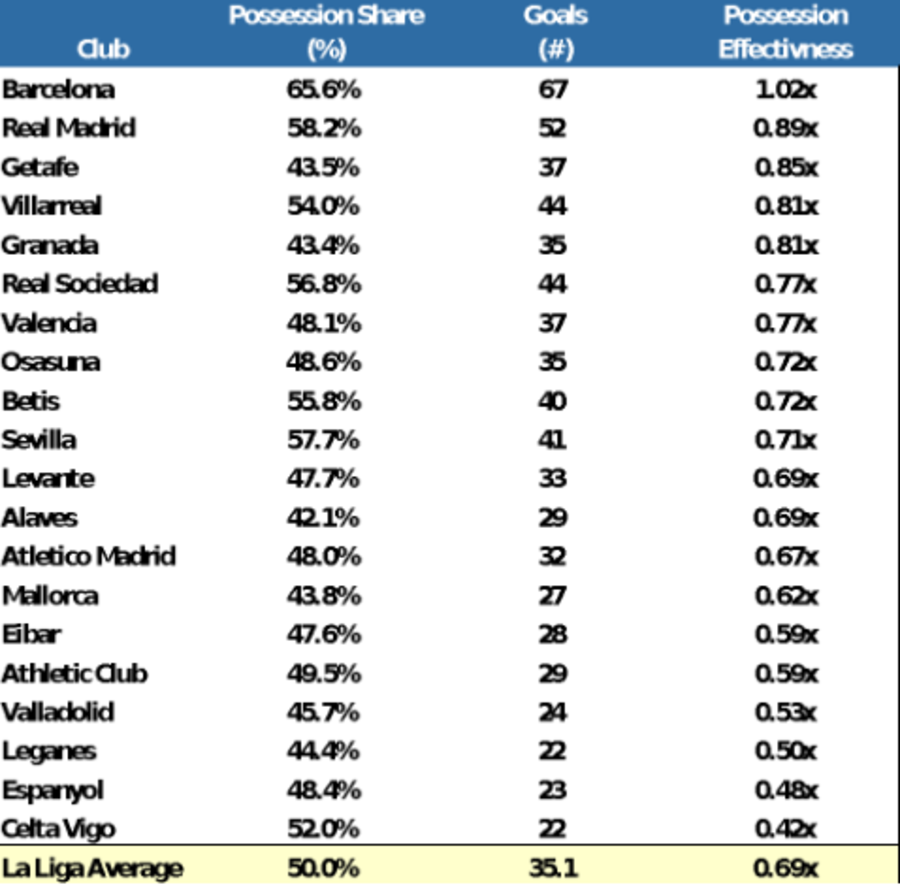 Barcelona are the clear leaders and the only team in Spain with a +1x possession effectiveness. In Europe's top five leagues, only Manchester City and Bayern Munich enjoy more possession than the Blaugrana.
Unlike the Bundesliga, Serie A or Premier League, La Liga has no teams that average sub-40% possession - perhaps suggesting how even for the lower teams possession is a basic principle of play.
Getafe are nearly as effective as Real Madrid this season which is impressive but they deploy a different tactical system, as they are more counter-attacking focused.
Atletico Madrid are curiously low despite being fourth in the Spanish top flight, although it makes sense when you consider that they have been struggling in the final third all season, with them ninth in the table for the number of goals scored this campaign (37 in 29 matches).
Lowly Celta have only scored a poor 22 goals this season - the worst tally in the league alongside Leganes - but still find themselves outside the relegation zone thanks to a have superior defensive record than the teams below.
The same could be said for Athletic, as they have managed to regularly maintain their position in midtable despite having a shocking goalscoring record. However, they do have the third-best defence in La Liga behind Real Madrid and Atletico.
Numbers calculated 16 June, 2020.