Juventus and Andrea Pirlo are under a bit of pressure at the moment.
The only match Pirlo has lost as Juventus coach was a 2-0 Champions League reverse against Barcelona, where a number of players were missing due to covid or injury.
But there's been five rather unconvincing draws mixed up in that run, the latest of which against Benevento on Saturday. Pirlo's side racked up 1.52 xG in that contest and rather stumbled their way to a point.
| | | |
| --- | --- | --- |
| Statistic | Pirlo | Serie A Rank |
| Goals P90 | 1.88 | 7th |
| Shots P90 | 14 | =7th |
| On Target P90 | 5 | 9th |
| Expected Goals P90 | 2.1 | 4th |
| xG Per Shot | 0.15 | 4th |
| Chances P90 | 6 | 7th |
The above numbers are hardly elite. They aren't leading the way in any capacity, in some cases well off the attacking pace set by Milan and Inter. There's issues here, but it seems that in these cases the attacking issues transcend Pirlo and began last season.
Let's compare Pirlo's attacking numbers versus those put up by Sarri last season, in Serie A and Champions League combined.
| | | |
| --- | --- | --- |
| Statistic | Pirlo | Sarri |
| Goals P90 | 1.92 | 1.96 |
| Shots P90 | 14 | 15 |
| On Target P90 | 5.1 | 6 |
| Expected Goals P90 | 1.86 | 1.88 |
| xG Per Shot | 0.15 | 0.12 |
| Chances P90 | 6 | 7 |
Looking at Juventus' attacking statistics from 20/21 compared to Sarri's season, there's not actually too much between them at all. Goals P90, shots, shots on target are all close enough for the difference to be negligible. Indeed, the expected goals per shot from last season is actually lower than at the moment.
But what it does prove is that there were attacking problems that were beginning to fester well before Pirlo. What's more, the current numbers are extraordinarily reliable on just two men; Cristiano Ronaldo and Alvaro Morata.
Those two combined are responsible for 11.5 xG of their 21 xG total and when neither of those two are scoring, no-one else is or even looks likely to.
Ronaldo's xG per shot - which tends to give an indication of the quality of chances he is creating for himself is 0.23, while Morata's is 0.21. Both are more than double of any other player. Yes, they're the main forwards, but no-one is contributing to help the team overall.
Ronaldo has nine goals, Morata eight. Next highest is Dejan Kulusevski on two, and then no-one else with more than one. Despite all the renovations of this squad they remain extremely reliant on Ronaldo and the supporting cast brought in to share some of the goal strain - Kulu and Federico Chiesa - have yet to fire, while Paulo Dybala at the moment looks a shadow of his former self.
Indeed it would be of no surprise to see Dybala moved on either in January or the summer. The Argentine still holds market value but his form through most of post-lockdown has been a major concern, and at the moment he looks lost. He is creating chances at a rate of 1.09 per game - this is closer to Weston McKennie and Federico Bernadeschi than Ronaldo. Furthermore, he is hitting 4.1 shots P90 - second only to Ronaldo - but his accuracy is just 25%, half of the Portuguese.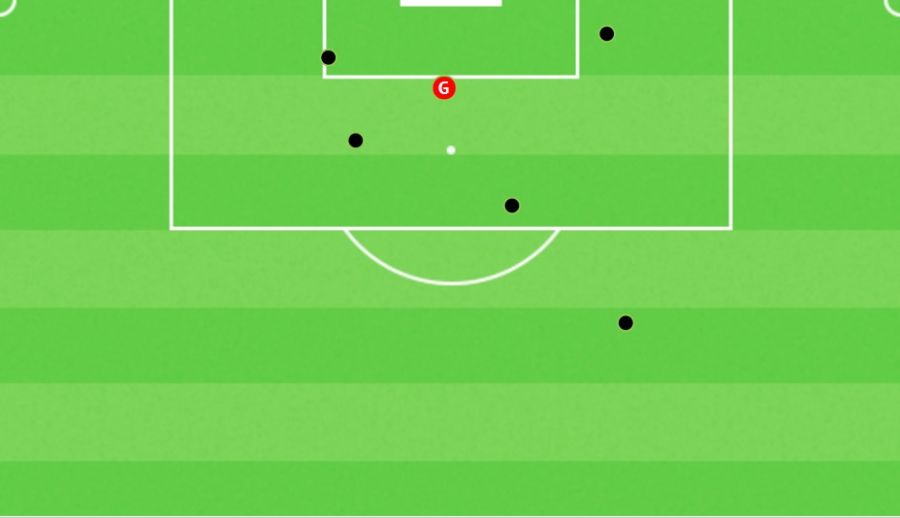 His shot map above shows five efforts on target, and one goal, in 528 minutes. Dybala's relationship with Ronaldo helped to mask attacking deficiencies that most definitely existed then, and his drop-off just makes their problems all the more noticeable.