In less than a year, Jude Bellingham broke a club record of 49 years as a Birmingham City debutant, became England's latest teen sensation and by March of 2020 was snapped up by Borussia Dortmund.
For the 17-year-old from a footballing family, the reasons for choosing BVB were obvious. Before and during the Jurgen Klopp title-winning years Dortmund were known for providing the best pathway for academy footballers like Nuri Sahin. In recent years they have become the number one destination for the game's future world-class stars from Americans such as Christian Pulisic and Gio Reyna, Norway's Erling Haaland or Bellingham's compatriot and mentor, Jadon Sancho.
In that context, choosing the Black and Yellows over someone like Manchester United was, much like for Erling Haaland, an easy and logical career move for Bellingham, and his start in Dortmund has been extraordinary.
Last week, he became not only the seventh-youngest Bundesliga debutant in the 3-0 win against Borussia Monchengladbach, he also provided an assist to fellow 17-year-old team-mate Giovanni Reyna. Dortmund, who scouted Bellingham for over three years, knew that he brings a tremendous mix of physicality, tackling, pressing, dribbling and footballing intelligence beyond his tender years. But few, if any in the club have expected this to happen so quickly.
For more on his recent performances, as well as what he can bring to Dortmund, I've watched film on Bellingham's last three matches. Below, I'll highlight his strengths, development and areas of improvement in his already mature game.
Bellingham's role at Dortmund
At Birmingham City, Pep Clotet deployed Bellingham in a variety of positions in his 4-4-2: as a right-sided midfielder, inverted left winger drifting inside into the halfspaces on the left, and as a right and left No. 8, so positional versatility was always gonna be his calling card. But how would that work at Dortmund?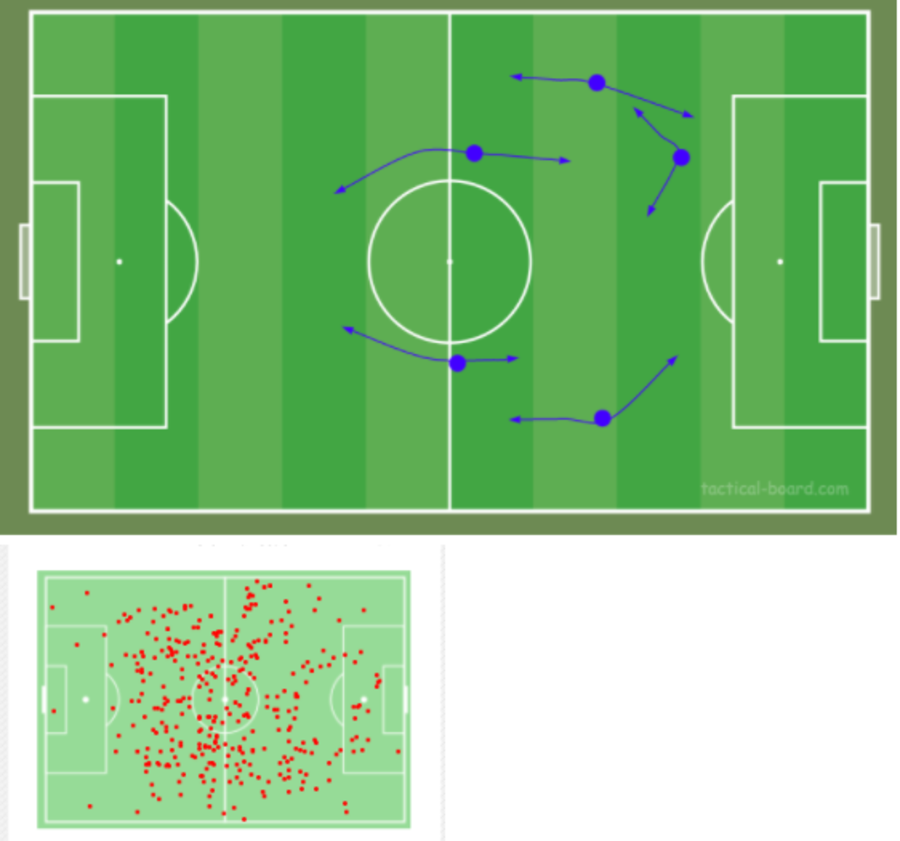 Despite Lucien Favre's preferences for a four-man backline and his insistence on it during pre-season, Dortmund have returned to the three at the back. This system has been favoured by the players and was largely responsible for turning their season around since they employed it late, down 3-0 in a UCL group match last November vs Barcelona.
What Favre actually wants is not really a 3-4-3 with two wingers and a centre forward, but variations on a 3-4-2-1 with two No. 10s from Jadon Sancho, Julian Brandt, Gio Reyna, Thorgan Hazard, etc behind Erling Haaland, or a 3-4-1-2 where Hazard, Reus or Sancho can play a free-roaming second striker role.
In that system, Bellingham nominally occupies the No. 6 role next to Axel Witsel, although he has freedom and more importantly dynamism to roam forward to make it a 3-1-4-2 with Witsel as a single pivot.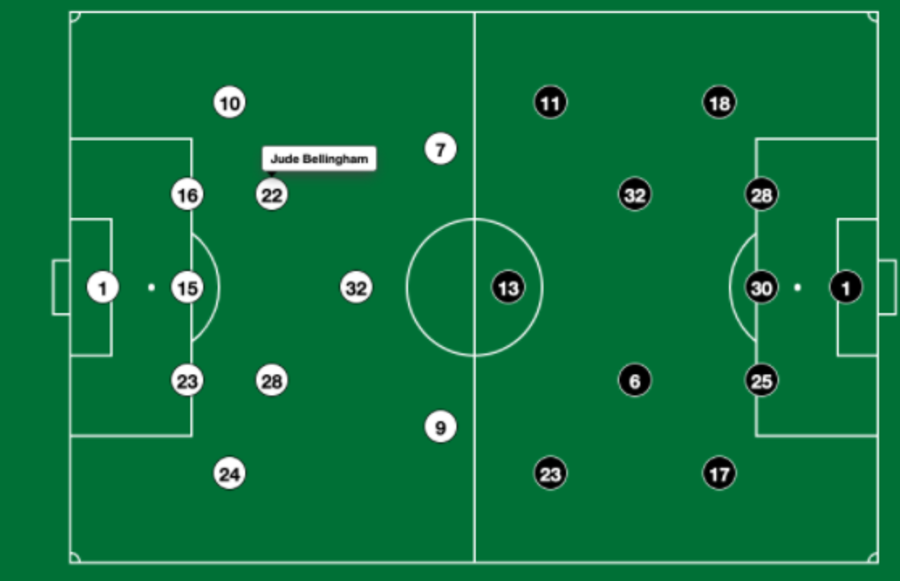 Bellingham and Witsel can switch sides, as this is a fluid formation for the detail-oriented Favre. The Swiss coach also loves to have his attacking players drop deeper to drag defenders out of position. Situationally, Dortmund will use a 3-1-4-2 single pivot whereas we can see vs Gladbach's press, Reyna and Bellingham are the No. 8s.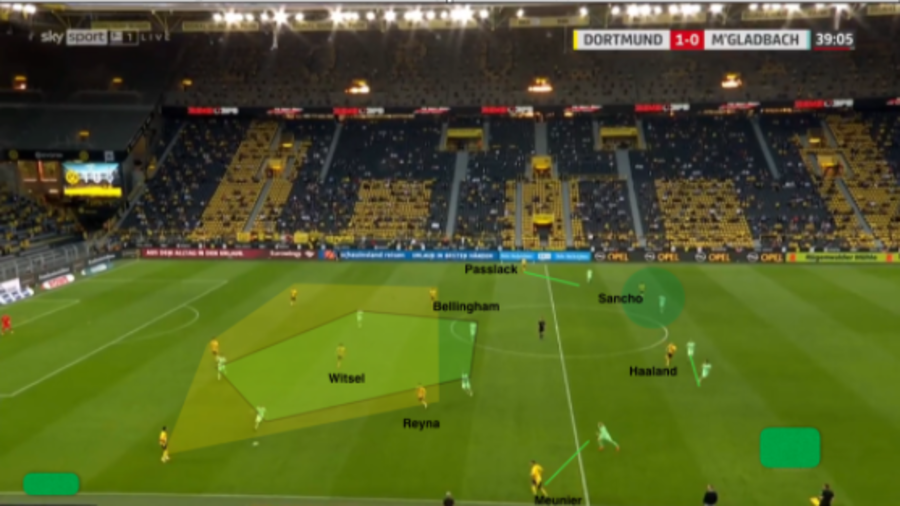 The need for young, dynamic and ball secure 8s like Bellingham for Dortmund's system have to do with their problems of ball progression and buildup, which can get slow and predictable, since none of their CBs possesses a mix of dynamism with ball-carrying and press-resistance skills. This is a longstanding issue that among Dortmund aficionados such as the excellent Yellow Wall Podcast, is known as the İlkay Gündoğan conundrum. However, Bellingham may just be the answer!
Bellingham's aids ball progression and shot creation
At Birmingham, Bellingham showed the willingness and ability to bring the ball out from the back and break passing lines via carries (averaging over four dribbles with 58% success rate) and passing via manipulating his opponents.
He quickly recognizes defensive patterns; Gladbach's 5-2-3 with Dortmund's wing-backs pinning Gladbach deep - and executes the next step on how to outsmart that scheme: here, he pulls DM Neuhaus out of the centre, opening the space for Sancho, who drags Elvedi deep.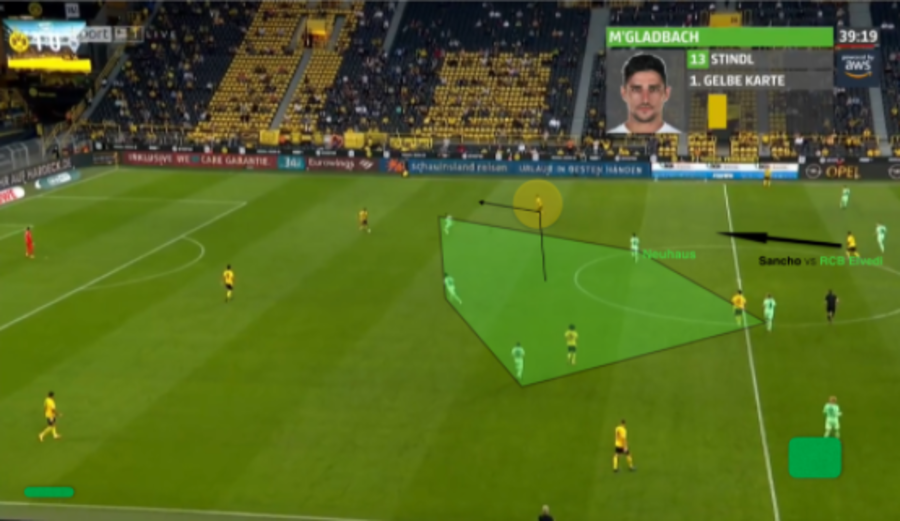 With Bellingham taking up space in the left-back spot, he has found space to progress the ball and Dortmund can get out.
He can also find solutions via his passing: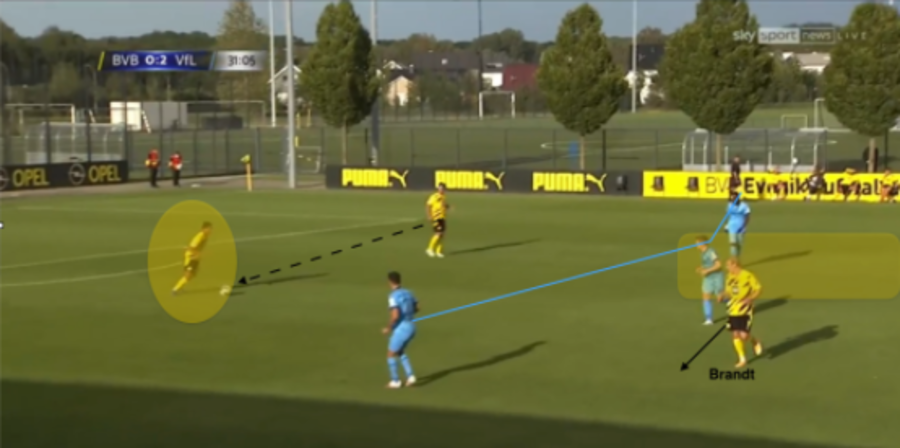 In a pre-season game vs Bochum, Bellingham drops deep to collect from Hummels, faces the first line of the opponent, while Brandt takes the defender to open the lane for Bellingham, who pushes into space to break two defensive lines with a pass.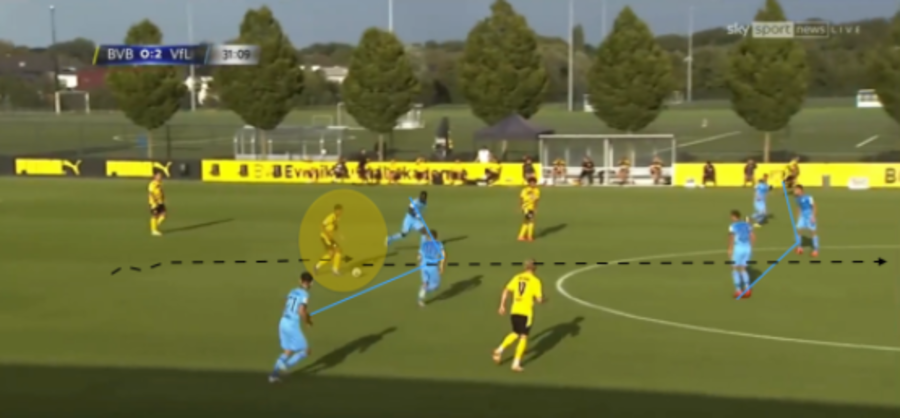 Bochum's centre-back has to leave the last line to react to the deep dropping Thorgan Hazard, who flicks Bellingham's pass on.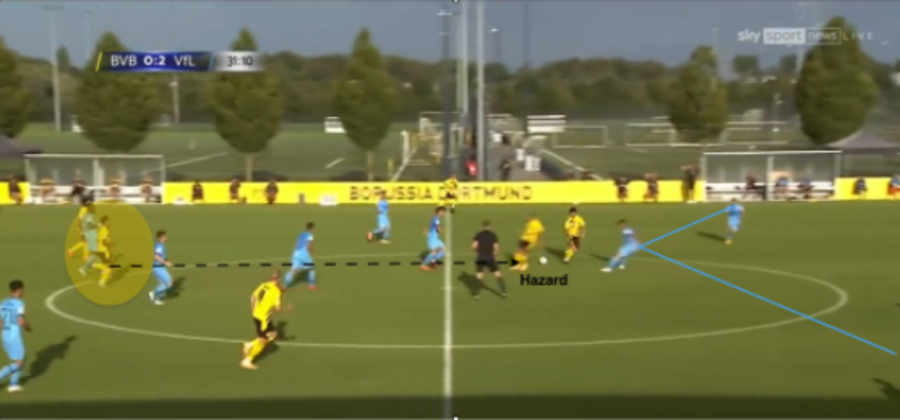 An even better example is this disguised pass vs Gladbach, where Christoph Kramer is tricked into thinking Bellingham intends to pass to Jadon Sancho.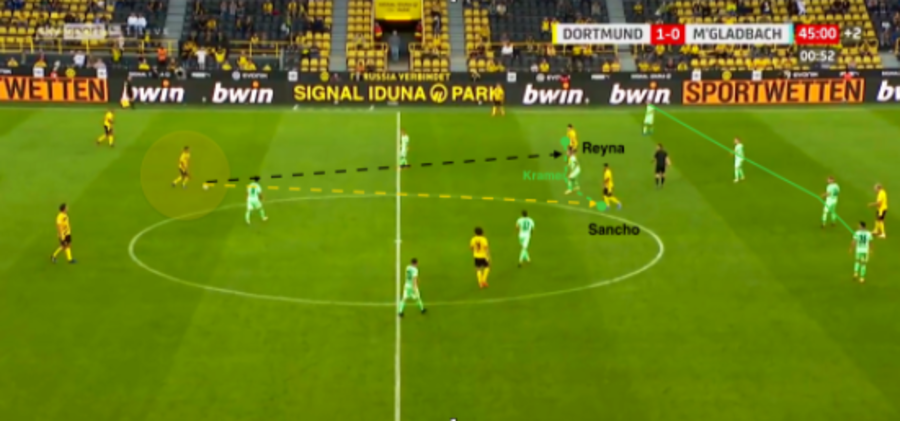 Actually, the pass is to Gio Reyna, dragging the Gladbach CB, Matthias Ginter out of his defensive line.

Bellingham can also disguise passes in the final third, fooling Duisburg's left back into thinking the pass to Meunier is coming, while Sancho is the recipient.

Using a nice sidestep dribble to the left to manipulate the first line, Bellingham sometimes will not see the optimal pass right away (then again some 28-year-old's starting in the Bundesliga don't, either), though his safe passes are still progressive. Case in point vs Duisburg in the DFB Pokal; he has three more progressive passing options, than his eventual sidestep and pass to the wing.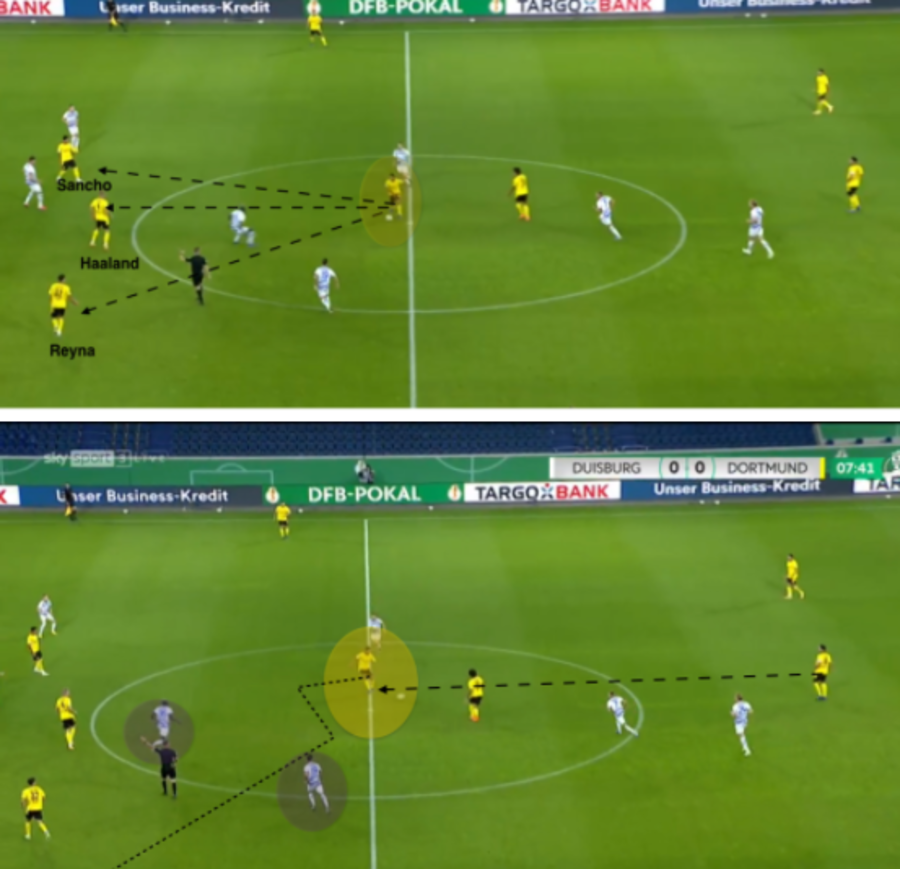 From these different scenarios it's clear: Bellingham is a problem-seeker and solver in that he is very comfortable in tight spaces, combining with his team-mates, moving into open space if needed vs pressure like against Gladbach: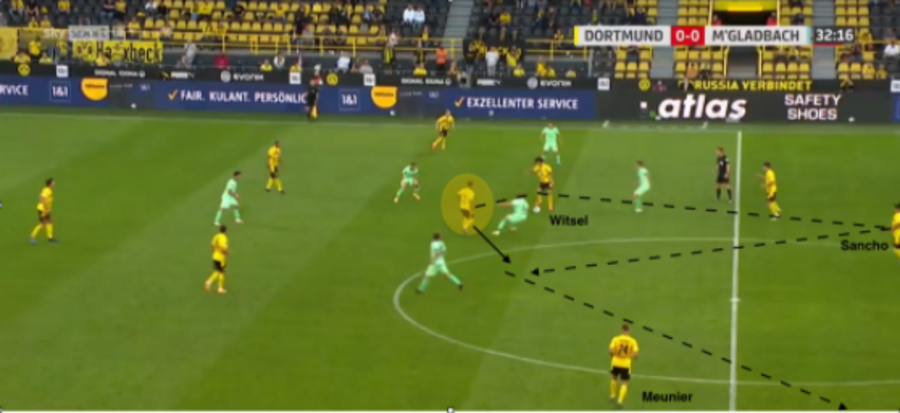 Passing issues and ball use in final third
Overall, as others have noted, passing and creativity are perhaps the two areas Bellingham can improve on the most, which given how advanced he is at barely 17, is scary.
Nevertheless, this and the plethora of attacking options (Marco Reus and Julian Brandt are bench players, Thorgan Hazard is an emergency wing-back) are probably the reasons why Dortmund think of him as more of an eight than a halfspace ten. The good news is that his 77% completion and 33 passes per match at Birmingham were probably a result of a more direct style. At BVB, he's up to 84% with 37 completions in just 66 minutes and similar touches to Witsel (52 to 58) despite playing 66 minutes vs the Belgian's 90.
Bellingham's ability to make runs towards and into the box to shoot, support or to set up teammates is also improving, as we can see him asking for the ball from Meunier, who chose to combine with Reyna instead.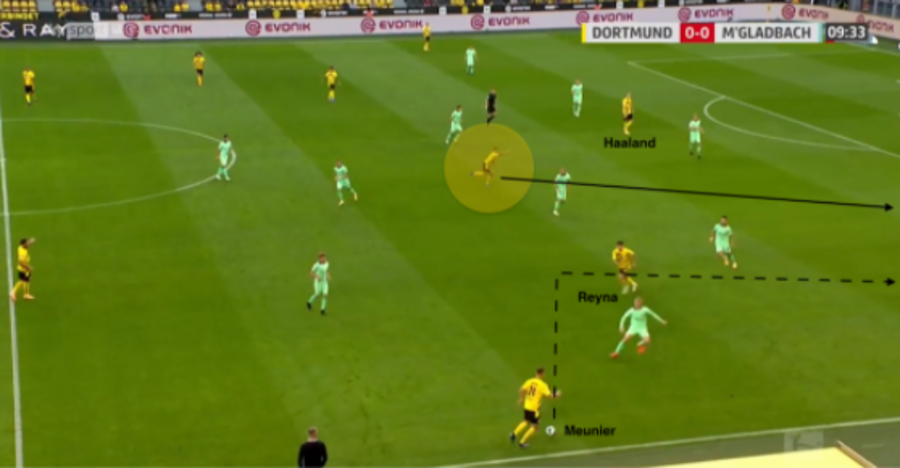 Similarly, before he sets up Reyna's goal, he's already signalling his near post run to Emre Can, who elects to cross towards Haaland and Reyna.
Gio Reyna's first Bundesliga goal. Jude Bellingham's first Bundesliga assist.

Two of Dortmund's teenage stars combine to score their first goal of the league season! 🌟 pic.twitter.com/jZjq80pZdG

— Football on BT Sport (@btsportfootball) September 19, 2020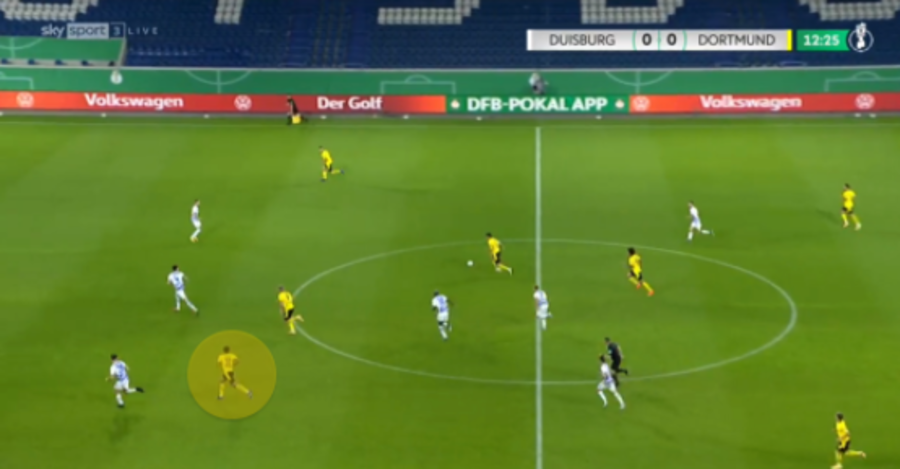 You can still see those winger\wide forward instincts in transition, as he offers good support on this 4 v 3 vs Duisburg, where his running is rewarded with a goal on a 5 v 4 break.
⚽ Tor für Borussia Dortmund durch Jude Bellingham. #DFBPokal #DFB #Sportschau #Fussball #BVB #MSV pic.twitter.com/C6MD82Epg6

— Sportschau (@sportschau) September 14, 2020
Defensive performances
Bellingham's range, dynamism, intelligence and anticipation make him a smart defender in the middle of the pitch. He not only demonstrated great range and athletic ability but a keen positional awareness. When he drops back into left\right halfspaces in possession it's not always to receive the ball, but to create spots for RCB\LCB to get forward. Given Dortmund's difficulties in covering for Hakimi last year with ageing full-backs turned centre-backs like Piszczek, or defensively limited players like Julian Brandt, a much-more disciplined wing-back in Thomas Meunier and a versatile, rangy No. 8 like Bellingham will make BVB's defence tighter.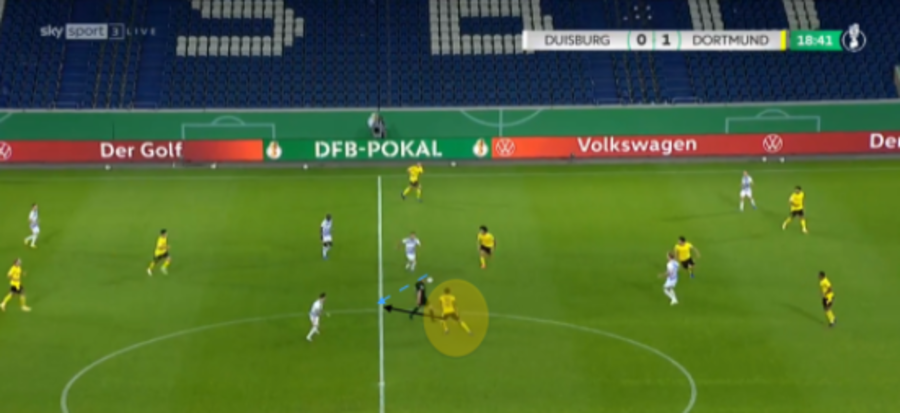 For all his off-the-ball defence, Bellingham also hunts for careless or underhit passes and drives forward in transition, though sometimes with his head down.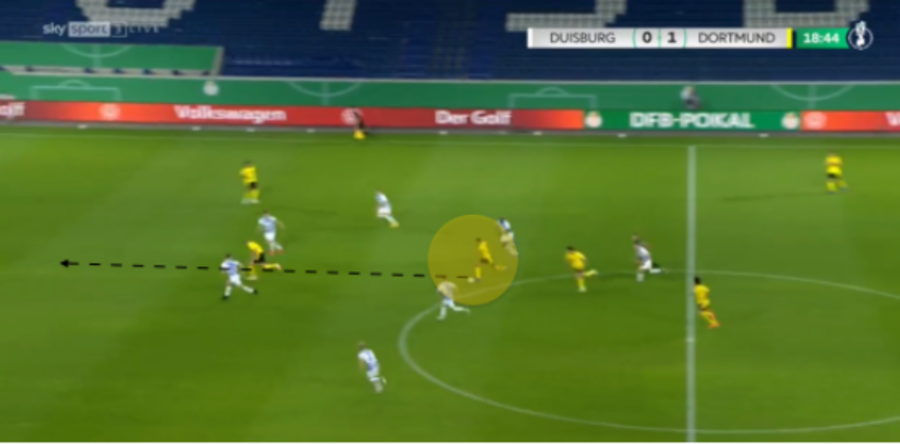 He brings boundless energy: against Gladbach, he led his team with 21 pressures in 66 minutes, though succeeding just 23.8% of the time. One reason is perhaps an over-eagerness and the adjustment to the more technical dribblers of the Bundesliga, such as the highly-regarded Florian Neuhaus.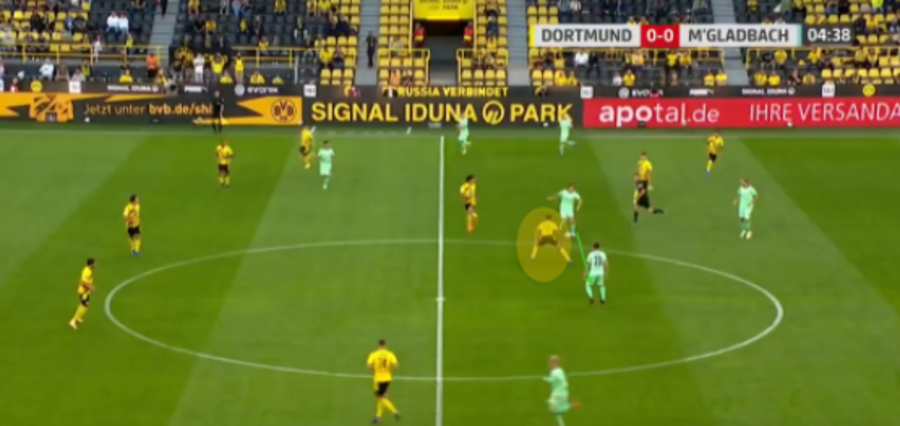 Neuhaus sells the pass to Bellingham, but cuts inside to draw a foul. Bellingham finished the match 0 for 4 on tackle attempts, so while he had 63% success rate on a whopping 9.5 defensive duels in England, the challenges Germany, at least against the top players might be tougher.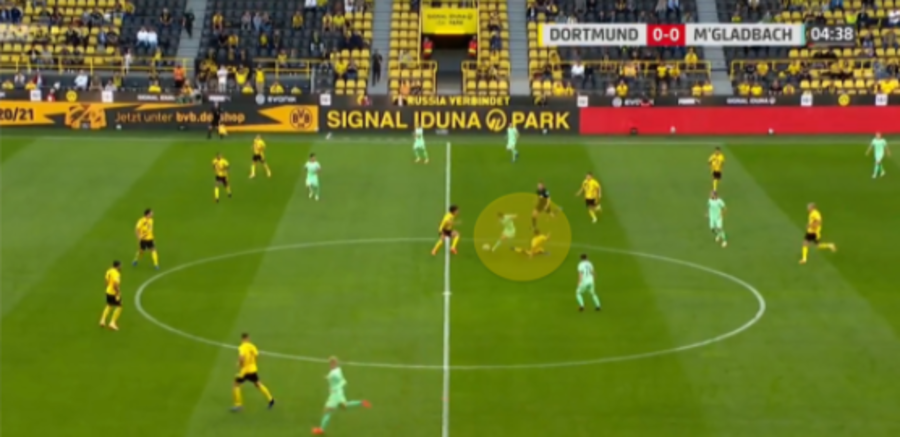 Later in the first half, Bellingham tried to close down Neuhaus from 15 yards and had no chance, as the 23-year-old dribbled by him with ease.
He was smart enough to avoid a yellow card, unlike against Duisburg, where he kicked the ball away in frustration after missing a chance. Favre was not happy about it and mentioned that it played a role in his halftime substitution, so avoiding cards has to be a priority for Bellingham in the future.
Bellingham: Areas of improvement
In his brief time at Dortmund, Bellingham has already shown developments in his ball progression via passing and carrying, improvements in his positional awareness (already at a level Bundesliga players 10 years older don't always get to) and his final third arrivals. Despite his goal in the cup, he still needs to improve his shooting, which at Birmingham was ambitious to say the least.
Instances of poor touches and overhit simple passes 2-3 times a match will probably mature over time, and Bellingham sometimes puts teammates under pressure with ambitious passes. His tendency to over dribble in transition situations also needs work, as Favre's teams are known for meticulously organized counterattacks.
Gundogan 2.0?
Still, few would have thought that Bellingham would be a starter so early at BVB. He will likely continue to get minutes as the No. 8 next to Witsel in the 3-4-1-2, since he is more progressive\dynamic than Emre Can, who also needs to play RCB. Although he's not as creative as the other option in Julian Brandt, at 17 Bellingham already brings more maturity and consistency and better defensive skills and effort than the 24-year-old German international.
The Englishman also seems to have a better understanding with Witsel and the front three and Favre can compensate for his offensive shortcomings by starting Reyna. Ultimately, a player with enormous work rate, great attitude, superb positional sense, massive defensive range was sorely needed at Dortmund.
They likely got all that in Bellingham but also a nice possession No. 8 capable of quick combinations and intelligent link up play, solid ball progression and occasional goal contributions. Ralf Rangnic, said to the Athletic that he's "rarely seen a 17-year-old at Bellingham's level". For me, the closest comparison is a more athletic İlkay Gundoğan who was almost 21 when he moved to Dortmund.