Alex Oxlade-Chamberlain is approaching a crossroads in his Liverpool career.
As the Reds seek further domestic and continental domination, he will be fighting for his role in the side. The 27-year-old has had his share of bad luck at Anfield; injury struck during his best run of form in 2018 and robbed him of two Champions League final appearances and a part in Liverpool's 2018/19 season – a record-breaking one at the time.
Returning from that injury, the Englishman was the 12th most featured player for Liverpool in the Premier League this season, falling short of Jurgen Klopp's first XI but very much the next man in line – he amassed over 600 more minutes than 13th-placed James Milner.
This is perhaps as owing to his versatility as it is anything else, with Klopp happy to play him on the left or right wings when needed, which could actually be to the detriment of the player – his last three starts were in three different positions and he lasted barely an hour in each.
That inconsistency in position is largely echoed in some of his performances. While there were flashes of brilliance – Genk away in particular comes to mind – his overall numbers are the mark of a player struggling for regular form.
While his eight goals in all competitions was the most of any Reds player outside the front three, his one assist across all competitions – that came on the final day of the season – is incredibly disappointing.
Klopp's system at Liverpool largely bypasses central midfielders as creators and emphasises the full-backs and the counter-press as the two main routes to goal, which does make it difficult for a player like Oxlade-Chamberlain.
The difference between the seven assists he had in 2017/18 and the single one this season is no doubt affected by the rise of Trent Alexander-Arnold and Andrew Robertson since then.
Ox v midfield team-mates
Stat
Ox
Henderson
Wijnaldum
Keita
Milner
Age
27
30
29
25
34
Goals
4
4
4
2
2
Assists
1
5
0
3
2
KP90
1.01
1.08
0.54
1.66
1.11
xG90
0.15
0.05
0.08
0.19
0.22
xA90
0.06
0.16
0.02
0.36
0.09
*League minutes only
But by the same token, Jordan Henderson managed five league assists in his role as the right-sided central midfielder, the same role Ox plays when selected in the middle.
That solitary assist becomes even more disappointing when it is noted that Ox led Liverpool's midfielders in crosses and touches in the box per 90 minutes, demonstrative of the positions he is taking up but an evident lack of quality in his end product.
His passes P90 and pass completion percentage were also the lowest among the Reds' midfield contingent, and only Georginio Wijnaldum ranked lower in key passes and final third passes P90.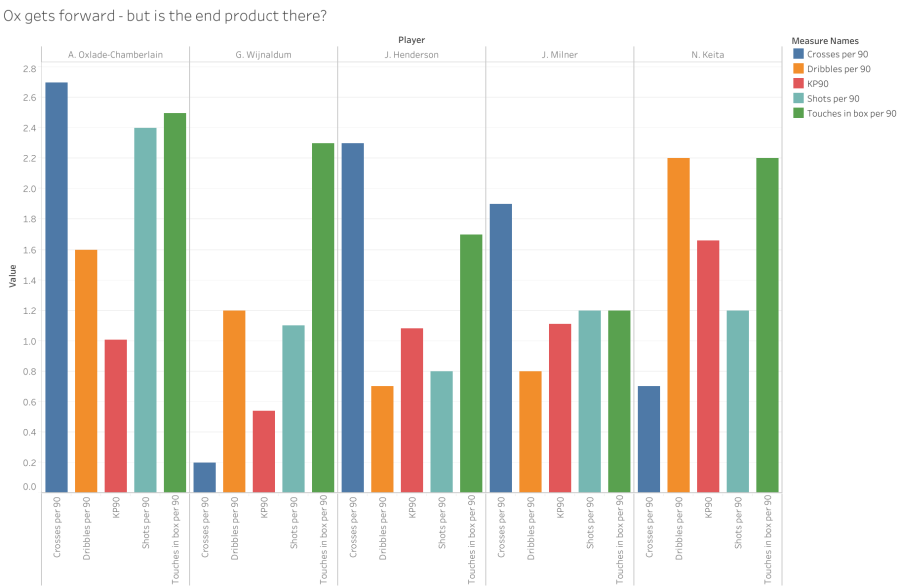 For someone with a skillset one would usually associate with an attack-minded player and given his entire career's development, those numbers are underwhelming, to say the least.
Naby Keita is someone that finds himself in a very similar position to Ox in that he too is fighting to be part of that first XI, and by comparison he's a lot closer to it than his team-mate is.
The Guinean had top ranking stats for key passes, final third passes, dribbles, recoveries and duels won P90 among the Reds' midfielders, showcasing his ability on both sides of the ball to do all the things that a Klopp midfielder needs to do.
Keita was arguably Liverpool's best player during Project Restart, and with the potential arrival of Thiago this summer it is becoming more difficult to see where Ox gets his minutes.
In a joint interview with John Barnes earlier in the week, it was interesting to hear how similar Curtis Jones' perspective on his role is. Both see this season as an opportunity to stake a claim for more minutes, which says a lot that Ox is competing with a teenager for a spot.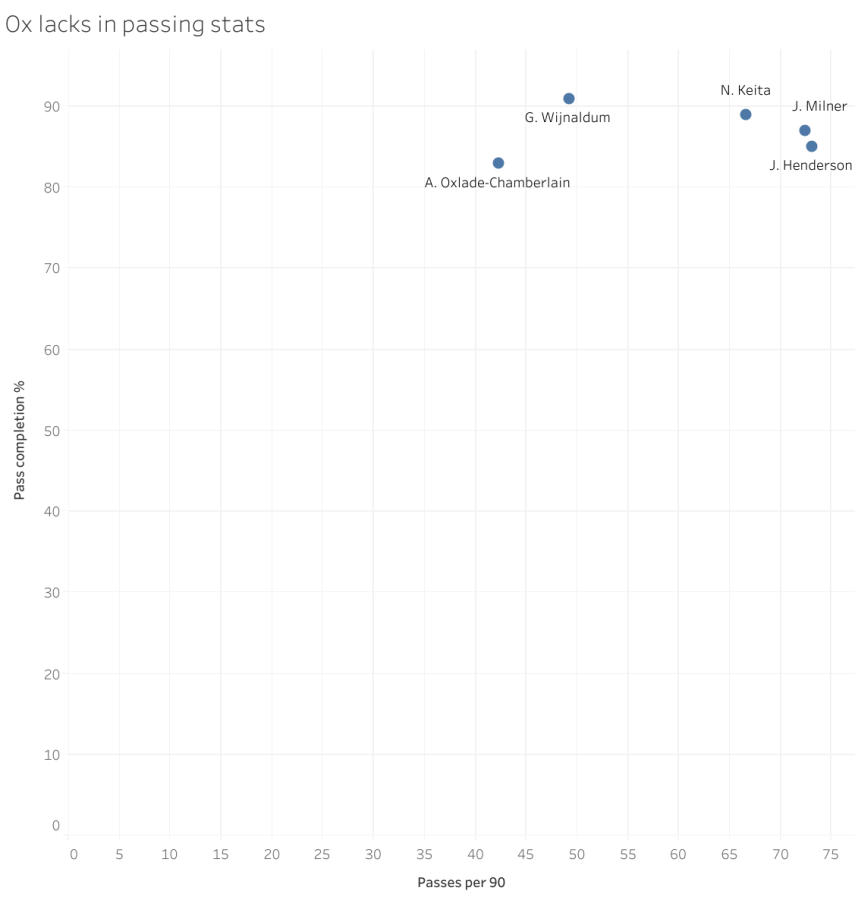 A serious knee injury will always take a long time to return from, and physical fitness is very different from match fitness. All things considered, it was far from a disastrous season but one that Ox himself will know he will need to improve on.
Now coming on 18 months since that injury, the time is over for using that as an explanation. He is a Liverpool player, a European and English champion and a 35-times capped English international for a reason.
This coming season is shaping as the biggest in Ox's career. At 27 he is reaching his prime and with Liverpool still reaching theirs as a team, if he can't find himself in an important role then he may never do so. A spot in England's Euros squad is up for grabs, too.
That said, he has the quality and the desire. Perhaps it comes down to confidence, pushing over the mental threshold after the injury or maybe it is down to him being shifted around the pitch too often.
Regardless, the time is now for Ox to shine and if the Reds are able to consistently get the best out of him this season, they could be an even more frightening proposition.