Andrea Pirlo couldn't have dreamt of a better start to life in his first competitive match in charge of Juventus, as his team's comprehensive 3-0 win over Sampdoria was littered with positives.
In what was a night to savour for the legendary Italian at the Allianz Stadium, Juve hardly put a foot wrong against Claudio Ranieri's usually well organised team. Controlling and dominating in all compartments of the game, while he was delighted about many aspects, he recognised there's still much room for improvement.
"It was a good first half, a pity we didn't score more than one goal. Our fitness levels dropped towards the end, but we stayed sharp and controlled all the situations, including the Sampdoria counter-attacks," he explained.
READ MORE:
What Juventus' Andrea Pirlo thinks about football
The kids aren't alright: EPL ranked bottom for offering minutes to young players
Zlatan Ibrahimovic: Player Rating and Performance v Bologna
"It will take time to get all the various ways of playing together. I don't want to just copy and paste anyone's ideas, I have my own ideas, and want to adapt from the teams that inspired me. We haven't had much time, as the pre-season started late and then they were away for international duty. We had only had one friendly too, but it was a good debut and we'll keep working on it."
Implementing multiple different frameworks depending on the phase of the game, Pirlo's offensive strategy was especially interesting. Setting out his team in what was ostensibly a 3-2-5, this saw them occupy many key areas, which frequently asked questions of the Samp backline.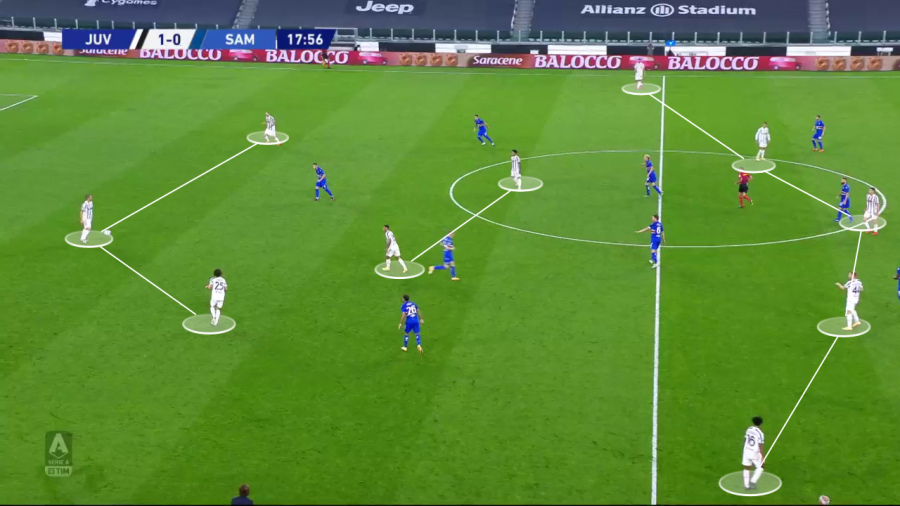 The wingbacks added width and depth to stretch the opposition and lure out the Samp fullbacks so channel runs could be embarked on by the likes of Cristiano Ronaldo, Dejan Kulusevski and Aaron Ramsey. Then, the constantly interchanging central front trio in Kulusevski, Ramsey and Ronaldo did a fine job of manipulating their adversaries with their complementary and coordinated movement.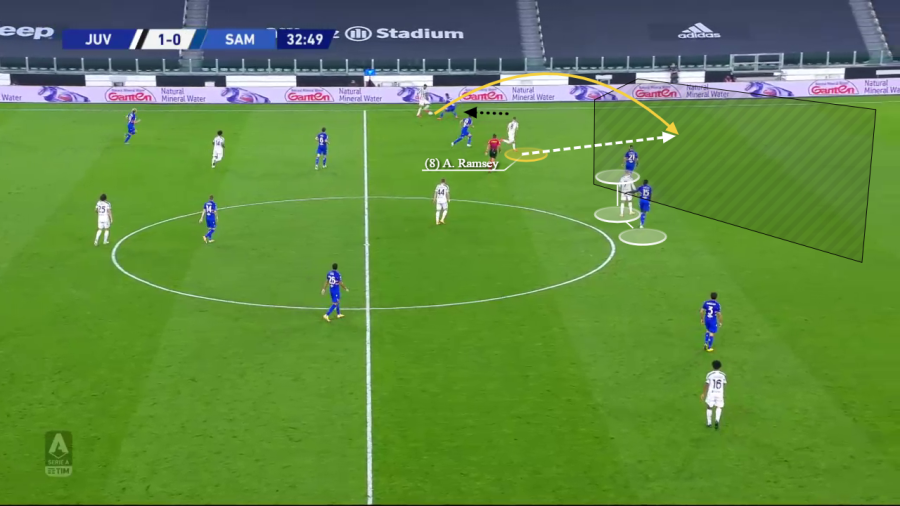 Often positioned within close proximity to each other, they smartly drew and pinned their markers to create space for one another. Moreover, this also allowed them to combine intricately in close quarters and attack the gaps in between defenders or in between the lines.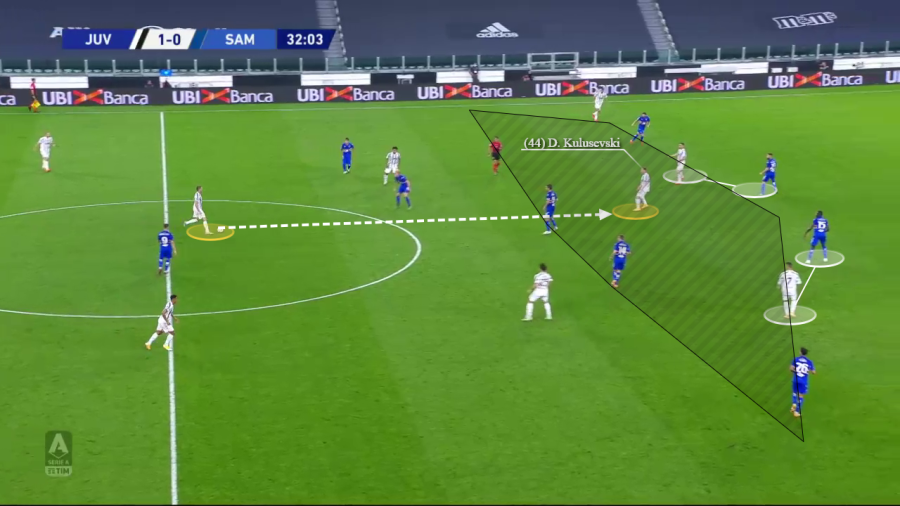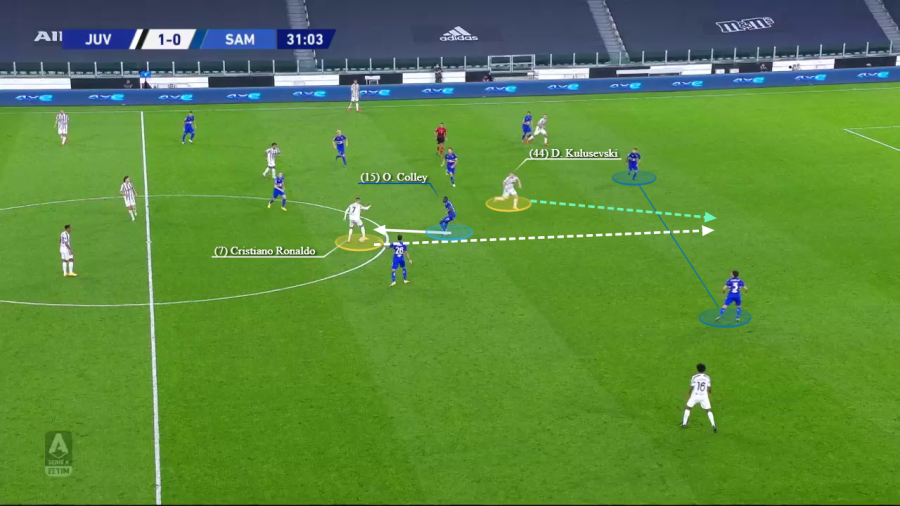 Central midfielders Adrien Rabiot and Weston Mckennie facilitated ball circulation from one side to another, hit penetrative balls into the frontline, bombed forward when the opportunity arose and helped protect the back three.
Seeing as the five strong attacking unit occupied and forced back the Blucerchiati block, this afforded the outside central defenders in Danilo and Giorgio Chiellini space to push up and add another number into attacks while luring out foes in the process.
Courtesy of their advanced positioning, whenever Juve pushed into the final third, they had so many options inside the box at varying heights and depths to aim for. The wingbacks' back post blindside runs deserve particular mention, as these were neatly timed to give them a dynamic advantage over their ball-facing opponent.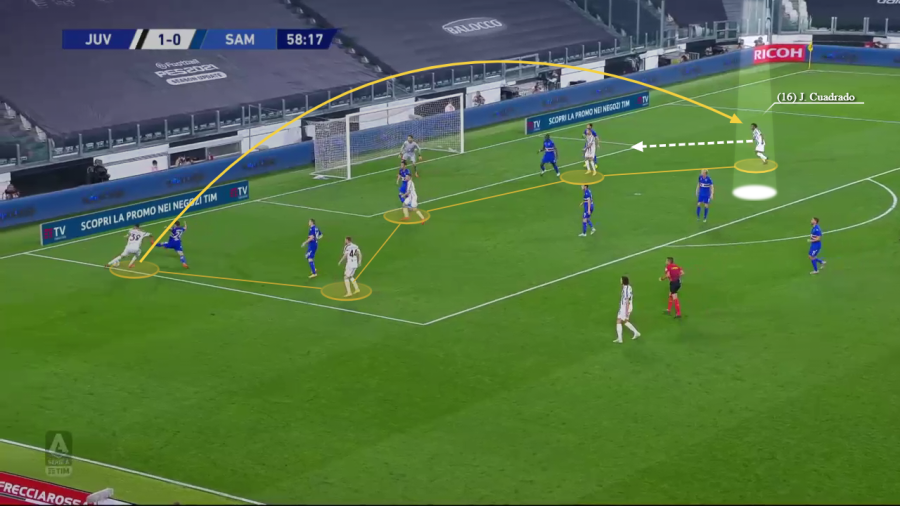 By forming triangles and diamonds around the ball holder, Juventus' players were rarely short of options. In doing so, they generated desirable passing angles and overloads to progress the ball both in wider areas and in build up passages. Key towards them keeping the ball and progressing through the thirds comfortably, Pirlo's team certainly impressed in possession.
How they used the overload to isolate principle also bore fruit, for they'd overload one side, thus drawing their opposition over. They'd then quickly switch to the under populated far side to ensure the wingback could be in advantageous 1v1s out wide.
Meanwhile, in terms of their defensive efforts, plenty of encouraging signs could be extracted. Undoubtedly their ferocious counterpressing was a highlight, with Juve rapid to respond to hunt down the man in possession and close down nearby options once a turnover was made. The fact they used their cover shadows to block pass routes behind them amplified their success. With Pirlo clearly having worked on this and Mckennie's relentless energy vital here, the Old Lady prevented counters and regained the ball quickly to attack again.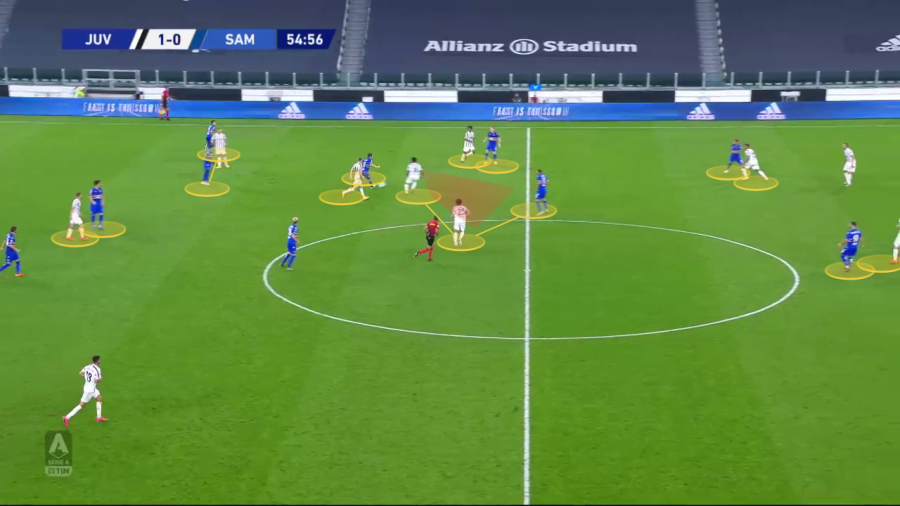 Even though the Bianconeri dropped back into a 4-4-2 when defending in a mid block, they altered this when high pressing. Morphing into a 4-3-1-2, Ronaldo and Kulusevski would mark the two centre backs, as Ramsey would track Albin Ekdal.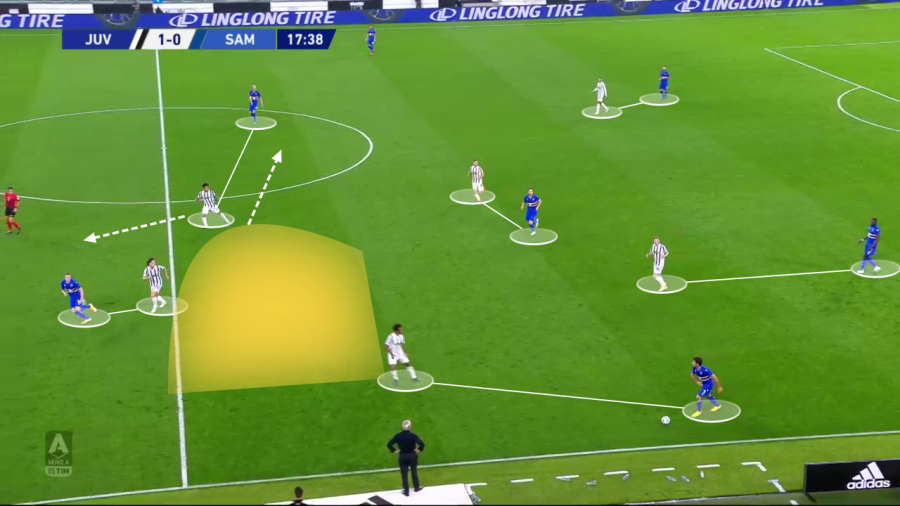 Juan Cuadrado would operate in a midfield role as seen above, with his remit being to press the fullback on the ball near side while the other two, Mckennie and Rabiot, would be on Jakub Jankto and Morten Thorsby. This structure would obviously adapt when the ball was on the opposite flank, as it worked efficiently by minimising outlets and using the touchline as an extra defender.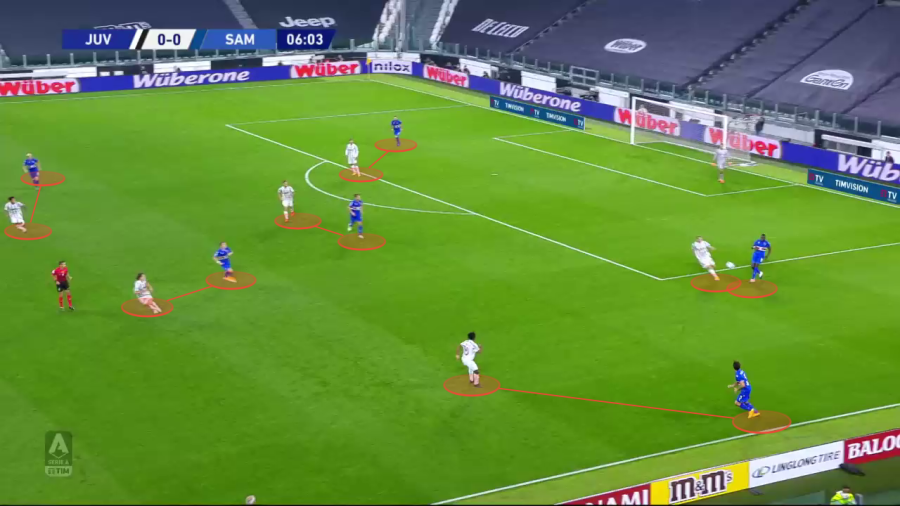 Blending youth and experience in his starting lineup, with the likes of Chiellini, Ronaldo and Bonucci joining future stars in Kulusevski, McKennie and Gianluca Frabotta, Pirlo struck a super balance.
Considering this was his first match at the helm, this striking debut definitely bodes well for the future. With tougher tests set to come against AS Roma and Napoli, however, these will offer stern examinations of Pirlo's Juve.
Surely this will give us a better indication of where they're at, but for now, Pirlo and his coaching staff should be satisfied with their fluid, entertaining and dynamic opening day win.