Manchester City's performances in their three matches at the Tottenham Hotspur Stadium are the type to make expected goals models explode.
Once under Mauricio Pochettino, and now twice under Jose Mourinho, Spurs have been able to not only defeat and frustrate Pep Guardiola's side, but not even concede a goal.
And it's not been for the want of trying from City's perspective. They have amassed a huge 6.5 xG from those three encounters - a 1-0 loss in the Champions League in 2019, and two 2-0 defeats in consecutive seasons.
This means that on average they would be expected to score 6.5 goals with the chances they have created, but have been unable to land a single blow.
When losing in the Champions League quarter-final in 2019 courtesy of a Son goal, City missed a penalty through Sergio Aguero (0.75 xG) in the first half, and the total of their efforts was 1.5 xG.
| | | |
| --- | --- | --- |
| Statistic | City | Spurs |
| Goals | 0 | 5 |
| Shots | 45 | 20 |
| On Target | 16 | 9 |
| xG | 6.5 | 1.7 |
| xG Diff | -6.5 | +3.3 |
Then, last year, Mourinho took his first scalp of Guardiola, winning 2-0 despite conceding 3.4 worth of xG in the match. Ilkay Gundogan was most guilty, missing another penalty (0.75 xG) and then smashing over an open goal in the second half. Aguero, meanwhile, hit the post twice in what was a bad day at the office in front of goal.
And then yesterday. Another 1.6 worth of xG and nothing to show for it. In total City have hit 45 shots in these three matches, landing 16 on target. They have made double the amount of completed passes, double the amount of key passes, and had an average of 64% possession.
Manchester City: Shot Map v Spurs, last three games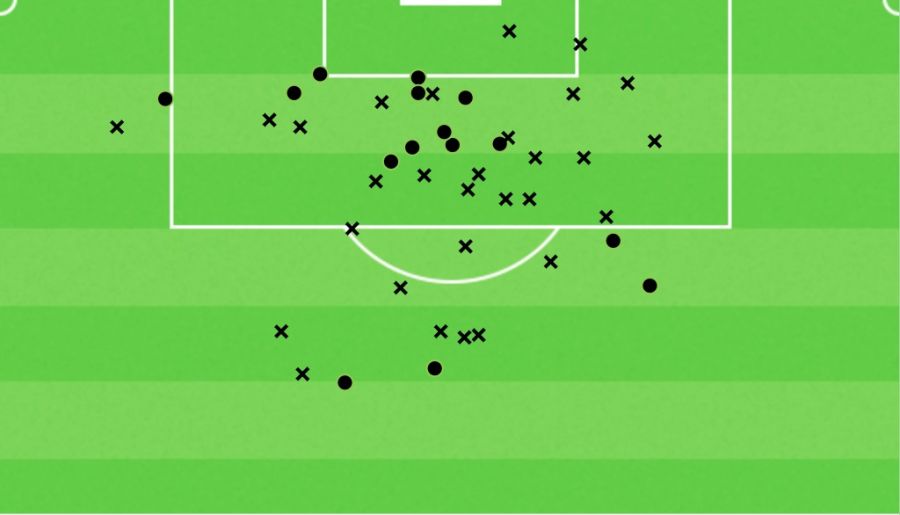 Kevin De Bruyne has been the most wasteful, hitting a total of 12 shots in the three games and hitting the target just three times.
In contrast, Spurs accumulated just 1.7 xG on their five goals scored. Of their eight shots on goal, they scored five of them.
Expected goals need to be taken over an increased sample size in order to make sense for a team's form, or lack thereof, over a certain period. But here it's impossible to ignore such a big swing in three consecutive games.
Tottenham 2-0 Man City: Player Ratings, Match Stats, Player Stats