Borussia Dortmund striker Erling Haaland has joined Barcelona star Lionel Messi and Paris Saint-Germain forward Neymar as one of the three best players in the world.
According to the FootballCritic player rankings, Haaland has moved up to a 99 FC Rating and joins the aforementioned pair in an extremely exclusive club that has just three members across all of football.
Haaland first moved up to the 99 rating in early January but has, crucially, maintained that level ever since with strong performances for the Bundesliga giants.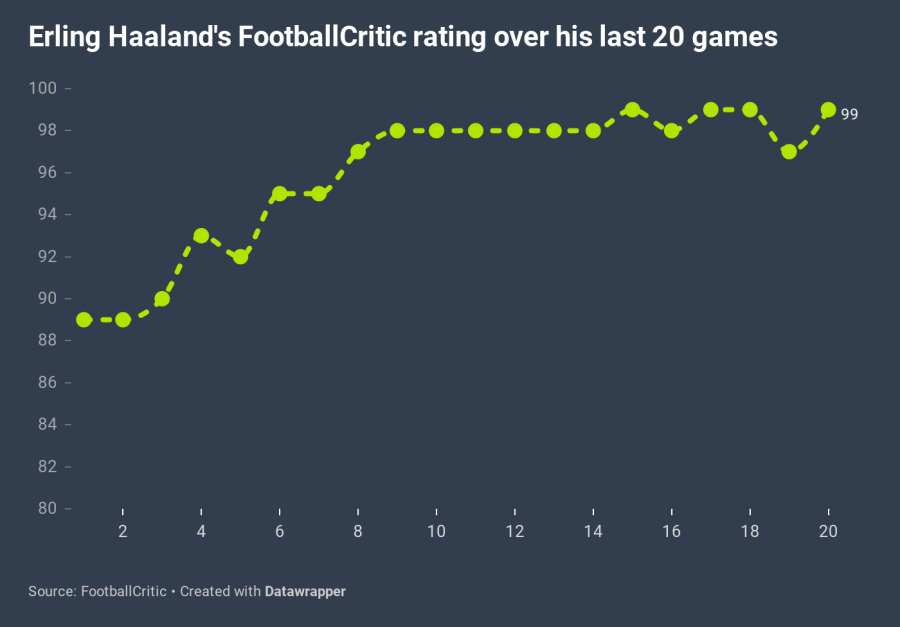 Since the turn of the year, the Norwegian striker has scored six goals and picked up a further two assists in just nine games in all competitions.
FootballCritic comes up with its player ratings by taking player performances over their last 20 matches, including the standard of the competition in which they feature, and a number of performance bonuses related to their position.
Our algorithm is updated each Monday to take into account all matches played by a player in the last seven days. You can track how a player has risen or fallen on a weekly basis on our homepage.
Haaland's improved performances means the Dortmund striker has now moved above the rest of the chasing pack, which includes Barcelona's Antoine Griezmann, Milan forward Zlatan Ibrahimovic, Cristiano Ronaldo of Juventus, Chelsea defender Thiago Silva, Real Madrid goalscorer Karim Benzema, Sevilla goalkeeper Yassine Bounou and Celta Vigo forward Iago Aspas.
The top 10 players in world football right now