Diego Maradona's spell at Napoli is generally regarded as one of the finest individual displays of brilliance in the history of football.
Maradona elevated a Napoli team that had been in the doldrums for some time and achieved things that have earned him god-like status at the club.
At a time when Serie A was arguably the most difficult league in the world, particularly for forwards when defending was brutal and goals were at a premium. Maradona's performances were therefore superhuman and the positions of his goals at times defy logic.
We've teamed up with football analyst Marius Fischer, known as @Gegenpressing91 on Twitter, who has worked with magic with Microsoft Excel to map out all of Maradona's goals for Napoli.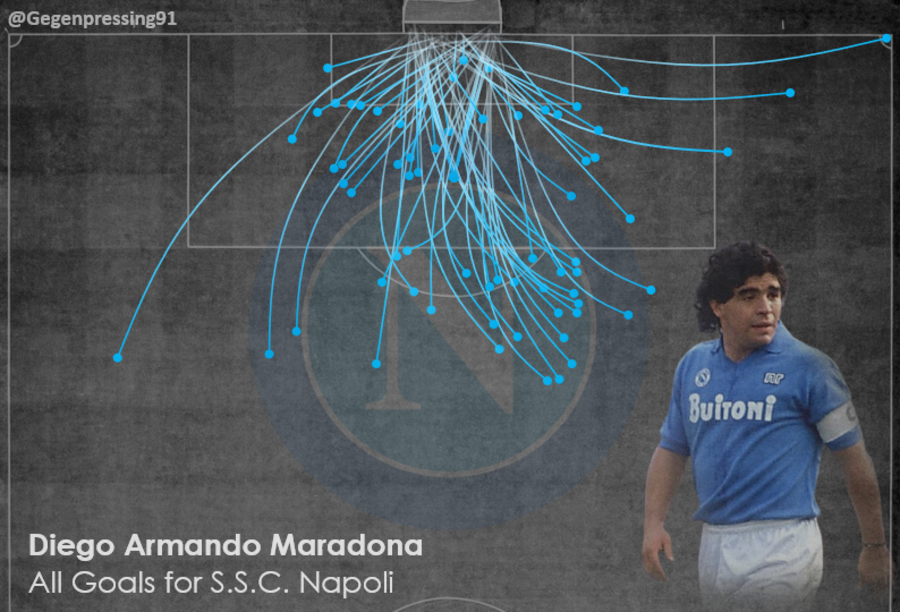 Marius says:
"The world stood still on 25 November, 2020 - the day Diego Armando Maradona died. Him and Pelé were the two best football players in history, no doubt about that.
"But Maradona fascinated people with much more than just his goals and assists. He converted football to art, and the football pitch into his own stage. After his first spell in Europe at Barcelona that ended in chaos, he surprisingly moved to Serie A side Napoli.
"He led Napoli to their first domestic title and even won the UEFA Cup with them and he did it in a way that still leaves people speechless today.
115 goals - each of them something special. Lobs over the keeper, free kicks, long-range goals or just a goal after dribbling past six opponents - it was just too easy for Diego Armando Maradona."