The life of Diego Armando Maradona will never happen again.
Not in a football sense, nor in terms of his wider cultural resonance. And certainly not in terms of what he means, and will always mean, to the people of Argentina. But because the collective elements, the seemingly inconsequential things that make a human, amalgamated to create the one true football God. Diego.
Maradona's life journey is at once thrilling and heartbreaking, a cessation of logical thinking sidelined by genius, drama and tragedy. And the circumstances that conspired to create the greatest football personality ever, and certainly one of the game's greatest-ever creative ambassadors, will never be repeated, for a number of reasons.
Firstly, the game is too different now, for better or worse depending likely on your age or your appreciation. The No. 10, the number he wore on his back, is a lost art. The concept of a languid playmaker whose moments are fleeting and involvement at times zero, but whose impact is game-changing, is over.
It's about the tactical collective sacrificing for the good of the team, and reneging on individual flair in thrall of an overarching philosophy. It's hard to identify a modern team that doesn't, and it's poignant that Lionel Messi's regression, which has already begun but has accelerated in this 20/21 season, arrives now.
Because he may be the last of a dying breed, the type of instinctive playmaker able to manipulate the ball better than anyone else that you would pay money to watch. Great players still exist - just not like Diego, and not like Messi. Unless they can chase backwards to cover the full-back.
Furthermore, the game is so much faster, so much more professional, that Maradona's wayward lifestyle would be brutally punished within 10 minutes of a match. The way that sports science has improved wellness and recovery, and rewarded the naturally agile and fit, sits in clear opposition to ball manipulation.
The two aren't mutually exclusive, but, increasingly, being able to run all day and have decent ability trumps transcendence without fitness every single time. That is a true loss for football as a spectacle. Some may not notice the difference, but that's what football's icons have been built on, and none of them would stand a chance any more.
And there's a less discussed and more culturally sensitive factor. The poverty in which Diego was born still exists worldwide, but in some territories it is deprivation with distractions. Football for a generation of young people was all there was.
Great players still exist - just not like Diego, and not like Messi. Unless they can chase backwards to cover the full-back.FC
Now, there is diversity of options which means that a ball isn't sewn to a player's foot like it once was. That's not to disparage Maradona in any way or indeed the societal changes that took us here; but there is a natural connection and consciousness that develops between ball and foot when kicking it and juggling it every day, as Maradona used to do with oranges, with pieces of newspaper, and anything else a kid whose house had no running water or electricity could get his hands on.
It is absolutely noticeable in a place like Scotland, who for a long time had destitution on a national level and a fantastic national team. It is no coincidence that while social standing has increased, the quality of player produced has gone in the opposite direction.
And, most pivotal of all, the outpouring of grief, of despair, and of adulation that has emerged in the wake of his death has been utterly unifying. But then he didn't have to live through the social judgement prism of Twitter.
Maradona was allowed a personality, and an opinion. These days, good luck to the footballer whose career isn't being micRomanaged by club, agent, and society. For a start, Maradona was no angel. He had an illegitimate son who he only recently claimed responsibility for. The friends and family left by the wayside is a lengthy list. His off-pitch misdemeanours extend to false penises to dodge drug tests and links to the Sicilian Mafia. And on the pitch, well, a handball springs to mind.
And he'd be 'cancelled' immediately. Nothing to do with his talent. Cancelled, blackballed, his life made misery, a man whose mental health was notably an issue for him, particularly while in Naples, would be disregarded in the name of a pile-on.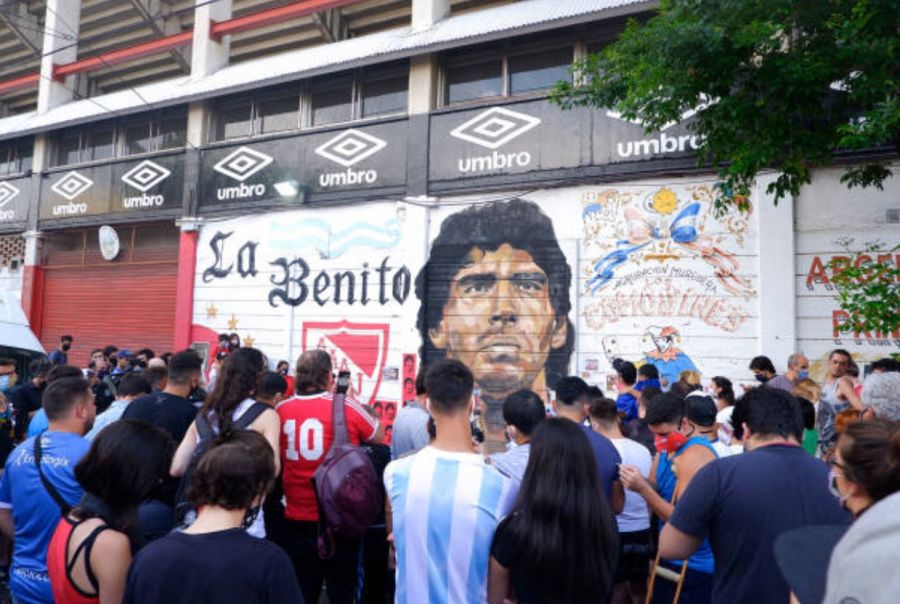 It's so pathetic and so inevitable, in the same vein that those currently revering him would be digging out their pitchforks. That doesn't mean people have to like him. If he had scored the Hand of God against your nation in a World Cup quarter-final, you'd hate him too.
But the modern era cancellation means the utter denial and erasure of anything positive you've ever done. Twitter and its minions would be wiping Maradona out before you know it and that's what makes someone like him ever existing again absolutely impossible.
We made football like this, and we made our judgement of our fellow human beings like this. And thus, we should mourn Diego, because we've ensured there will never be another.