It was one of the best nights of Champions League football in some time.
Borussia Dortmund overcame Sevilla in a thriller, while Juventus and Porto raised the stakes in the other clash, with the Portuguese side emerging triumphant on away goals in a spellbinding, breathless match.
The unpredictability of the Champions League is what makes it so coveted and also, crucially, so hard to win. But not everyone else sees it that way.
Andrea Agnell is currently pitching alternatives to a perfect tournament structure, swinging his way with insouciance through the future of the game and he has infinitely more ability to obliterate everything that got you loving football in the first place than anyone else in the game. Be warned.
Agnelli is both chairman of Juventus and the European Club Association (ECA) and there's a very good chance he doesn't give a damn about your club. He doesn't think you deserve much of anything. Hell, he doesn't even think Atalanta, comfortably the most exciting, transcendent success story to emerge from Italian football in a decade, deserve to be in the Champions League because, well, what have they done for me lately?
Speaking at a Financial Times event in London nearly a year ago, he said: "I have great respect for everything that Atalanta are doing, but without International history and thanks to just one great season, they had direct access into the primary European club competition. Is that right or not?"
Agnelli is swinging his way through the future of the game, and he can help to obliterate everything that got you loving football in the first place. FC Comment
It's somewhat poetic that Agnelli's Juventus exited the Champions League to a Porto team on Tuesday, one with vastly inferior resources, just as they did to Lyon and Ajax in the last two seasons, and weeks before the future of the tournament set-up will be resolved.
But Agnelli and his ilk don't care about actual results on the pitch. If there's not a sepia-toned picture of your team winning a European trophy which you can only recall by gazing fondly into the distance, he doesn't want to know. He doesn't want Juventus to play Atalanta.
What he wants is to be seen to be representing the Interests of many while amplifying the revenue disparity between the Haves and the Won't Haves For Much Longer. He is almost cartoonish in his villainy, a man whose views are delivered from the body of a quintessential elitist, one who is genuine in his contempt for you.
All he knows is that he and his members at the ECA want change. The 2024-25 Champions League is widely regarded as landscape-altering as we reach the end of a broadcast cycle. The Swiss Model looks set to win out, adding an extra four group games to the 10 already in place and upping the number of participants to 36. For more information, follow the Tweet thread below.
ECA/ Juve president Andrea Agnelli says new champions league - Swiss model with 36 clubs - is all but set for go. I'd say decision will be made in few weeks at next Uefa exco. Good to see that issue finally resolved

— tariq panja (@tariqpanja) March 8, 2021
In an Interview with the Guardian's David Conn in 2018, Agnelli said: "We all want more International [European] games and less domestic, combined with an overall reduction of games because we don't want to go over a certain number.
"You could say that whoever participates [in the expanded Champions League] has to play in the national league with six U21 or U23 players. But it's brainstorming because there isn't a project at the moment."
That's as thinly-veiled a middle finger to the domestic competitions as it is possible to yield. But Agnelli is dangerous, because his ruthless ambition and inexorable desire to drive headlong into a Super League, all others be damned, comes with influence.
While Uefa president Aleksander Ceferin, misguidedly or not, is attempting to address the disparity of the Big Five Leagues versus his other 50 members by injecting another competition into the mix (the Uefa Conference League is due to start in 2021), Agnelli wants to just do away with all of that nonsense.
But Agnelli's Atalanta comments represent the complete removal of a mask that previously slipped only on occasion.FootballCritic
And he knows that the clubs are more powerful than ever. With no clubs, there are no leagues, and there is no Uefa. He can be aggressive in his derision of the current structure because he knows he holds a strong hand. He has the ear of clubs - the ECA appointed him to do their bidding - and can say things like this publicly that they never could.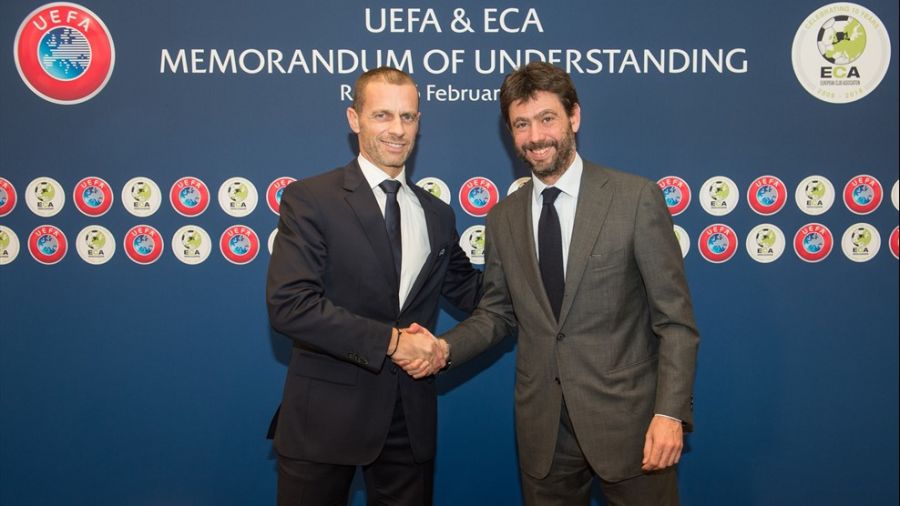 His Atalanta comments represent the complete removal of a mask that previously slipped only on occasion. His team are failing on the European stage to inferior opponents, and with the coronavirus crisis impacting the revenue of every club in the world, he is taking his chance. The Swiss Model is not a Super League. We should, apparently, be thankful of this.
He feels Juventus, and others like them, should have everything handed to them because Michel Platini won a European Cup in the 1980's. It's anti-competition, it flies in the face of meritocracy and it will hold zero Interest to the new generation who could care less about tenets such as history or tradition.
Agnelli is a product of one of the most renowned families in all of Italy, the literal representation of the establishment. In his time at Juventus he has unquestionably transformed their commercial operations and their dominance domestically is borne out of that. But it's clear in his actions that the actual football is a distant second to the business that can be done around it.
Club legends such as Alessandro Del Piero and Claudio Marchisio were given swift goodbyes when their usefulness to Juve had expired. Humans, and human Interaction fall far behind the development of power and driving revenue.
And the most brazen thing about him is that he seemingly thinks he is morally superior to Infantino and his half-baked Club World Cup. When asked about it, he said: "There has been no evaluation and no consultation about the format.
"That's all we know at the moment. It's hardly been an orthodox way of proposing a project. We don't know what shape it will have or what value."
Infantino's plan has considerably more meat on the bone than Agnelli's travelling roadshow that spits out ideas without any foundation or forethought. And his rhetoric is only likely to increase in volume, in reach and in boldness as a decision on 2024 closes in. If he gets his way, the current imbalance in football tips over completely, and there is no way back from there.
Be wary of the wolf in wolf's clothing.
Note: Uefa were contacted for comment in relation to Agnelli's comments and gave the following reply:
"The format of UEFA's club competitions beyond 2024 is currently being discussed with all stakeholders, but no decisions have been taken and UEFA has not commented on any proposals."