Nine seasons ago, back in Spain, Marcelo Bielsa and Pep Guardiola faced each other with their respective club Athletic Bilbao.
Nine seasons later, in England, Bielsa and Guardiola met each other again when Man City travelled to newly-promoted Leeds' Elland Road on their quest to win the Premier League trophy back from Liverpool's hands.
It was a match of two halves, with City dominating the first one and Leeds dominating the second. In the end, none came out as eventual winners in an equal match.
It was a deserved result for both teams.
In the first half, Leeds played outwith their usual 4-1-4-1 shape with Kalvin Phillips usually dropping in between his centre-backs. Bielsa noticed City only played with one pivot, and so deployed Mateusz Klich and Tyler Roberts at a higher position as they were tasked to exploit the space in between the opposition's defensive lines.
READ MORE:
Leeds 1-1 Man City: Match Stats, Player Ratings, Lineups
Messi staying at Barca 'a positive' for Argentina
Rating the European transfer window - great, good and awful
Meanwhile, Man City were actively pressing high up the pitch using their wingers to press Leeds' centre-backs, with Riyad Mahrez also closing down goalkeeper Illan Meslier. Both Kevin De Bruyne and Phil Foden stayed slightly deeper to pin down Leeds' central midfielders, which, as a result, created a huge gap behind the front three.
But, they were happy to do so and allowed Phillips to move in between that area since they were capable of either intercepting the pass that Meslier made towards Phillips or immediately putting pressure on the England midfielder. This caused Leeds major problems during their build-up phase and resulted in many turnovers and misplaced passes made by Leeds players inside their own half, allowing Man City to create a counterattacking situation.
In the first 30 minutes of the match, Leeds were struggling to progress the ball towards Man City's final third and had barely created any significant chances except for Ezgjan Alioski's close-range header. But as the half-time was getting closer, the home side managed to find a way where they could exploit Man City's defensive line, which was via Benjamin Mendy's left-hand side.
The French left-back had the tendency to overlap high up the pitch off the ball and it left a significant gap behind his back. Leeds noticed this and immediately asked Helder Costa to attack that space, and Ian-Carlo Poveda was asked to do this inside the second half. The introduction of the winger was a tactical decision from Bielsa as Poveda has the pace to beat his man and send crosses into the box, which he eventually did to assist a header for Rodrigo Moreno.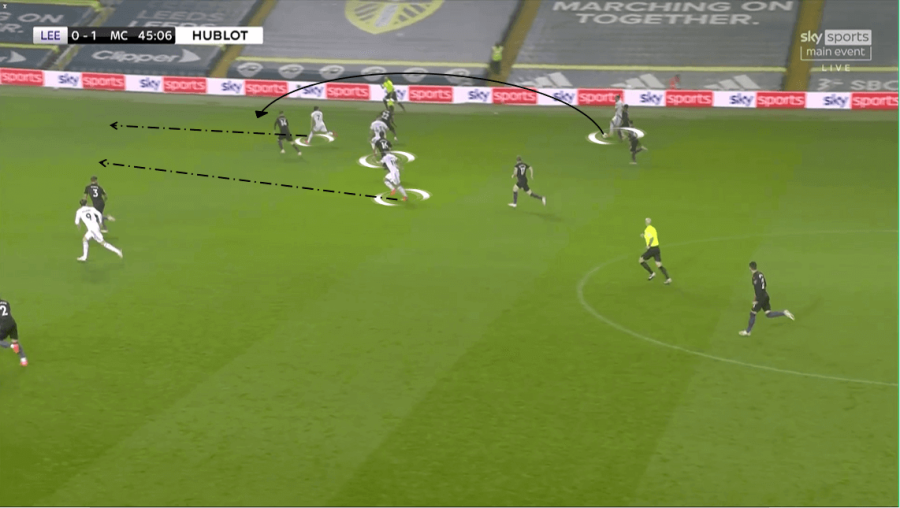 At the same time, both Klich and Roberts drifted slightly to the right wing and worked inside the half-space more often. This allowed Leeds to have numerical superiority to drag Man City players out of their positions while creating space for Poveda to run into. On the opposite wing, it was clear to see that Costa found himself having plenty of space to work with given that Man City attempted to overload their left-hand.
With the introduction of Rodrigo, the Spanish striker acted as a second striker behind Patrick Bamford and he usually found a good position to link up with a Costa cross at the far post.
By doing so, they managed to turn the game onto their favour and controlled the second half before the last 15 minutes of the half while creating several chances that put Man City on the back foot. But, following Guardiola's decision to bring on Fernandinho to play with a double pivot and push their defensive line forward, the home side did not have many opportunities to create goalscoring chances and had to settle for a draw.
Conclusion
Once again, a clash between two of the best tactical minds in the footballing world never let anyone down by the excitement that both teams brought onto the field. Bielsa proved to be a tough opponent for Guardiola as he turned the game upside down inside the second half and caused troubles for Man City.
A draw was a deserved result for both sides, which will boost Leeds' confidence as they continue to push for a spot in the Premier League next season, while Man City will count on the return of Sergio Aguero to boost their hope to win the trophy again after an average start to the season.