The inevitable departures of Kai Havertz and Timo Werner to Chelsea not only robbed the Bundesliga of two of its brightest young stars, but left Leverkusen and Leipzig with giant holes to fill.
Although both clubs are known for their excellent scouting network and made plans in preparation of the transfers, Julian Nagelsmann and Peter Bosz will have to rejig, if not rebuild their entire team. But first, let's see what exactly those two teams have to replace in losing Werner and Havertz.
Replacing Werner and Havertz
The new Chelsea striker's already impressive game has been transformed by Nagelsmann. The Stuttgart native has gone from a 24-year-old one-dimensional speedster who could press and counterattack and score 0.5 xG and 0.6 goals P90 in the Rangnick\Hasenhuttl system, to a devastating all-around offensive weapon.
Thanks to a year at "Nagelsmann University", Werner can now credibly play as a No. 9, No. 10, or out wide, act as a deep outlet vs the press but also drop deep to link up play. In addition, he's increased his offensive numbers, as Werner also put up 3.77 shot-creating actions and 0.6 goal creating actions P90, in the top 20 of the Bundesliga.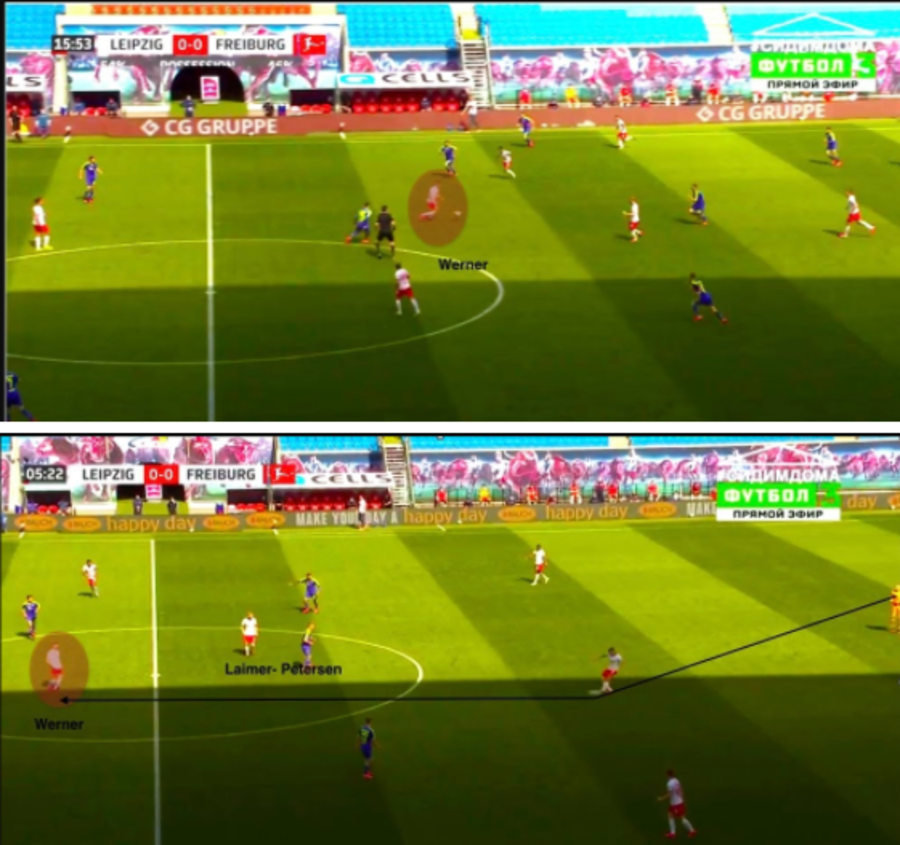 If Werner has become a multi-positional superstar, what do we say of Kai Havertz? Arguably Germany's greatest talent since Mesut Ozil, he burst onto the scene under Roger Schmidt in the fall of 2016 at the age of 17 years and 4 months in Werner's 21-goal maiden Leipzig season.
Later under Heiko Herrlich, Havertz played in a double pivot, though the less said about that the better. At 1.89m the Aachen native is an aerial threat, an outlet against the press and has the frame to play as an out and out No. 9, which he did under Bosz this spring out of necessity. Reaching 35km\h top speed he can track back and play as a winger\wide forward who operates out of the right halfspace and of course as a No. 10.
Although his autumn season was quiet - with concerns of Bosz rebuilding the team around Havertz after Julian Brandt's departure to Dortmund - the 21-year-old bounced back big time in the spring, tying Werner for 3rd place with 10 goals behind Haaland (13) Lewandowski (15) for most goals in 2020. Yet, the real value of Havertz is open play shot creation via passing, a statistic where he finished ahead of Jadon Sancho and second only to Thomas Muller in the league and 15th overall across the big five leagues.
Aside from the drop in quality, there's an added difficulty in replacing multi-positional, generational stars entering their prime: due to their versatility they cover up 2-3 squad spots and eat up minutes. At age 24, Werner has logged 18,000 minutes and has over 250 appearances while at barely 21, Havertz is over 10k and 140 respectively. In short, as Nagelsmann said about Werner, you can't replace them one for one, so you have to do it by committee.
Replacing Werner's creativity and goalscoring
Leipzig's by-committee approach began by paying £20m to Dinamo Zagreb in January for the extremely active Dani Olmo.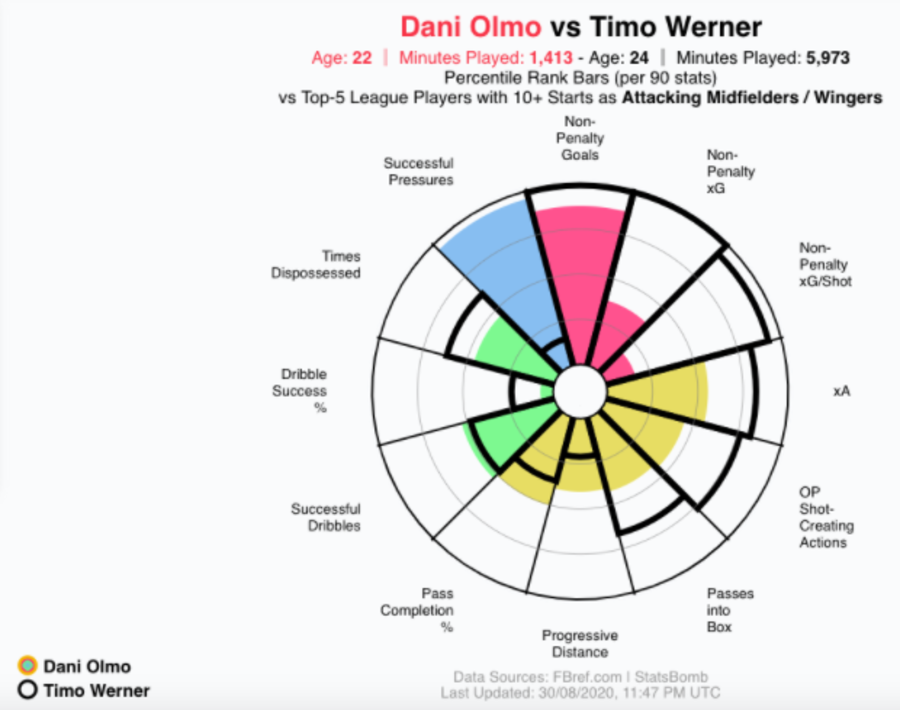 The 22-year-old came through at La Masia before making a brave decision to turn pro at 16 in Croatia, becoming the standout in Zagreb and impressing at the U21 Euros. He's been brought along slowly at Leipzig, scoring an important goal to knock out Atletico Madrid in the Champions League. He's not a natural scorer like Werner, more a No. 10 in the halfspaces in a 3-4-2-1 that Nagelsmann has been using.
Olmo's partner in crime is going to be former PSG youth Christopher Nkunku, whose debut season was immense at RBL: ranking 11th between Paulo Dybala and Bruno Fernandes in goal creating actions P90 in the big five is phenomenal.
Nkunku's spring form dipped however, as only nine of his 22 GCAs came in the Ruckrunde, with four of them coming via four assists in the 5-0 drubbing of Mainz.
It also speaks volumes that currently not only Olmo is ahead of him on the depth chart, but also Emil Forsberg. The Swede who turns 29 in October has been a forgotten figure since he handed out a whopping 19 assists in Leipzig's inaugural Bundesliga season in 2016-17.
Unfortunately, injuries, a falling out and potential departure (Milan were reportedly rumoured) and RB's increasingly up-tempo style have limited him to about half the output at best, with 0.35 xA compared to 0.7 xA in that first season.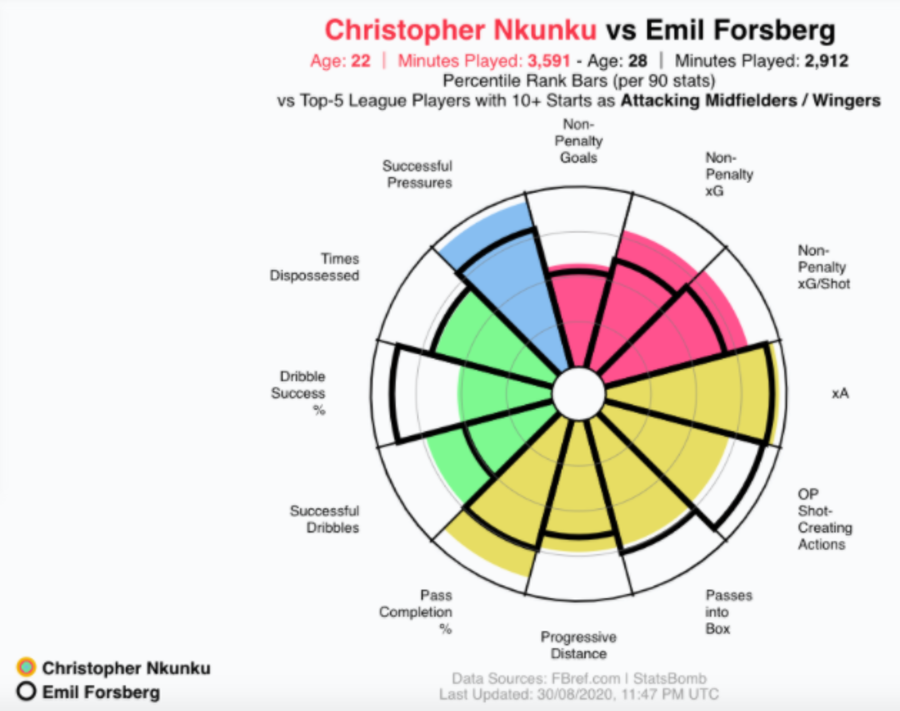 In the 2020/21 season Forsberg seems to be back to his best, with timely assists and a trademark dribble + wonderstrike combination against Leverkusen on matchday two.
Another key member of the "bullpen" is Hee-chan Hwang, who put up 11 goals and 12 assists for RB Salzburg last season. The versatile South Korean is perhaps the closest in skillset to Werner, albeit he's nowhere near the finisher the German and is perhaps a more trickier player; just ask Virgil van Dijk:
The plus for him is that having come through Salzburg he will know the system and be used to the physical demands of the Bundesliga, although his spell at Hamburg was nothing special.
Last but not least, Leipzig finally got the Alexander Sorloth transfer done for £18m. The 24-year-old Norwegian bounced around after some success in Norway and Denmark, but did not succeed at Crystal Palace. After a tough spell in Belgium, his was one of the great comeback stories in world football last season, as Sorloth scored 24 and brutalised the Turkish league and even put Turkey legend Emre Belozoglu in his place. At 1.95m tall his height would seem to be his obvious strength but as we saw against Leverkusen on Saturday his top speed can get up to 34.8km/h, and he has surprisingly quick feet.
Patrick Schick
That brings us nicely to Leverkusen paying £26m for the Czech striker, who four weeks ago was finishing up the UCL with Leipzig and scored 10 goals in the league for them. While Leipzig will miss his hold-up play and outlet vs the press, B04 will be hoping for him to make up for some of the Havertz (and Kevin Volland) goals that left the club.
As far as replacing Havertz, Rudi Voller and Co. have long been preparing for the day, their £100m man leaves. (oh by the way, don't let Chelsea fool you into thinking it was 80m - Leverkusen will get their money!) Unfortunately for them, the creative winger/No. 10, Paulinho (18.5m) has taken a long time to work himself into Bosz' plans before blowing out his ACL in early July, which will see the 19-year-old sidelined likely until 2021.
The winter signing of another promising South American, Exequiel Palacios of River Plate, was seen as adding another depth piece to an ageing midfield that relies heavily on Charles Aranguiz and Julian Baumgartlinger, two warriors on the wrong side of 30. Although Palacios is perhaps a little more rangy and versatile - he can play wide or even as a ten in certain situations - he has played under 200 minutes so far, so the jury is very much still out.
Then there's Kerem Demirbay, a mercurial 27-year-old whose career was saved by Nagelsmann at Hoffenheim. The problem at Leverkusen so far is that they've gotten very little of that player they paid 32 million for: in my view, Demirbay is much more of a defensively solid No. 6 who operates from deep via his wonderful passing than this box to box No. 8 and occasional No. 10 Bosz has been trying to play him as.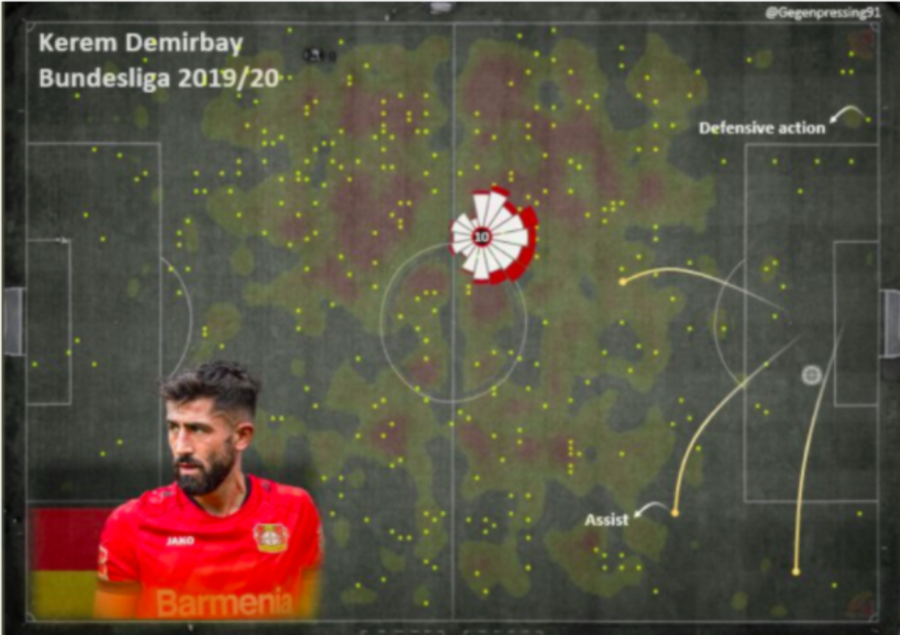 With Havertz gone, Bosz now has to play him and abandon caution (although caution and Bosz don't really go together too often) with his Aranguiz & Baumgartlinger double pivot that played a lot last season. That makes Demirbay a left sided No. 8, although he can still pop up on the right side outside of the box and score goal of the season contenders like he did vs. Leipzig Saturday.
Speaking of "the next Kai Havertz" moniker, meet Florian Wirtz, who a year ago was scoring eight goals in 10 matches in the U17s for Cologne, before controversially signing for Leverkusen in the January transfer window. His development at the U19 was so rapid, that after just four matches Bosz brought him up to the first team during the COVID break and then made him the third-youngest Buli player to debut in a 4-1 win over Bremen. Wirtz showed no signs of nerves, cutting it back and scoring against the double team of Lucas Hernandez and Thiago, as he chipped the ball over Manuel Neuer a few weeks later.
Although it narratively makes sense and there are a lot of Wirtz-Havertz comparisons, I see Julian Brandt as a better comp. Positionally, although Wirtz can play wide or inside as a No. 10, he now plays as the right sided No. 8 of a 4-3-3 under Bosz, which is where Havertz played in 2018/19.
Although Wirtz won the prestigious Fritz Walter medal, given to Germany's best talent, at the U17 level - while Havertz "only" won it 2018 at the U19 level - and he's instantly a starter for Bosz, his ceiling might just be a tad lower. Like Havertz, he is also an ambipedal gifted playmaker/problem solver, thriving in small spaces via dribbling or combinations or quickness, but he lacks the physical strength, top speed and frame at 1.75m and 75kg. His comp is more Julian Brandt, albeit with a much better motor and work ethic that could propel him towards a higher ceiling.
Nevertheless, replacing Werner and Havertz is likely to be a longer process, though if anyone knows how to find, recruit and nurture young talent into the next Werner\Havertz it's Leipzig with Nagelsmann and Leverkusen. After all, it's a huge portion of their identity and business model.
More by Abel Meszaros:
Player Analysis: Dortmund can't believe Jude Bellingham is only 17