Alvaro Recoba is probably summed up by the phrase "not a great goalscorer but a scorer of great goals".
Some of his strikes over the years, particularly for Inter, were wondrous, and here FootballCritic looks at each and every one, visualised.
We've teamed up with football analyst Marius Fischer, known as @Gegenpressing91 on Twitter, who has worked his magic with Microsoft Excel to map out all Rivaldo's scored goals for Olympiacos.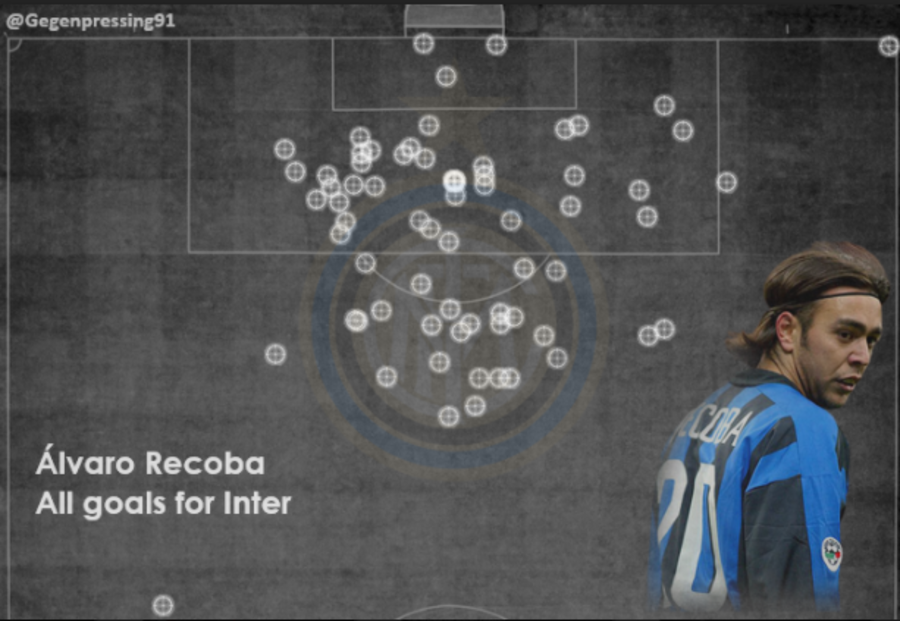 Marius says:
Alvaro Recoba was not just a 'Winning Eleven' icon but a very much underrated footballer. He remains an Inter legend and played in 175 games for them. His left foot was one of the deadliest in history and Recoba is member of the "I scored directly from a corner" club.
"The Uruguayan midfielder could play various positions. While he provided precise crosses and assists from the wing, he also knew where the goal was and was often used as a second striker next to Brazilian striker Adriano.
"His shot map shows the great range Recoba had. Whenever he got the ball in or around the box, you knew that you needed to get a foot in front of him – otherwise it is a goal.
"In 53 cases the defenders were not able to do exactly that which makes him one of the all time top midfield scorers of the club.
"He was also a big part of the Uruguayan national team, where he scored 11 goals in 69 matches and participated in the 2002 world cup with them."