DUTCH FORWARDS ARE BACK
It's been a fallow period for Dutch football, particularly in attack.
Post-Robin van Persie, options have been so limited that Tottenham disaster Vincent Janssen, now playing in Mexico, was deemed as the answer for a short period, while other peripheral figures such as Quincy Promes (who has, in fairness, had an excellent season at Ajax) and Bas Dost probably have more caps than their talent deserved.
Memphis Depay's displays have been integral to their return to prominence after failure to reach Euro 2016 or World Cup 2018, while the rest of the team has begun to fill out with a new generation of players (Frenkie De Jong, Matthijs De Ligt), and others have risen in prominence (Virgil van Dijk, Georginio Wijnaldum). Yet until recently the dearth of talent in attack remained.
But that is changing. There's an emergence of young talent that aren't just making waves in the Eredivisie, they appear to be ready-made packages designed for a step to a higher level. Hakim Ziyech is already on his way to Chelsea, while Tottenham have taken the plunge on Steven Bergwijn. Eredivisie is an interesting proposition again.
The thing is, Premier League clubs, some of them who have put staff on furlough, are unlikely to splurge gigantic sums of money on direct transfer fees. The climate both economically and optically just will not allow it. But it doesn't mean that clubs can't buy - it just means they might need to shop a little further downwards to find value.
With it being the Eredivisie, we want clear standout performers in order to be comfortable in their ability to step up to a much higher level, so we'll analyse the top five across various key metrics.
We also want to identify young talent that have the ability to progress, and we'll also avoid players who left the Eredivisie and subsequently returned (Daley Blind, Dusan Tadic, Quincy Promes).
So let's look at some scoring metrics.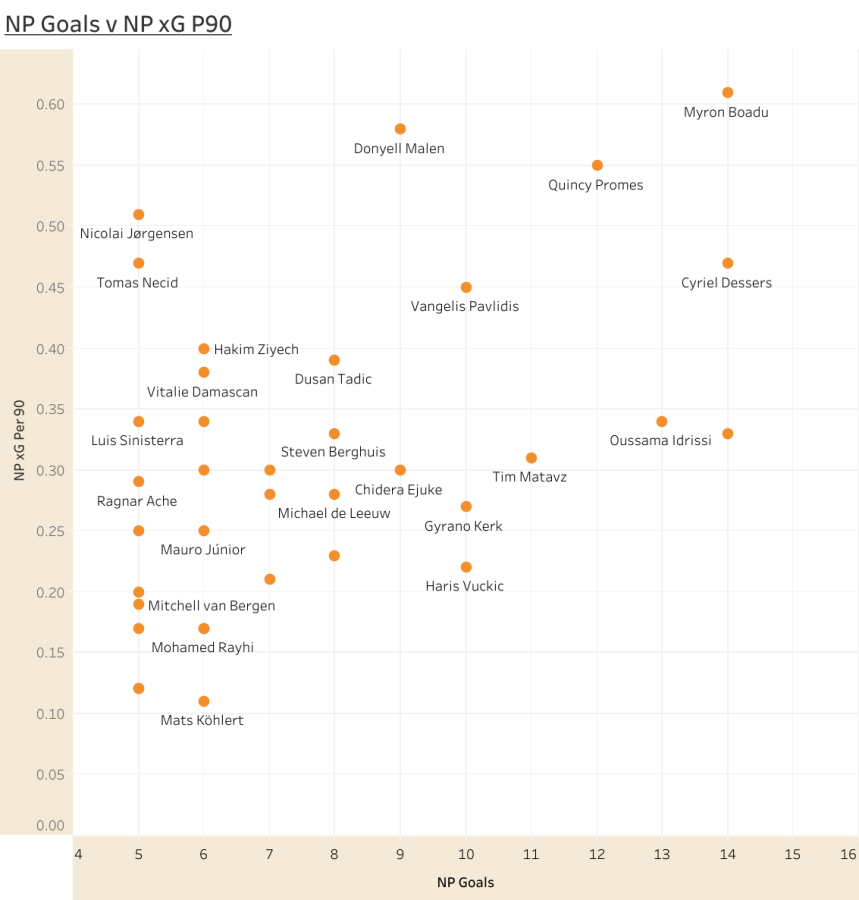 The image above is taken from the Eredivisie in 2019/20 season and it shows Non-Pen Goals (NPG) versus Non-Pen xG P90, based on a minimum of 1,000 mins played. As mentioned we are ignoring Quincy Promes, simply because he is 28 and has already left Holland and is now back. We are looking for emerging forwards who could be a leading striker in Europe across the next few years.
Steven Berghuis is the current top scorer in the Eredivisie with 15, but only eight of them are non-penalties, and as you can see, aside from Promes two names stand out; Donyell Malen from PSV and Myron Boadu from title-challenging AZ.
⚽ Donyell Malen: The PSV striker Arsenal let slip through their fingers
⚽ Myron Boadu: AZ's teenage sensation already looks too good for the Eredivisie
On FootballCritic we have been following both players for some time and you can see their career stories in the links above. For here we will focus specifically on their numbers. Boadu, Cyriel Dessers (Hercules) and Bryan Linssen (Vitesse) all have 14 NP goals and while Malen has less goals this can be put down to him being injured since just before Christmas. We can derive from his xG P90 figure that he is still among the most dangerous forwards in the league.
NON-PEN GOALS P90
Players
| | | | |
| --- | --- | --- | --- |
| # | Player Name | Team | Non-Pen G90 |
| 1 | Quincy PROMES | Ajax | 0.72 |
| 2 | Donyell Malen | PSV | 0.68 |
| 2 | Myron Boadu | AZ | 0.62 |
| 4 | Bryan LINSSEN | Vitesse | 0.59 |
| 5 | Oussama IDRISSI | AZ | 0.59 |
Malen is #2, Boadu #3 in terms of NPGP90 figures, while they are #2 and #1 respectively in terms of NP xG P90. What does this mean? Well it means that they are consistently getting into dangerous positions within matches and are both converting those chances when they arrive. The numbers of those two, plus Promes, are quite a bit ahead of the chasing pack in the league.
NON-PEN xG P90
Players
| | | | |
| --- | --- | --- | --- |
| # | Player Name | Team | Non-Pen xG90 |
| 1 | Myron Boadu | AZ | 0.61 |
| 2 | Donyell Malen | PSV | 0.58 |
| 2 | Quincy PROMES | Ajax | 0.55 |
| 4 | Nicolai JORGENSEN | Feyenoord | 0.519 |
| 5 | Tomas NECID | ADO | 0.47 |
But, yes, it's the Eredivisie, so we need to look a little deeper, remembering that for every Luis Suarez there are more Vincent Janssen's or Alfonso Alves'.
On FC we introduce a metric called Contribution Spread, where we identify how many individual matches a player has provided either a goal or an assist in across a season. The purpose of the stat is to identify players who make consistent contributions against different teams, defences, stadiums and environments, rather than padding their statistics by loading up on contributions in a single match. We only include matches where the player played > 50 minutes in the fixture.
In this regard, Malen contributed in seven of his 14 appearances (50%), while Boadu in 13 of his 24 appearances, or 54%. Boadu's team contribution for AZ is 20 of their 54 goals scored (37%), while Malen's is 24%, but again the latter's has been impacted by his December injury.
One particular statistic does set Boadu apart, in that his NP xG Per Shot is 0.24, significantly better than Malen's 0.14. Boadu's conversion rate % of players who have struck more than 50 shots is 23.99%, the best in the league. We can derive that Boadu is shooting from more dangerous positions in and around the goal, and, crucially, is putting the ball into the net. And look at the number of his goals which have been decisive - the most in the league. This points to a clutch finisher.
MOST DECISIVE GOALS
Players
| | | | |
| --- | --- | --- | --- |
| # | Player Name | Team | Decisive |
| 1 | Myron Boadu | AZ | 7 |
| 2 | Teun KOOPMEINERS | AZ | 6 |
| 2= | Cyril DESSERS | Hercules | 6 |
| 2= | Denzel DUMFRIES | PSV | 6 |
IN EUROPE
Both men featured in the Europa League this season, too, which is clearly at a higher level and it is important to look at their efforts at that level, too. From this perspective, Malen's five goals and two assists in 668 minutes of football gives him a goal contribution P90 of 0.94, while Boadu's six goals and four assists in 1153 mins is the equivalent of 0.78.
These are more than adequate returns and it should also be noted that Malen provided a goal and two assists across two legs against Basel in the Champions League qualifying round, before PSV were eliminated. Their European endeavours should be treated as a significant positive as well as the fact both are already capped internationals, Malen scoring on his debut against Germany, Boadu in a friendly against Estonia.
CONS
Both players of course come with their risks. Neither player particularly pulls up any trees in respect to being a provider, though Boadu has six assists to Malen's two. These are two young, Dutch forwards who like to run either at, or beyond defenders and are thirsty to attack and score goals.
Malen's knee operation before Christmas would have likely ruled him out for the remainder of this season and that may have put off potential suitors. Indeed, Boadu is not without injury problems of his own and this is, really, his first full season unimpeded despite his young age.
Furthermore, Ziyech and Bergwijn had been featuring in the Eredivisie for a number of seasons before the big London clubs chose to take the plunge. It may be the case that the lower standard of the division means analysts require a larger sample size and more consistently high statistics, as Ziyech has shown, before they are willing to recommend young talent.
And the underlying transfer market concerns may depress the market to such a point where spending in the region of £15-£20m - likely a starting valuation for both men - is a risk some clubs cannot take.
CONCLUSION
In a market where young, hungry, goalscoring forwards are returning to prominence, Malen and Boadu will be under surveillance. Both men have strikingly similar profiles and though Boadu is a little younger, their pace, directness and ability to get into good scoring positions mean they will outgrow their current level sooner rather than later.
Whether the time is right for anyone to make a deal happen, now, remains to be seen. But these are two young players who will be at a higher level sooner rather than later.